A girl sent a guy a PowerPoint presentation about why he should meet with her
Lizzy Fenton has come up with a unique way to convince the young man you like to meet her. And, sharing it in social networks, won the hearts of hundreds of strangers.
A student at the University of Minnesota from the United States has created
presentation
in PowerPoint, titled "Why You Should Meet Me," and sent an email to her object of adoration, Carter the Bloshvitz. Although the boy didn't answer quite the way she expected, she refused, the girl struck at the very heart of everyone who saw her post on Twitter. Even Microsoft drew attention to the well-made presentation and praised it.
Let's take a closer look at what wanted to attract the heartless guy Lizzy Fenton.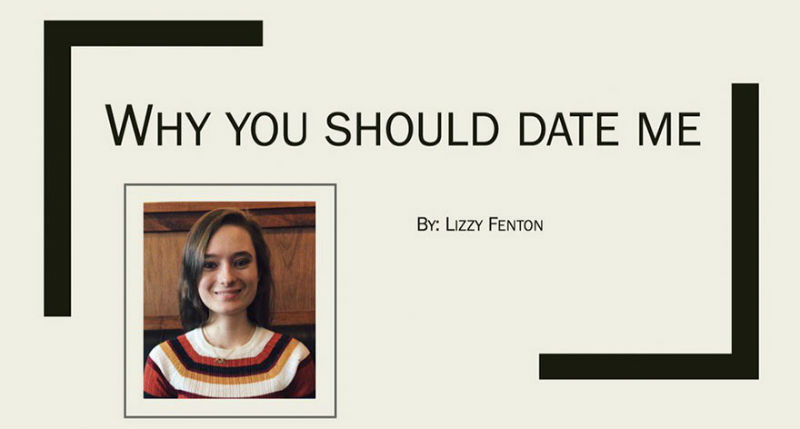 Lizzy Fenton, a student at the University of Minnesota.
The girl drew the attention of the young man, that if the parents got him with questions, when he will have a "girl for serious relationship", then she is just the perfect option.After all, she can support small talk at the table with her parents, she has a classic style of dress and a good sense of humor that will appeal to his mother.
If monogamy is not included in his plans, then due to the change of image, it may look like three completely different people.
Apparently, an important factor for the student - the girl provided evidence that her breasts are constantly growing, and, according to her calculations, by 2020 she will have a decent size. She supported all this with a breast growth chart and photos of 2012 and 2017 for comparison.
Lizzy is "financially stable", so the guy will not have to worry about it: "I provide for myself," "I can provide for you," "I don't live with my parents," "I am at work all the time, so I will not loom constantly before my eyes ".
In order to induce the young man to meet with her, Fenton quoted the actor Channing Tatum, who wanted to invite her on a date, but she was "not in his league." As well as the statement of her mother, who called the girl "delightful" and "unique."
But the answer to the subject of adoration girls: "Very cute. Please stop trying to contact me. "
@LizzyFenton You've made a pretty solid case. pic.twitter.com/01EsbeNeZq
- Microsoft Office (@Office) March 31, 2017
The reaction of Microsoft: "You have forgotten another item. Excellent PowerPoint skills.
But the story is not over. It turned out that young people are not only familiar, but also good friends, Carter even has a few photos in social networks with Lizzy. The guys said they did it for fun.
It seems to us that this is all the machinations of Microsoft.
Related news
A girl sent a guy a PowerPoint presentation about why he should meet with her image, picture