About Helia Snegirev, who frightened Andropov himself the documents from the archives of Moscow, Paris and Kiev
October 14, 1927 in Kharkov was born Helium Ivanovich Snegirev (pseudonym Evgeny Snegirev) - film director, writer, scriptwriter, dissident. He was a friend of the writer Viktor Nekrasov.
On September 22, 1977, the Ukrainian film director, writer, screenwriter Helium Snegiryov was arrested for anti-Soviet activities. In prison, he went on a hunger strike, ambalad ambulances began to force-feed him and injured his spine, which caused paralysis of his lower body. Snegirev's torments were terrible, only people in civilian clothes accompanied him on his last journey ...
On December 28, 1978, Helium Snegirev died without having left the free air from the dark room of the October hospital ... He was buried at the Baikovo cemetery.
***
By Gregory Kipnis
... In all for some four years, Helium was younger than me, but, oddly enough, it belonged to another generation — the post-war, that is, not the generation of front-line soldiers. He even worried about it. Nevertheless, the traditional celebration of Victory Day in the Kiev correspondent of the Literary Gazette was sometimes "allowed". By way of exception. According to the "petition" of Viktor Platonovich Nekrasov, who could be said to be the soul of these our annual merry gatherings.
Helium appeared in Kiev in the mid-50s, having moved with his father, Ukrainian prose writer and playwright Ivan Timofeevich Snegirev from Kharkov, where he managed to graduate from the theater institute. He was tall, handsome, blond - women were staring, no one was surprised that he was an artist of an academic theater.
However, Helium turned out to be also a man, always looking for something. Soon, with the actor's path, he stepped over to the pedagogical - first a school teacher, then a university teacher, and then he rushed into journalism. He worked in the Ukrainian Literary, began to write essays and stories. The first book of short stories in Ukrainian, published in Kiev in 1957 under the editorship of Pavel Zagrebeln, was called "Only to return".Recently, I unexpectedly discovered it with a friendly inscription that expressed the hope that "... for all of us, the so-called creative workers, summer will nevertheless return." It is unlikely that he then put too deep a meaning in the words of his autograph: the thaw was still in full swing, could Helium, at that time, assume that it would soon be gone, and severe frosts were waiting for him? No, in those years, he was, as they say, on a great creative upswing, and it was not difficult for him to suddenly change the literary field to the cinematic, going to work in a documentary film. I must note that all the "searches for himself" with unexpected throws to one or the other were given to him surprisingly easily. In general, he was a man of easy character, sometimes he even seemed frivolous (it was thought - because of his youth). Soon he became a member of two creative unions at once - writers and filmmakers. That was the beginning - an active, promising, promising ...
We were not particularly close friends, although we met quite often - both on business (I collaborated with the film studio as a scriptwriter and author of narration), and in our men's feasts, and in family companies.Frankly speaking, when Snegiryov's "dissident games" began, I did not take them seriously, considered his behavior to be naive and dangerous quixotic. One thing is Viktor Nekrasov, a man of rare courage, a world-famous writer - not without reason it says: what is allowed to Jupiter, then ... And with Helium it seems to be pure boyishness: his enthusiastic stories about how he and Vika cleverly fooled the KGB tramplers who were watching them, how famously drove them by the nose on the streets of Kiev. I remember that many who knew Helium had the conviction that he was in vain "rushing into battle," they say, anyway, the "guts" won't achieve anything, but it will end for him and for the family badly. Yes, he himself, as it turned out now, knew what he was doing and what he was risking. He knew - and still went. And only now you begin to truly understand that what Snegiryov made in general is not just a game, but what is commonly called a selfless feat.
This is best confirmed by the recently opened documents from the archives of the KGB of the USSR. This is a memorandum of the all-powerful chief of this all-powerful organization to the CPSU Central Committee. Look how terrible the enemy of the mighty totalitarian state was to these people Helium Snegirev.
On the letterhead of the KGB under the Council of Ministers of the USSR, under the secret classification of September 19, 1977, under No. 2042-A, a document entitled "Measures to curb the criminal activity of SNEGIREV" is sent to the Party's Central Committee signed by Andropov. Beginning: "The State Security Committee of Ukraine has identified and documented the anti-Soviet activities of Snegirev G.I., born in 1927, a Ukrainian expelled in 1974 from the members of the CPSU, the Writers Union and the Cinematographers Union, a former director of the Ukrainian newsreel studio, a pensioner living in Kiev. It further says that Snegiryov (I quote) "... systematically produces and distributes hostile writings (" Secretary of the Regional Committee "," Roman-denon "," Mom, My Mom "," Self-portrait - 1966 "," Open Letter to the Soviet Government , "To bark or not to bark", "Killed the Thrush", "Appeal to the Leader", etc.), in which they slander the internal and external policies of the CPSU and the Soviet Government. " It is indicated, in particular, that "... Radio Liberty" on July 18, this year. handed over another libel to SNEGIREV "An open letter to US President Carter," in which evil slander is once again being built ... "
I want to draw attention to a short paragraph book: "Snegirev's libel" Appeal to the Leader "infused with special anti-Sovietism, produced and transferred to the West in August of this year. In it, SNEGIREV calls for a revision of the Marxist-Leninist teaching, the revival of private property, the dissolution of collective farms, the liquidation of the Soviet Army. " Of course, today such accusations cannot cause anything but a skeptical smile, but then they led to a completely unfunny summary: "In connection with the above, the State Security Committee decided to arrest SNEGIREV and prosecute him under Art. 64 Part 1 of the Criminal Code of the Ukrainian SSR (anti-Soviet agitation and propaganda). The issue has been agreed with the Central Committee of the Communist Party of Ukraine. "
After another 2.5 months, in early December, under the number 2534-A, a new document appears on the same subject at the same address: "In addition to No. 2042-A of September 19, 1977, the State Security Committee reports that Snegirev G. AND. arrested and prosecuted under Article 62 of the Criminal Code of the Ukrainian SSR ... The facts of writing and distribution in 1975-1977. in the USSR, as well as programs for publication abroad of the Appeal to the Leader, Letters to J. Carter and a number of other documents of anti-Soviet content, he acknowledged.
At the same time, during interrogations, Snegirev declares that he does not intend to change his views and convictions hostile to the socialist system, stubbornly does not want to say how he transported anti-Soviet materials to the West, and to name people among whom he distributed them in the USSR.
Acting in accordance with the line of conduct developed before his arrest, Snegirev on October 30 of this year. ... went on a hunger strike. In this regard, in the prescribed manner, he transferred to compulsory power ... "
At the end of the report states that "the investigation continues." Signature - Andropov. So - personally! - informs the head of the State Committee Committee of the leaders of the Central Committee of the KP about the "Snegirev case", although there is no "criminal activity" on the part of the latter, but there is pure water what is called INAKOMLIEM. However, we were afraid of him more than anything ...
... But then, perhaps, I will interrupt my own story and give the floor to another person who met Helium a little later than me, but quickly became friends with him and played a huge, I would say, decisive role in his future fate. It will take a little digression.The fact is that the year before last I brought from the Paris business trip for the Nekrasov Foundation, founded by us, the Kiev part of the rich and diverse archive of our wonderful countryman-writer. Among the papers of the Nekrasovsky heritage are many pages devoted to Helium. In recent years, Nekrasov was not just him, and not only a close friend, who involved him, if I may say so, in "dissidence", but to some extent also a literary mentor (although such a word is alien to Nekrasov's spirit), and even kind of publisher of his works. This, after all, Viktor Platonovich handed over to Novyi Mir, right into Asya Berzer's hands, Snegirev's story "Give Me Three Sons", who immediately made a name for its author - go know how the fate of the manuscript would have happened if it got to the litkonsultants in "gravity"? Later, when Nekrasov was already in exile, Helium, in some complicated ways, managed to directly send his own, already frankly "not our" writings, which Victor immediately published in Continent. By the way, in one of Andropov's memorandum on the case of SNEGIREV, this was said: "... He established an illegal connection with the deputy chief editor of the foreign antisocialist magazine Continent, Nekrasov,with antisocial elements in Moscow and some American correspondents. Through them, SNEGIREV transfers to the West hostile materials that are used by foreign propaganda centers and nationalist organizations in actions of ideological sabotage against the USSR. "
Victor Nekrasov and Helium Snegirev, Kiev, 1971.
Kiev Film Studio of documentary films.
Photo by Victor Kondyrev. nekrassov-viktor.com
In the Parisian archive of Nekrasov, I came across a short cover letter from Snegirev to one of his manuscripts illegally submitted to the West. The letter, in my opinion, so accurately conveys the character of Helium itself and the style of its behavior, that I will bring it here completely.
"Appeal to the publisher"
1. First I ask you to read, and then (and not vice versa) to report on the possibilities and terms of publication. The address of the author is not specified in order to send reviews on it using official mail services, but only to send greetings from his beloved aunt. Bye, but we'll see.
2. If the thing is interesting, please publish only in two cases:
a) the news of the arrest of the author;
b) receiving a request from the author about this (about publication, not arrest).Without the first, as well as without the second (preferably the second) - not to publish, but for now save.
3. The author apologizes for the non-ideal appearance of the manuscript. Reprint once again, the author is already "under the hood."
4. Proceeding from the preceding paragraph (see 3) - although the manuscript is not a woman, but, as long as it is pristine, the hand does not rise on it. In the footsteps of numerous ramies by the author's blue dye, please do not continue to dirty the editorial ones. Please do not edit. In case of detection of inaccuracies in the facts, let there be editorial footnotes. Crazy ideas - on the conscience of the author.
5. Brief information about the author. Snegirev Helium Ivanovich, pseudonym (semi) - Evgeny Snegirev. In this thing let him go Helium. Year of birth 1927. Biographical data search in the manuscript, as well as reference books of the Writers' Union of Ukraine. In 1974, he was expelled from the Writers' Union, so that in the latest directories do not look. At the same time, the heart broke, and later as a result of retinal thrombosis of some kind there, it was almost blind. Now it's not working anywhere (people are lucky!), Disabled person of the 2nd group, retirement pension 120. "
... Next is the home address, handwritten signature and date - March 23, 1977.
Exactly six months later, almost a day, he, as we already know from Andropov's memorandum, will be arrested - this will be the beginning of the end ... And then in his letter, as usual, he made a joke ...
And now I propose to read what Viktor Sokhirev said about Snegirev in December 1986 (the anniversary of his death) on Radio Liberty. It was not without difficulty that I was able to decipher a pencil draft of a draft (unfortunately, I couldn't understand one word), written in a characteristic sweeping and in general well-known to me handwriting of a writer. So, the speech of Viktor Platonovich on the radio:
"I will begin my program dedicated to the memory of Helium Snegiryov (he died, or rather, was killed eight years ago on December 28, 1978) with the words of Vasil Grishko, author of the introduction to the book" Ammunition for Execution, "entitled" The Snegirev Phenomenon ".
"On the Ukrainian dissident horizon," writes Vasily Grishko, "the name of Helium Snegiryova suddenly flared up like an unknown star that struck everyone with its amazing brilliance, and immediately, beaming, sped away like a meteor, leaving behind a mysterious trail of fire. Only two years have passed since the appearance of the "Patrons for execution" before the tragic death of Snegiryov,but in this short period of time, with his creative burning, with his desperately bold "steep ... (here is unintelligible word)," he stirred up the conscience and conscience of everyone who heard his voice of anger and protest. With all his so short, but incredibly intense creative activity, saturated with the energy of selfless struggle, Snegirev immortalized his name in the memory of all who cherish the idea of ​​truth and struggle for it. In the history of the Ukrainian liberation struggle, he was provided with a special place, as a striking phenomenon in the Ukrainian dissident movement of the 70s, which I allowed myself to christen as the "Snegiryov Phenomenon" ...
The preface was written by Vasil Grishko, a man who never knew the living Snegirev, but was written and printed in faraway Canada, where Snegirev had never been.
I knew Helium for a long time, I knew well. We were friends. Parting 12 years ago at Boryspil airport, we both could not refrain from tears - will we ever see each other again? no, see you not ...
Having just read the lines from the introduction of Vasil Grishko, I involuntarily thought: could we imagine that something like this would ever be written about him, and Helium himself, make him read this,I would have laughed merrily: "Well, well ... Is this a star, is it a meteor who left a mysterious trail of fire behind him? .. Fear God, guys, they confused me with someone ..."
Yes, we all knew Helium, Gelyash, Gavrila - such were his nicknames among friends - as a cheerful, careless, frivolous man, not a fool to drink, take a walk, write, and that, and that, about football, about some spies (like he himself spoke as a joke, "it is necessary to somehow justify membership in the Writers' Union") - and suddenly such vigorous and solemn words that are not tied to his appearance ... But he turned out to be both a star and a meteor, and really took a special place in the history of the Ukrainian liberation struggle and the whole culture of Ukraine as a whole.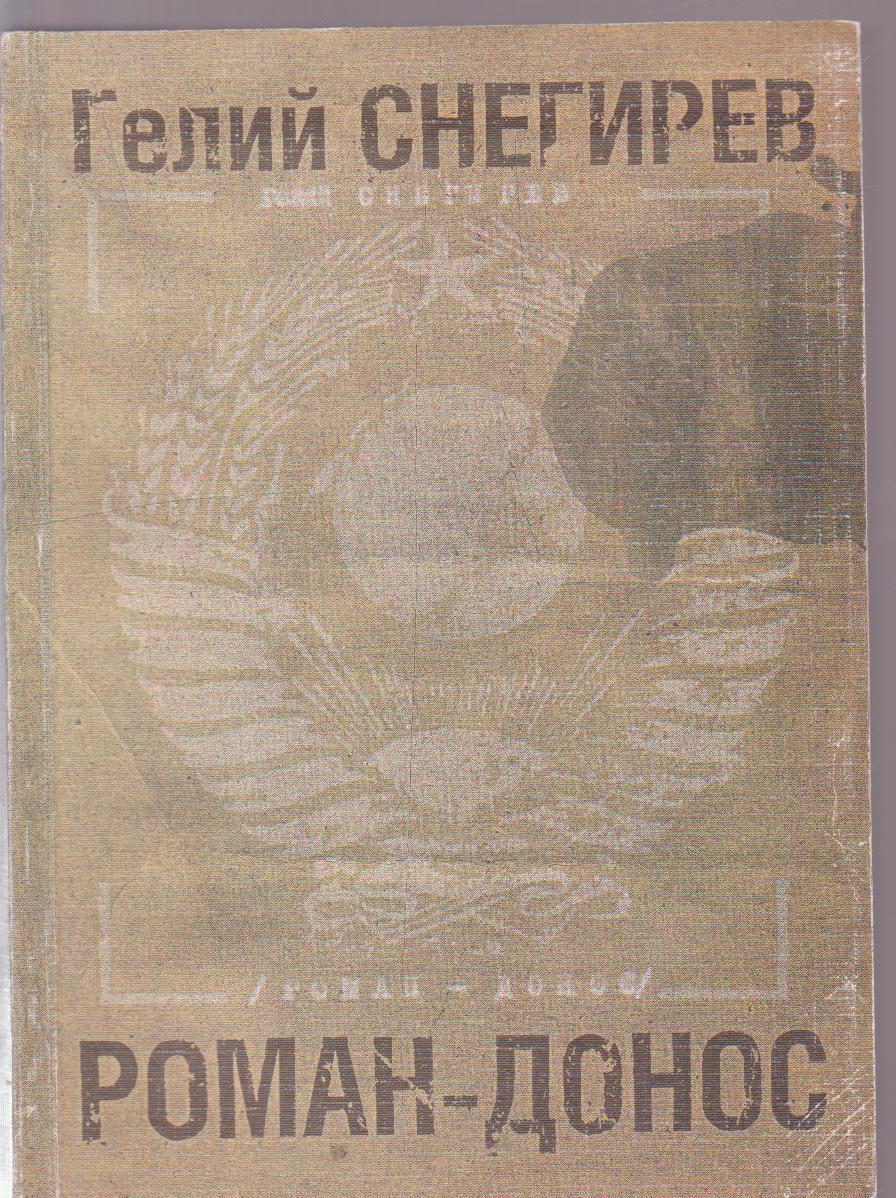 I think that I will not be mistaken if I allow myself to put Snegirev's name somewhere near Sakharov, General Grigorenko. All three are not alike, each has his own life and destiny. But one thing unites them. All three could walk calmly and confidently along their chosen path. The famous physicist, honored general, prosperous writer. And all three of them refused, from the welfare and quiet life. In the name of Truth, the struggle for this Truth ...
Everything that turned Helium from a cheerful, sociable guy into an active fighter, happened already after my departure. When we met, he was over well.Member of the party, member of the party bureau, chief editor of the studio of documentary films, his uncle - Vadim Sobko - one of the most influential leaders of the Writers' Union of Ukraine ... What else is needed? Write, lead, speak at meetings ... He did all this, until, as they say, he was not fed up. I wanted something different, real. And suddenly a good story was written to replace football and spyware. "Give Me Three Sons". And this story was printed not by anyone, but by Tvardovsky in the New World ... This was an extraordinary event. Tvardovsky never published any of the so-called "leading" Ukrainian writers, and then suddenly a young Kiev writer who was young and unknown in Moscow was unknown to Moscow. The story was a success, we, his friends, delighted, - it turns out, and can seriously write, and immediately alerted the "leading" Ukrainian writers. And they began to look closely at Helium. Something is not there he turned, not with those with whom it is necessary, is friends. And they began to work it out for one thing, then for another, - I didn't say so, I went to Babiy Yar on some anniversary, - in short, I was no longer elected to the party bureau, they took it off from the editor-in-chief ...
And then it began what none of us expected, which led to what Grishko wrote so well.The story with the prophetic title "Ammunition for execution" (in the Continent magazine published version of 1977 was called "Mom, My Mom"), dedicated to the process of the so-called IED then the crushing-accusatory "Open Letters" to the Soviet Government and Carter - and, as a result of all this, the renunciation of Soviet citizenship. And the natural conclusion for our country is arrest, prison, illness and death.
Helium knew what he was going for. So he wrote to me before his arrest: "Everything, my dear, is predetermined. However, in a good way, I will not run away from here. And once again - do not worry about me. I have weighed everything and I know what I'm going for. Hello!"
The KGB is the KGB - it finally forced Snegirev to write thanks to the government for showing mercy to him (from the prison hospital was transferred to the city hospital), but before that he had managed to pass on to the will his story. "As in the spirit" he was called and was printed in Continent No. 21 in 1979. It can not be read without tears. The man was dying and was not afraid to tell the whole truth. And she was fatal not for him, but for his executioners.
There is no helium.It has been eight years since. But he looks at me from a photo that I took 15 years ago, with a pretty smile and as if he says:
- I'm a star, I'm a meteor? Fear God, guys, you confused me with someone ...
No, Gelyash, they didn't confuse me, they didn't confuse me at all ... "
That's all. Further on the draft is the signature of V. Nekrasov, the date is December 8, 1986 and in the margins with his own handwriting - "By Monday". Apparently, he sketched the text on Sunday, so that the next day he could read it on "Freedom" all over Europe ...
It would be possible to put an end here, but one cannot but say one more thing. With all the courage and dedication of Helium Snegiryov, he was eventually broken. Let not definitively, but in a prison hospital, broken by paralysis, was forced to sign a renunciation of his "heretics". Moreover, they forced to sign the letter against Viktor Nekrasov. This is how Ivan Dziuba comments on this tragic episode, who was also arrested at one time and also experienced something "similar" there: "... In the remand prison of the KGB, his (Snegirev. - GK) aggravated illnesses. But his helpless state didn't pity the people concerned, but a cruel calculation: to snatch a letter from a half-dead person,in which he would have condemned not only himself, but also his best friend, Viktor Nekrasov (it was very necessary to compromise Nekrasov, at any cost). In the end, such a letter signed by Helia Snegirev appeared on April 1, 1978 in the newspaper "Radyanska Ukraine". At one time, it caused a lot of talk. But an example of how to treat him was given by the "main addressee" himself - Viktor Nekrasov. He confirmed his sincere friendly feelings for Helium Snegirev and expressed deep sympathy for his inhuman suffering.
But Helium Snegireva only after this letter was released from custody and placed in the October hospital. However, his condition was already hopeless and soon - on December 28 - he died in grievous pains ... The suffering image of Helium Snegiryov, his conscious victim will remain in people's memory. His name will be among those who are proud of Ukrainian literature. "
With these words, Academician Ivan Dziuba concludes his introduction to the book "Cartridges for execution" by Helium Snegirev, which, in our 90s, was finally published in Kyiv in Ukrainian. Before the author of the book was posthumously restored in the Writers' Union and the Union of Cinematographers of Ukraine.Remembering him today, one can clearly feel the tragedy of the fate of Helium Snegirev, and the scale of his exceptional personality. He died very early. Not just a wrestler and sufferer left, an extremely honest and kind, talented and brave man died in terrible agony.
In 2004, in Kiev, on Rognedinskaya Street, 3, where Helium Snegirev lived, a memorial plaque was opened in his honor.
Sources -
web.archive.org,
gazeta.zn.ua,
calendar.interesniy.kiev.ua,
ru.wikipedia.org,
blogrev.livejournal.com,
nekrassov-viktor.com and
my post is FB.
Related news
About Helia Snegirev, who frightened Andropov himself the documents from the archives of Moscow, Paris and Kiev
About Helia Snegirev, who frightened Andropov himself the documents from the archives of Moscow, Paris and Kiev
About Helia Snegirev, who frightened Andropov himself the documents from the archives of Moscow, Paris and Kiev
About Helia Snegirev, who frightened Andropov himself the documents from the archives of Moscow, Paris and Kiev
About Helia Snegirev, who frightened Andropov himself the documents from the archives of Moscow, Paris and Kiev