Bean soup for every taste
Soup with beans - a healthy dish for every day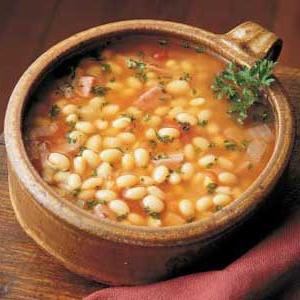 Soups are the most popular among Russian people. To this day, methods of preparing national liquid dishes are being shaped. Soups arouse appetite with their flavor and taste. That's why soup is usually served before the second course, although, for example, in most countries of the east, lunch begins with tea and ends with soup. In no case can not exclude liquid from your diet, it leads to gastrointestinal diseases. There are many different soups. Here, for example, soup with beans. At first glance, nothing unusual, but at the same time it is very useful. Beans are recommended for tuberculosis, lung diseases, anemia. Soup with beans is useful for gastritis, obesity, pyelonephritis. It is desirable to eat it every day. You can make bean soup from green string beans, dry beans, canned white or red beans. This good enough on store shelves or on the market. If you are going to cook soup with dry beans, then it must be soaked for two to three hours.
The recipe for making delicious bean soup
To do this you will need:
1. Dry beans (pre-soaked) - one hundred fifty grams.
2. Potatoes - two pieces.
3. Onions (large) - one piece.
4. Garlic - two cloves.
5. Carrots (large) - one piece.
6. Vegetable oil.
7. Bay leaf.
8. Greens
9. Salt, pepper.
Cooking
Wash the pre-soaked beans, add water and cook until half cooked. Dice the potatoes and add to the pan. Salt, add spices to taste. To rub carrots, very finely chop the onion and garlic. They should be thoroughly fried. Add to the potatoes and beans and cook another seven to ten minutes. Finely chop the greens and add to the same. That's all. Your bean soup is ready.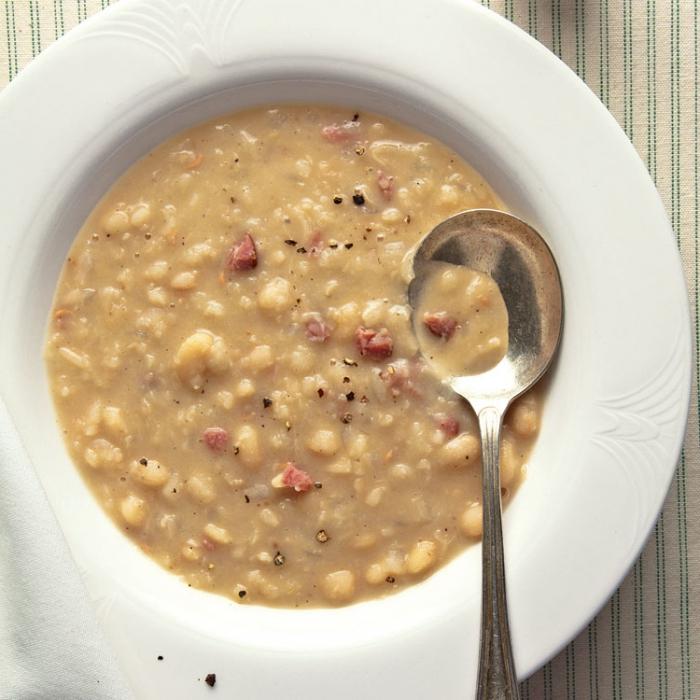 Chicken soup with the addition of beans
Another healthy dish is a soup with beans and chicken. On the one hand, it is rather light, and on the other, it is very nutritious.
What is necessary to stock up
Ingredients:
1. Chicken fillet - five hundred grams.
2. Any vermicelli - one hundred grams.
3. Potatoes - two pieces.
4. Carrots - one piece.
5. Onions - one piece.
6. Tomato paste - three tablespoons.
7. Green beans - two hundred grams.
8.White canned beans - four hundred grams.
9. Parsley, pepper, salt.
10. Vegetable oil.
Cooking
Cut the fillet into cubes, lightly salt and fry until golden brown in vegetable oil. It takes about five to six minutes. Pour into a plate. In the same pan, fry the finely chopped onions and carrots until they are soft. Add the green beans and fry for about two minutes. Add tomato paste to vegetables and fry for another three minutes. Cook or heat chicken broth, add potatoes and a mixture of vegetables. Give boil. Then put the white canned beans, chicken and add some salt to taste. Cook on medium heat for ten minutes. Add vermicelli three minutes before readiness. Sprinkle with parsley.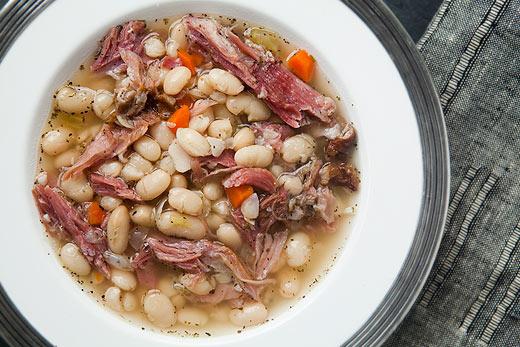 Mushroom soup with the addition of beans
Very useful soup with beans and mushrooms. It is very easy and quick to prepare, and eats even faster. Because mushrooms, the soup is very satisfying, and the beans provide a variety of flavor.
Ingredients:
1. Potatoes - four pieces.
2. Onions - one piece.
3. Carrots - one piece.
4. Soaked beans - 1/5 cup.
5. Dry mushrooms - one hundred grams.
6. Vegetable oil.
7. Salt, pepper.
Cooking
To start soaking mushrooms for about thirty minutes. Put the beans to cook until half cooked, add the soaked mushrooms and also cook until half cooked. Mushroom broth drain into a separate vessel. Mushrooms thoroughly wash and cut. Grind onions, carrots cut into strips and fry with mushrooms in vegetable oil. Peeled potatoes finely chopped, add to the beans. Cook over low heat until tender. Bon Appetit!
Related news
Bean soup for every taste image, picture, imagery