"The birds circled over me, anticipating death": how a tourist with a broken pelvis survived in the desert
New Zealand Claire Nelson (Claire Nelson) even in a terrible nightmare could not imagine what would happen to her. During a walk in the park, the girl fell off a stone and shattered the hip bone. Claire was hidden from the main trail and, accordingly, people, with an injury that left her helpless and immobilized. She had to fight for her life for four days.
When Claire's friends from Southern California asked her to spend a few weeks at their home, near Joshua Three National Park, and look after the cat, she was more than happy to accept such an offer. The girl from New Zealand had been in the park before, and she really enjoyed walking for long distances and admiring the wild places that so closely resemble the desert with cacti.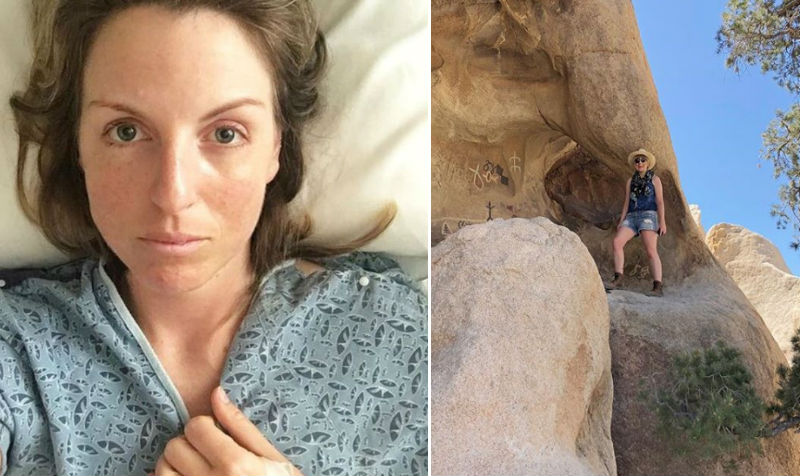 Source: BBC
And one early morning, Claire went to the park for a six-hour walk, taking with her several liters of water, a walking stick and sunscreen. At 08:30 the girl clarified the details of the route in the information center of the park, where she was told that the road is in excellent condition and not difficult.
After two miles (more than three kilometers), Claire realized that she could not find a marker with a mark of the distance traveled. Then she decided to stop and relax on one of the giant boulders to deal with the further route.
"At that moment everything happened. The stone was rather high and slippery. When I got up, I slipped and flew down. I understood that I could not help it. Everything happened as if in slow motion. In my head I just repeated: no, no, no, no. " The photo was taken five minutes before the fall.
"Absolute fear and horror"
"When I fell, I heard something crack and my whole body pierced with pain." Claire landed on her left side, smashing her hip bone. She tried to get up, but could not even move. Call to the rescue service also failed - the phone was out of range of the cellular network.
"I never thought that this could happen to me, not only because I am an experienced traveler. It seemed so unreal and extreme development of events that simply could not happen to me. "
"I travel a lot and go hiking alone and always thought that I understand this until I realized how stupid and arrogant I was."
"I lay there and thought that I could not believe that I was in such a situation, completely alone and no one knows that I am here. I'm injured and can't call for help. It was a moment of all-consuming, absolute fear and horror. "
Survival
At first, Claire went into a panic. But her thoughts quickly returned to the mainstream of practicality: she needed to cope with the pain, hide from the sun and save water in order to survive. Claire took aspirin, which temporarily relieved the pain. With the help of a cane and a plastic bag, she built something like a cover from the sun. The next day, she ran out of water, and the girl had to drink urine to survive.
"I recorded a short video in case I was found to explain what had happened. I have not watched them yet. I'm not sure I ever want to. "
"My thoughts were constantly spinning in my head, and this helped me to remain in consciousness. I want to see this person again, for example. I want to try some kind of dish again. I want to go to some place again. "
"The idea that my family would find my body without a breath in the desert was simply unbearable, I could not allow it."
Claire spent four days and three nights this way. She divided the days into small phases to make it easier to perceive time. In the morning she screamed and called for help. In the afternoon, trying to hide from the sun and not get a heat stroke. Fortunately, no coyotes or snakes bothered her.
Claire only saw the kestrels spinning over her, anticipating her imminent death.
The rescue
"Every time with the arrival of the night, I became more and more desperate, because no one ever came. On the fourth day it was especially hot and it was very hard for me. I began to lose hope. "
Claire was in a faint state, then falling asleep, then waking up. She did not know how long she could last. Until suddenly I heard the sound of a flying helicopter. At first she thought it was a hallucination. "Then I heard my name by name.I lay on my back surrounded by huge boulders, and they did not see me. I began to scream with all my might, but they did not hear me. "
Claire built a scarecrow from a walking cane and a bag that protected her from the sun, and began waving them with urine. Fortunately, so the rescuers noticed Claire. "They said that they were used to finding people in extremely poor condition, but here I am happy, laughing and glad that they finally found me. They were very surprised. "
Now Claire Nelson is recovering in a US hospital. After X-rays and CT, she underwent reconstructive plastic surgery on the pelvis. She is grateful that she receives first-class care and treatment, but she worries about how much she will have to pay for him, because medical care in the US is expensive.
Claire also began a course of psychotherapy and is looking forward to when she can return to the big world and be independent again.
Related news
Birds circled over me, anticipating death: how a tourist with a broken pelvis survived in the desert image, picture