Bresaola do it yourself
My entire adult life, I distrust vegetarians, pity them and try to feed them with meat. Therefore, the option of bresaola from beets was dismissed immediately - decided to make from meat.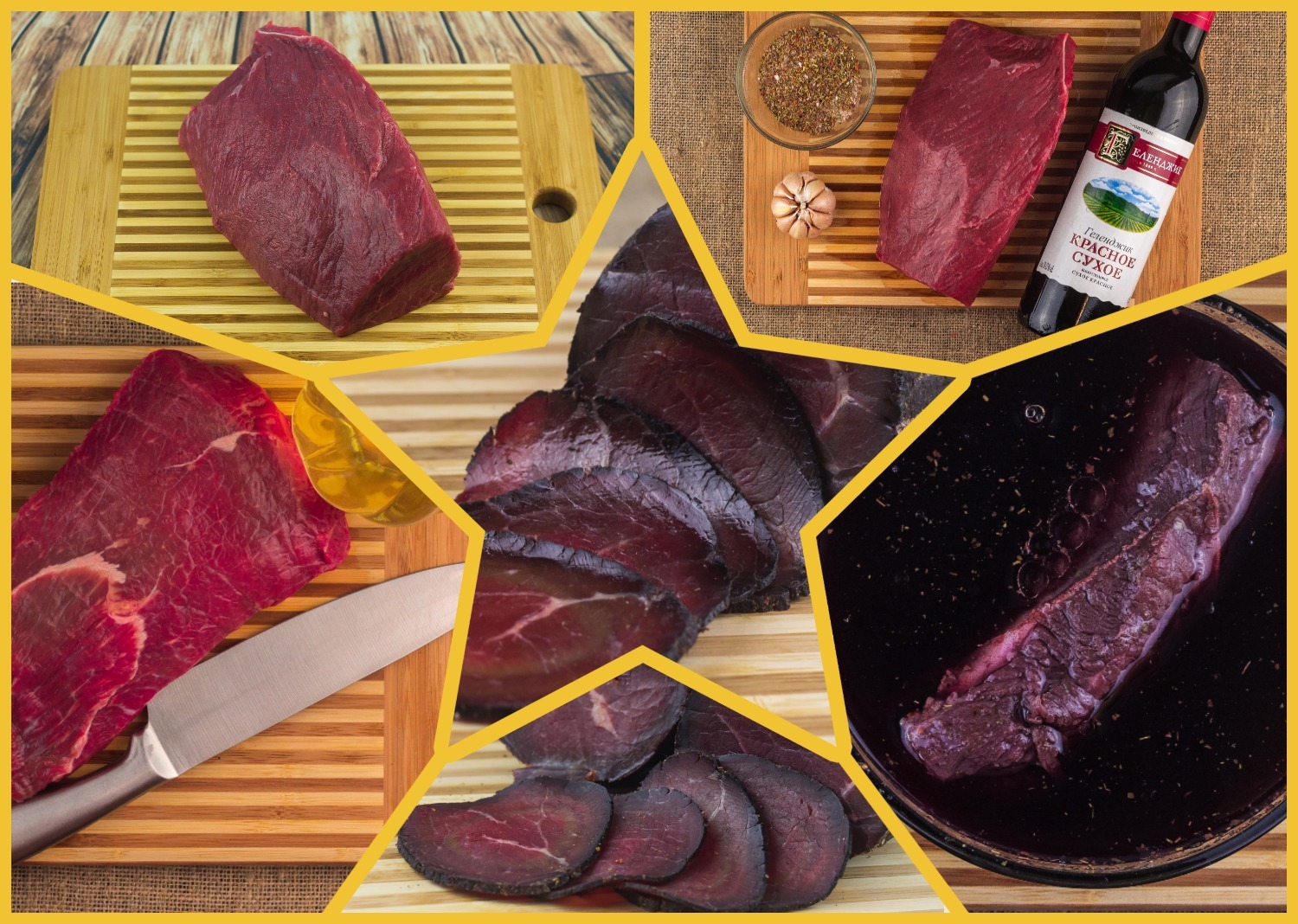 For the experiment was taken beef. Or rather, two pieces - per kilogram (renal part) and half a kilogram from the ass fillets. in the picture right and left, respectively.
For those who like to count and count, I will say that the meat cost about one and a half thousand rubles. Not cheap, of course, but we do not dive into Italian cuisine every day, so it was decided not to save.
Shoveled a bunch of recipes, clarity has not come. Everyone cooks in his own way. Someone with wine, someone without wine, the aging periods are also different, the spices are the same. Without thinking twice, I decided to do this and that. A bigger piece was marinated in a wine with spices, and a smaller piece only in spices.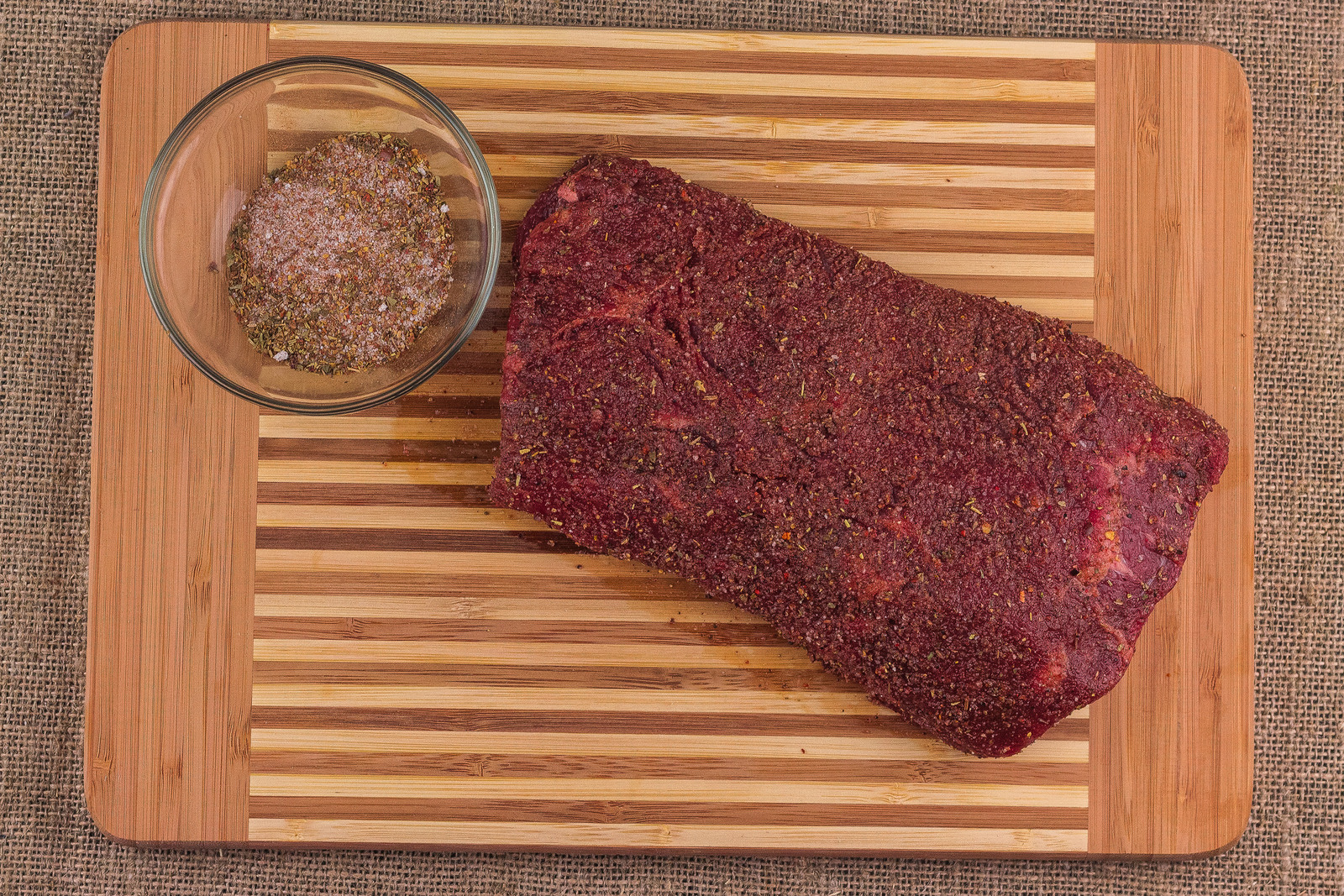 Now move on to the main thing - to the spices. There is no exact recipe for what to put there. Everyone puts the spices he likes. I did even easier - put those that I found on the shelf.Unfortunately there were a lot of things on the shelf. Why "Unfortunately? Because such powerful spices like rosemary have hammered in many others and have strongly influenced the taste. Therefore, when you cook, put in the first place what you really like. You can squeeze a few cloves of garlic - everything tastes better with garlic. Do not forget the salt!
About the quantity? Yes, all the same. Take more - the aroma and taste will be stronger. Carefully coat, even rub the spices in the meat, trying to make it evenly covered your future culinary masterpiece.
P.S. I forgot to say that the meat should be washed and dried with paper towels before cooking. But you did that, right?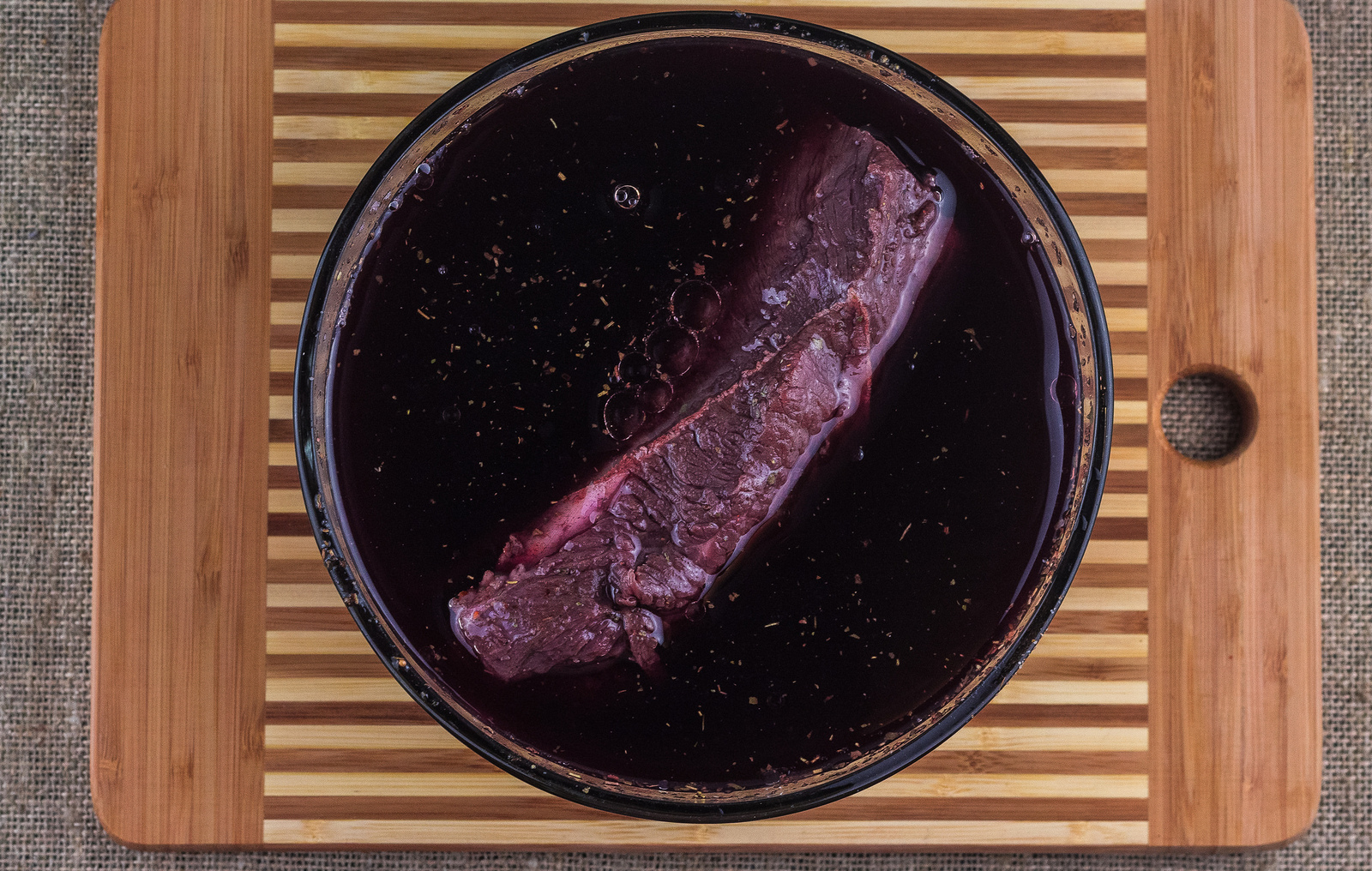 The wine took inexpensive (dry red for 165 rubles), from a local manufacturer. On a kilogram piece went the whole bottle. I was horrified to see the wine wash away the spices. But they still stayed there to swim, so I think nothing terrible happened. The second piece put in half the box of juice and covered the remaining half. The whole thing was safely put in the fridge and forgotten left there for twenty days. Why twenty, if everyone recommends 10-14 days.
I will tell you a secret, I shot all the stages of cooking on the camera. And it turned out that at the time when the meat had to be removed, there was no camera at hand. But he turned out to be on hand in 20 days. But nothing terrible happened. Naturally, every 2-3 days I turned the meat over for even salting.
See how it got dark? And a little more lost weight, even though it was soaked with wine. Now proceed to the second stage of the preparation of bresaola - drying and drying. After all, in essence, bresaola is dried meat with spices.
For the second stage of cooking, nitrite salt was purchased. Salt needs quite a bit. I added 30 grams of nitrite salt for one and a half kilograms. Buy it cheaply through the Internet. In my case it was 50 rubles for 200 grams.
Yes, I forgot to mention. At the first stage, I divided the spices into two equal parts. One used for cooking, the second left for later. And when then came, I added nitrite salt to these spices and again rubbed it into the meat. There are many discussions on the Internet about adding nitrite salt or not. Opponents of chemistry with foaming at the mouth prove that everything must be natural and chemistry is harmful.Then they go to the fridge and cut off an environmentally friendly sausage from Alpine pigs grown on organic acorns, a slice of sausage and put it on fresh wheat bread and eat it with pleasure. The rest understand that chemistry is everywhere and chemistry is not always bad. And nitrite salt will help preservation and better preservation of the product. Plus it makes this beautiful red color of the final product.
I took the usual gauze and made two sausages - I just wrapped the meat tightly in gauze and tied it with a rope to keep the shape.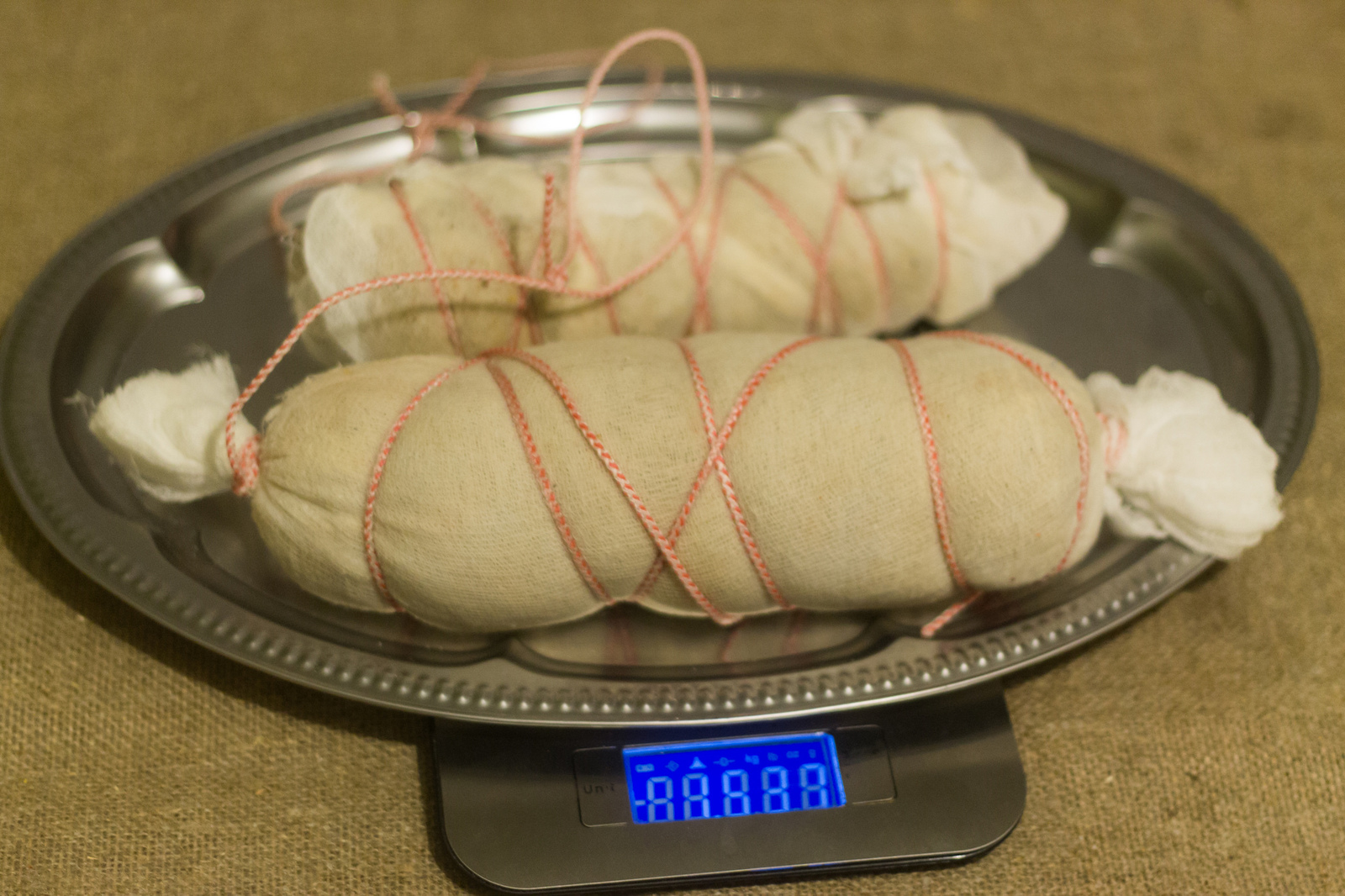 Some advise putting it all in the fridge. But I decided that on the balcony, where fresh air, meat would be better fade. Moreover, it is winter outside and the heat will not interfere with cooking meat. Periodically, I approached the sausages, felt them and noticed with satisfaction that they were becoming harder. A familiar feeling, isn't it ?.
After a week of shrinking and settling on the balcony, I began to feel with some concern. that the sausages are becoming too hard and I thought that at such rates the moisture in them would not be left at all and moved them to the refrigerator, where they successfully left for another week.
After controlling the weighing, I found with some annoyance that the weight of the sausages was thirty percent less. Realizing that I would no longer be able to look at how my valuable assets were melting, I decided that it would be time for this.
In the bottom line there is a little more than a kilogram.
Here they became such after unpacking. I was pleased to see that there was no noble white or shameful green mold. To the touch they became rigid outside and elastic inside. Above it turned out such a small weathered crust. we will call it a natural shell.
Wine was urgently purchased for tasting. Again, dry and red, but already tasty.
Nitrite salt made its black red case. On the cut, the meat became beautiful red. That slice that was marinated in wine became more saturated red, closer to maroon. This also affected the taste. Wine neutralized spices a little and the meat turned out to be more tender or something. Gentle, not according to the consistency, but according to the degree of influence of the spices. The meat, which was marinated without wine, had a sharper taste. I liked this option a bit more.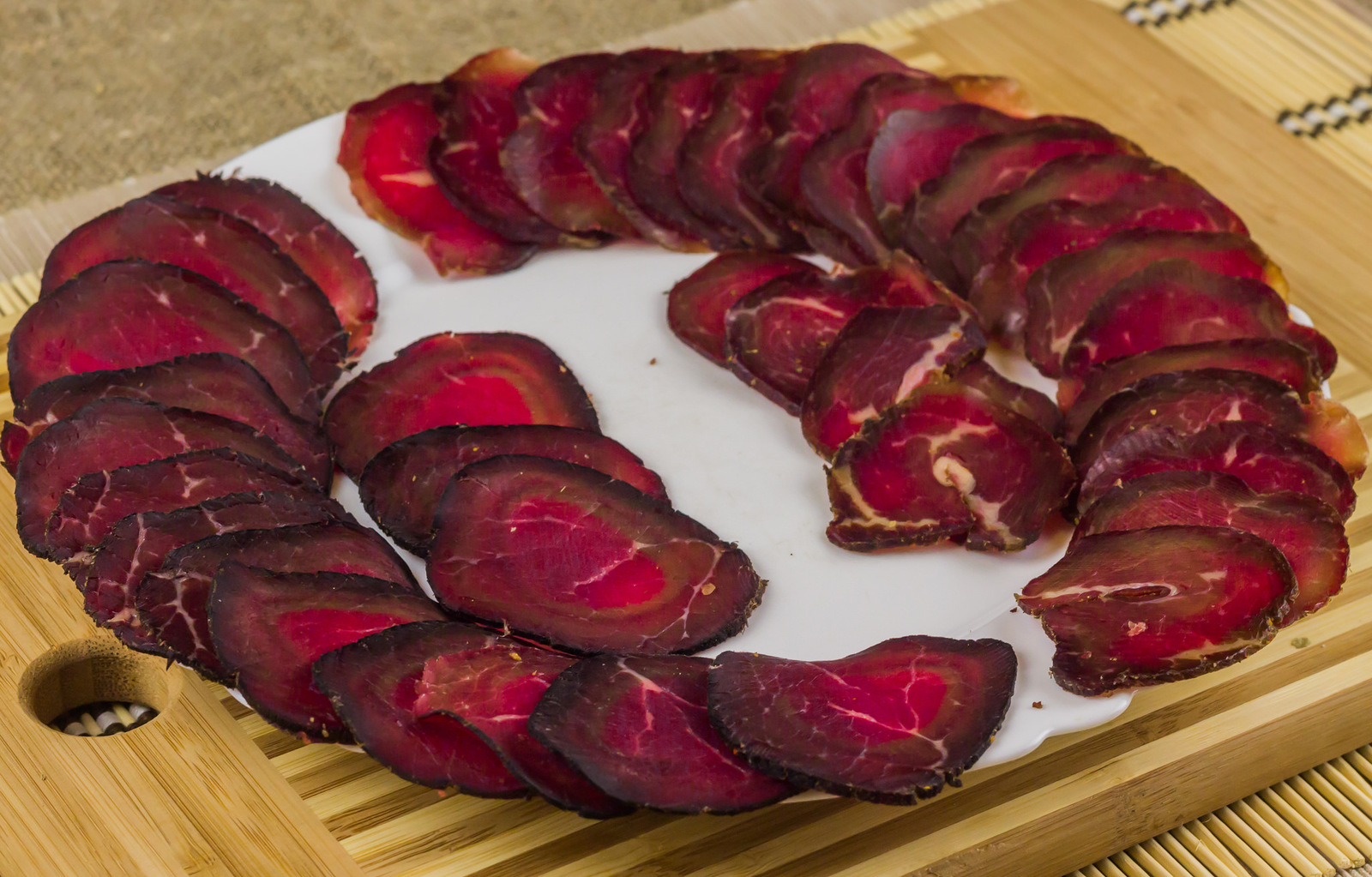 On the right, these are pieces marinated without wine, and on the left, respectively,in wine.
I will not write stamped phrases that it was divine and the meat just melted in the mouth. It was just delicious. And it thawed, rather, not in the mouth, but on a plate. As a snack to dry red it is generally excellent.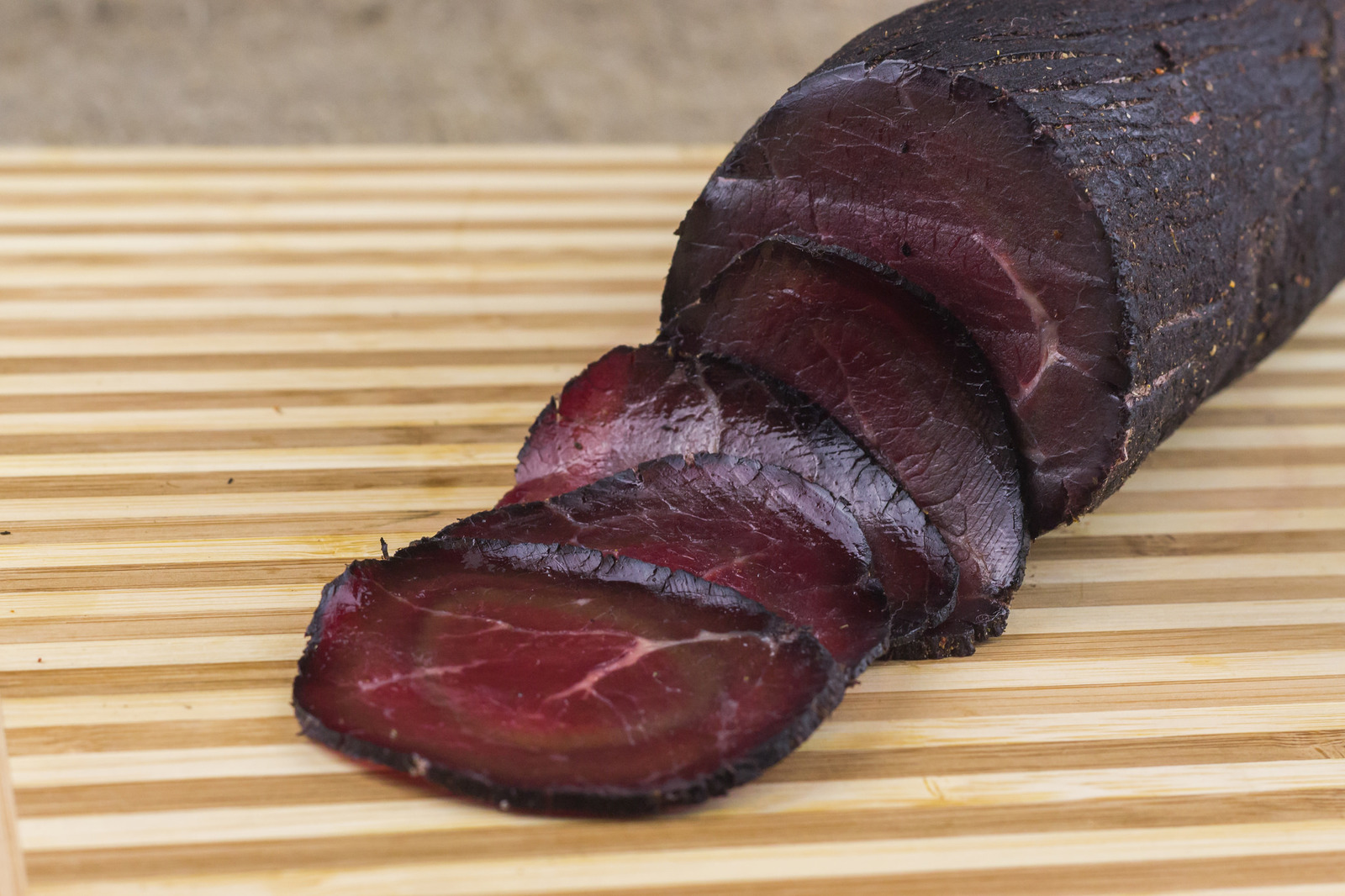 Let's now make a calculation of the grandmother. Meat - 1500 (approximately) rubles, wine - 165 (precisely) rubles, spices - 50 rubles approximately), nitrite salt 6 rubles 37 kopecks (exactly), gauze 50 rubles (approximately). Total - 1721 rubles 37 kopecks for 1018 grams of the final product. Total - 1691 rubles per kilogram. Is it a lot or a little? Judge you.
In our Pyaterochka, the sanctions product is simply indecently expensive.
In terms of kilograms, this is 9,129 rubles per kilogram, which you will agree is completely indecent. True it says that he is gluten free. Estimate, for 9 pieces, and even gluten is not put. And we and spices and wine. And in general, they did everything with love.
All reported. I'm going to finish bresaola.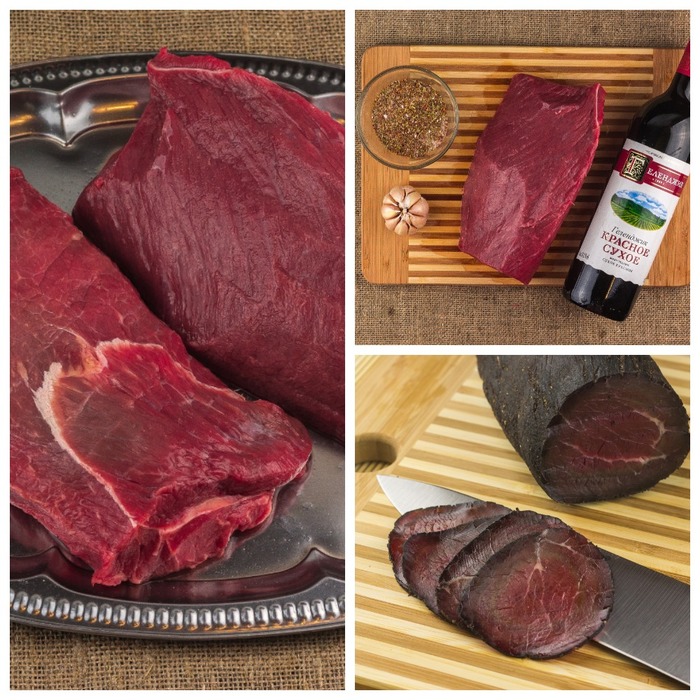 A source
Click on the button to subscribe to "How it is done"!
If you have a production or service about which you want to tell our readers, write Aslan () and we will make the best report that not only readers of the community, but also the site will see
How is it done
Subscribe also to our groups in
Facebook, VKontakte,classmates, youtube and instagram
Where will be placed the most interesting from the community, plus a video of how it is made, arranged and running.
Related news
Bresaola do it yourself image, picture, imagery