Cast-iron pan for pancakes. The best pan for pancakes
One of the favorite delicacies of children and adults is pancakes: lace with jam or sour cream, stuffed with various fillings. Each housewife has his own recipe. But the secret to good food is not only in the ingredients. Pan frying pan plays a significant role in the preparation of this dish. The final result depends on it.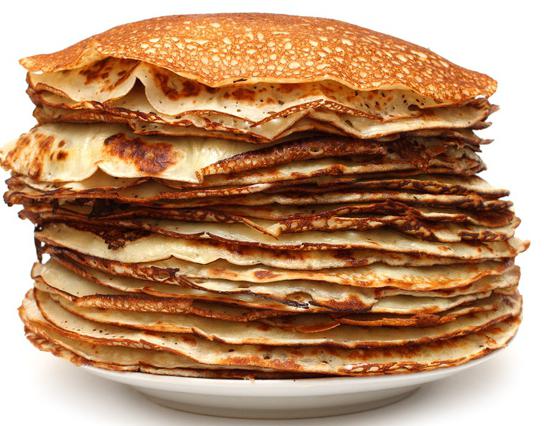 It is believed that cast-iron cookware fits better than others for frying pancakes. And indeed it is. Pancakes turn out real, ruddy and well baked. Such pans are passed from parents to children, they are checked repeatedly. It is unlikely that a cast-iron pancake pan will ever fail. The older the dishes, the better to cook on it.
Currently, many analogues have appeared on the market. Frying pans with different coatings, different shapes and sizes can be purchased at any store. It should be noted that on cast iron pancakes baked faster.
Features of cast iron skillet
Good pancakes in such a pan are prepared thanks to the special properties of cast iron. Here are the main qualities for which you can love this dish:
uniform bottom heating;
long kept warm;
durability;
durable bottom is not afraid of scratches;
The material is safe for cooking.
Cast-iron pans are thick-walled, so they warm up well and keep warm for a long time. Thanks to durable material, the dishes will last a long time. A cast iron pan pancake pan usually does not have an additional non-stick layer. Therefore, she is not afraid of metal objects that are used to turn the pancakes. These are the pans used by professionals.
How to prepare a cast iron pan for baking pancakes
To prevent pancakes from sticking and are well baked, use a frying pan only for cooking this wonderful dish. For frying other products, get a separate container. It is desirable not to wash the cast-iron pan, but simply wipe it with a cloth. When dishes with vegetable oil are heated at the bottom, a special layer is formed that prevents pancakes from burning and protects the bottom from oxidation.

New skillet must be prepared before baking pancakes. Do the following:
Wash dishes thoroughly and dry.
Sprinkle salt on the bottom and heat on the fire for about 60 minutes (you can use the oven).
Cool the pan and free from salt.
Pour the vegetable oil and again heat it on the fire for 15–20 minutes.
Such actions are required for new cast-iron cookware. If you are already using a frying pan, then occasionally ignite the pan with salt, then with oil for 10–15 minutes. This will help avoid sticking pancakes to the bottom.
Other types of pancake pans
The cast iron pan is undoubtedly good. But the world does not stand still. The modern market of goods offers special pancake pans: light, non-stick coating, with comfortable low sides and an extended handle. They have less weight compared to cast iron counterparts, and it is easier to adjust to them. Such pans are made from various materials. You can pick up dishes of suitable diameter.

Aluminum frying pan
Not the most common option, but also quite acceptable. Before frying, aluminum dishes should be properly heated with oil.Then the pancakes will not stick. It should be noted that such a pan for pancakes can deform with frequent overheating and a sharp temperature drop. This is especially true for thin pans. The surface of the pan is easy to scratch, and this affects the quality of cooking.
For baking pancakes is better to choose thick-walled dishes. It will be better to warm up, keep warm longer. This pan is more resistant to the formation of defects than the model with thin walls.
Non-stick frying pan
One of the easiest and most convenient samples. The bottom of the pan is covered with a protective film. A well-known brand that produces such dishes is Tefal. Frying pan for pancakes with a thick bottom is preferable. Such dishes are very easy to use. The most important thing is not to expose it to strong overheating, so as not to disturb the thin protective layer and avoid warping the pan.

As practice shows, non-stick coating eventually fails. Will require a new pan for pancakes. Reviews on various models determine the average service life of products from 12 to 24 months. Choose quality models with a good bottom and safe.protective layer. Do not use metal or sharp objects to turn the pancakes.
Ceramic frying pans
This model is one of the most modern. The pan is made of aluminum and has a layer of ceramics. The protective coating is quite durable and environmentally friendly. Food to him almost does not burn. Ceramic pan for pancakes quickly warmed up. Dough spreads over the entire surface. Pancakes are baked evenly and easily slid off the pan. Dishes are easy to clean. Frying requires a small amount of oil. This modern pans come in a variety of designs and colors. Ceramic dishes afraid of a sharp change in temperature. Wash it after it cools down.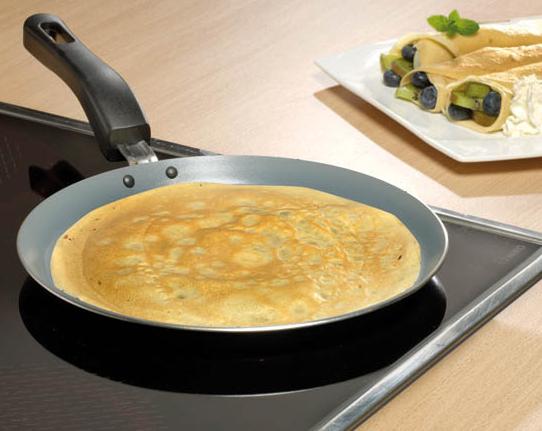 Our grandmothers and mothers, of course, are right in assuring that the best pan for pancakes is cast iron. It is perfect for baking wonderful rosy pancakes. It is used by professionals. But such a pan requires skill and appropriate care. For those who do not want to bother and spend money on the purchase of a cast iron pan, it is better to purchase models with a non-stick coating.They are lightweight and easy to use, with them the strength of pancakes to bake even the novice chef. It should be borne in mind that over time, such pans fail, and the question arises of acquiring new dishes. A worthy competitor of the cast-iron sample is a ceramic pan for pancakes. For ease of use and quality of the finished dish, it is not inferior to its predecessor. In addition, has a modern attractive look.
Choose high-quality dishes. Certified frying pan will last longer, it is safe for health. And your household will be grateful to you for delicious beautiful pancakes.
Related news
Cast-iron pan for pancakes. The best pan for pancakes image, picture, imagery