Cheap and rich. Xiaomi MI 5x phone review
Recently, Chinese phones have made a giant leap forward. Now you do not need to buy cheap copies of the iPhone, which have been broken for a year or even a month. Now, Chinese manufacturers give out a very, very decent technique, not much lagging behind in their characteristics from the more well-known brands. One such example is the new phone from Xiaomi - MI 5x
The start of sales of this model occurred only at the very end of September 2017, but this phone reached Russia much later, and officially appeared only about 2 months ago. As the name suggests, this is one of the variations of the 5th generation of Xiaomi smartphones. According to its characteristics, this is a transitional version from the flagship of the 5th line to the flagship of the 6th, but still very budget phone and with certain drawbacks, which do not allow to consider it even the flagship of its model range.
Externally, the phone is very similar to the Iphone 7 plus, which can already be considered a slight advantage. The screen size is 5.5 inches, which fits perfectly in the male hand and should be comfortable in female hands. It is assembled solidly, without cheap plastic and other substitutes, metal.Rear fingerprint sensor and dual camera. All connectors - on the cable and on the headphones - are located below. In the upper left corner is a compartment for two SIM cards or one if an additional memory card is used. What is important, the phone is not slippery, it just does not jump out of my hands, although I quickly bought a silicone case and a protective glass.
The main feature of this model is the camera, or rather cameras, copied from the flagship MI6, which allow a good approximation and give a better picture. On the other hand, cameras from Chinese smartphones have always been a weak point, and with equal performance with cameras in phones from other manufacturers, the results were much worse. Therefore, you should not expect that this phone will replace your camera. Yes, with good lighting and staged shooting, as well as in macro mode, the photos are quite good and can be used. In other cases, the camera in the phone remains the camera in the phone.
In its filling, the phone is very good. Test AnTuTu Benchmark gives a decent result in 77,659 points.
But the main advantage, in my opinion, is the price.The phone cost me 12 thousand rubles for a black model with 64 GB of memory, although the usual price is, nevertheless, around 16 thousand. Purchased machine in the store
Video-Shoper.ru
because the price was one of the lowest (now the price tag has dropped to 11,000) and many different bonuses were attached to the phone, including a large archive of content — different applications and games.
The model has only 3 drawbacks:
- during a call, the phone's sensor allows you to play around with the talk modes and turn on and off various functions
- small battery capacity
- the camera loses its flagship properties in poor (medium) lighting
Equipment:
Standard - key, cord, adapter, manual, protective film with a napkin
Specifications:
General characteristics
Type of smartphone
Android OS version 7.1
Body type classic
Body material metal
Control touch buttons
SIM card type nano SIM
The number of SIM-cards 2
Mode of operation of several SIM cards
alternate
Weight 165 g
Dimensions (WxHxT) 75.8x155.4x7.3 mm
Screen
Screen type color IPS, touch
Type of touch screen
multitouch, capacitive
5.5 inch diagonal.
Image size 1920x1080
Number of pixels per inch (PPI)
401
16: 9 aspect ratio
Automatic screen rotation
there is
Scratch-resistant glass
there is
Calls
Light indication of events
there is
Multimedia features
Rear camera double 12/12 MP
Backlight flash, LED
Rear camera features
autofocus, optical Zoom 2x
Rear camera aperture
F / 2.2
Video recording is
Max. video resolution
3840x2160
Max. video frame rate
30 frames / s
The front camera is, 5 million pixels.
Related news
Cheap and rich. Xiaomi MI 5x phone review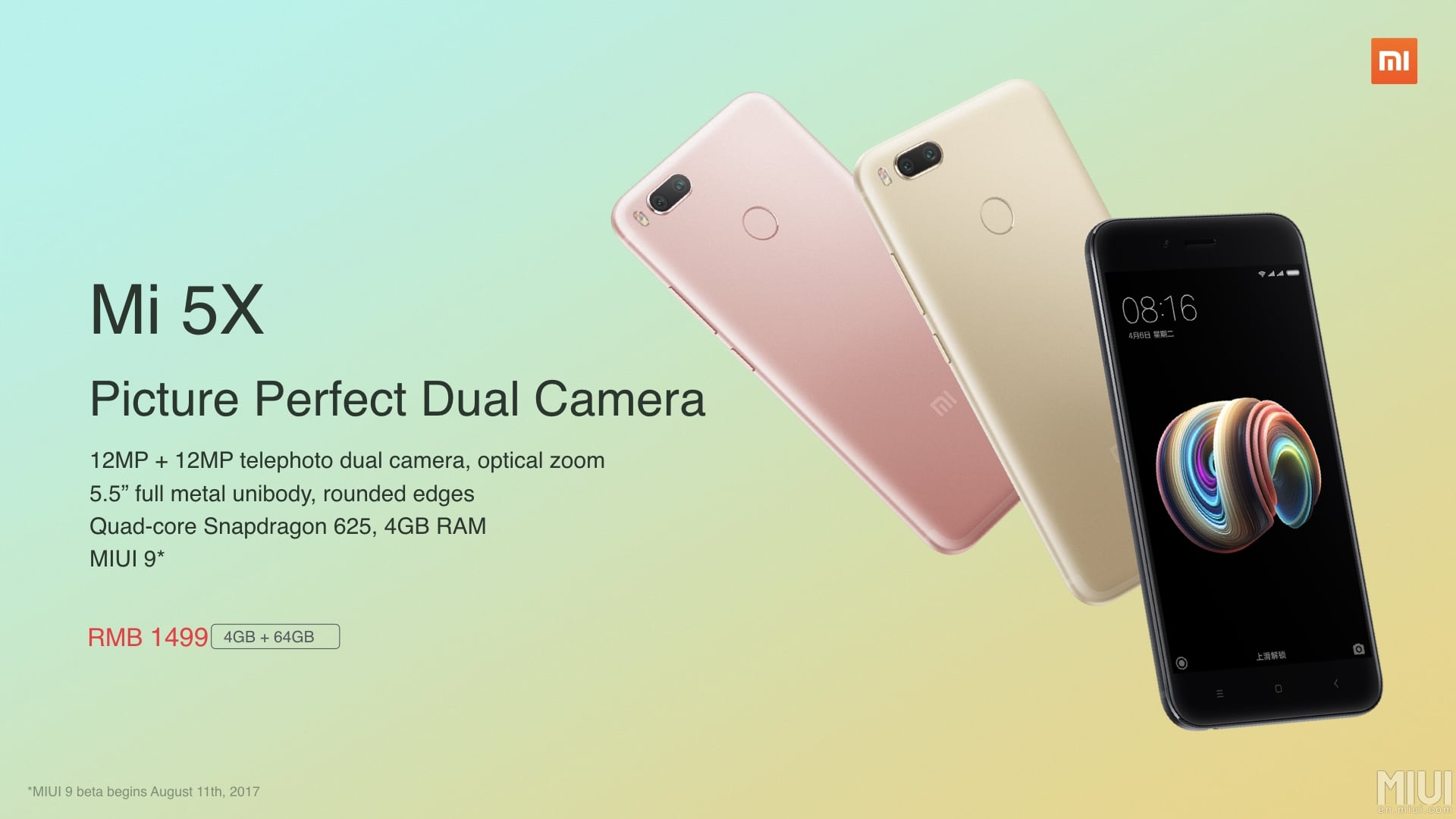 Cheap and rich. Xiaomi MI 5x phone review
Cheap and rich. Xiaomi MI 5x phone review
Cheap and rich. Xiaomi MI 5x phone review
Cheap and rich. Xiaomi MI 5x phone review