Chicken heart, liver, navels: a recipe for fried giblets and other dishes
Chicken offal is often used by housewives when cooking everyday meals. One of the reasons for this is the cheapness of the product compared to the cost of poultry meat. Although many gourmets, not paying attention to prices, opt for giblets because of the specific taste of ready-made dishes. What can be cooked using chicken heart, liver and navels? The recipe, the most popular and common, is based on roasting offal. It turns out great stews, goulash and even kebabs. Other hostesses prefer the first dishes - soups or borscht based on broth from the giblets. In this article, we propose to create a real fried delicacy. You will not be difficult to cook roast using the heart, liver, chicken navels. The recipe describes in detail all the stages of work. Ready-made roasted offal can also be used as a filling and serve as the basis for baked products, which will be described below.It is worth noting that when preparing dishes from navels, they are usually soaked in wine, lemon juice or milk in advance. The taste becomes more tender and delicate.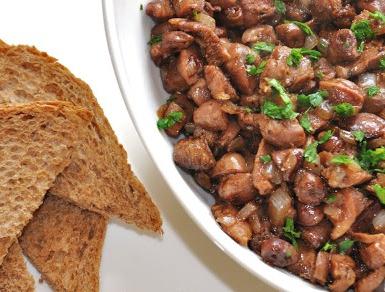 Composition
- Chicken offal - 0.5 kg;
- milk - 2 glasses;
- One medium onion;
- two art. l lemon juice;
- three art. l vegetable oil;
- one tsp spice mixtures (pepper, coriander, paprika);
- three art. l pomegranate juice;
- 2-3 pieces of bay leaf;
- salt.
Fried chicken offal. Recipe
Cut the giblets into pieces of the same size and cover with milk. Leave to marinate for one to two hours, putting in the fridge.
Rinse and put to boil, pour cold water. Put bay leaf in the solution, salt it. Cooking time - 10 minutes. Leaning on colander, let the giblets drain.
After heating up the vegetable oil in a deep frying pan, pour out the dried offal. Season with spices, pomegranate and lemon juice.
Cook for the first fifteen minutes with the lid closed. Then fry, without covering, for another 10-15 minutes, adding chopped onion to the mixture.
Serve on the table, sprinkle with herbs. This dish can be prepared using only chicken navels, the recipe will not change. An excellent side dish will be mashed potatoes.
Goose Pie
Take a few molds and, after smearing them inside with vegetable oil, place the puff pastry circles on the bottom. Then lay them on the fried giblets, coat them with ketchup or mayonnaise, cover with the same circles on top. Grease egg yolk cakes and bake in preheated oven until browning (10-12 minutes).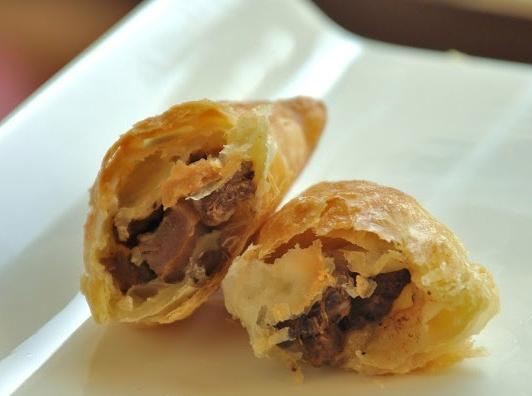 Pies, fried in oil
In this dish is also used filling, which included chicken navels. The recipe for pies depends on the test. You can buy ready-made puff or cook homemade yeast. In any case, the taste will turn out to be excellent due to the crispy crust formed when baking in the pan.
Related news
Chicken heart, liver, navels: a recipe for fried giblets and other dishes image, picture, imagery