Diode lamp: types and description
For more than a century, people have used incandescent lamps to illuminate streets, houses, and industrial premises. But only in recent years began to look for alternative options for lighting. First gained popularity and now more and more often both in apartments and on the street, in public places you can meet a diode lamp.
Main characteristics
To make the right choice, you need to understand the characteristics of the lamps. Of course, all the parameters can be obtained from the consultant in the store, but to be 100% sure, it is better to read about the main technical parameters in advance.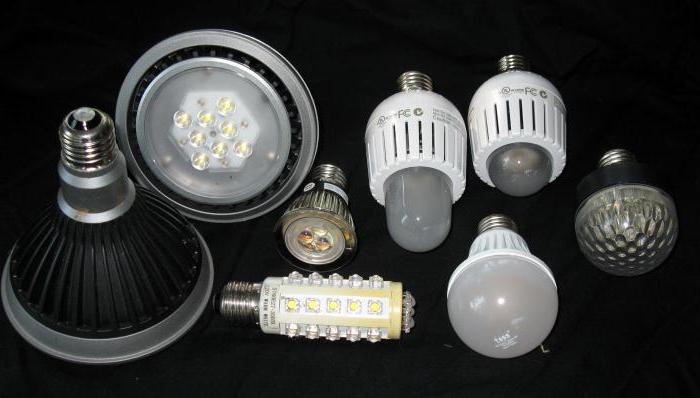 Diode lamp has the following characteristics:
base and type of housing;
power that is consumed;
supply voltage;
radiation power and efficiency;
shade that emits light;
the ability to adjust the brightness;
temperature range;
design
The most popular type of base is E27 - the same as with most incandescent bulbs, which are often used in everyday life.Another common type of household basement is E14.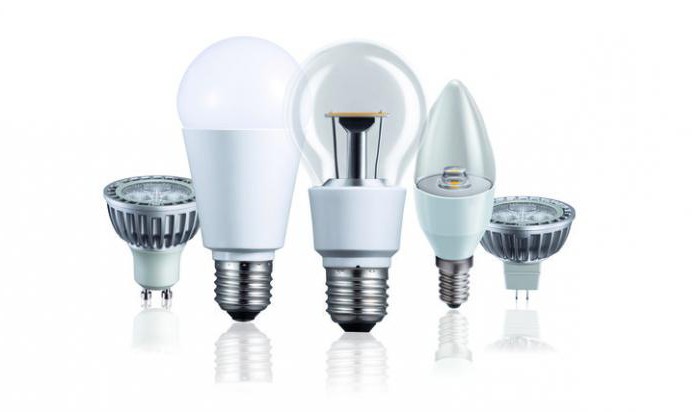 And for such purposes as lighting of streets or large production workshops, the type E40 is used, which is the largest.
The power consumed by the lamp can vary from 3 to 20 watts.
Voltage as one of the main characteristics of the choice of lamp
The supply voltage is necessary to know in order to choose the right luminaire model. Otherwise, if the voltage is too high, the lamp may simply burn out or not work at all. A diode lamp has one indisputable plus in front of an incandescent lamp: its brightness is not affected by voltage surges. Those. if an ordinary lamp dims and shines not so brightly when the voltage drops, and can shine brighter or even burn out as it rises, then the LED lamp has a wide enough voltage range at which they shine equally well.
The LED operates on DC with a voltage of 12V. In order for such lamps to work effectively, use special devices - drivers, circuits. They are able to bring the external power voltage to the one that is more suitable for the LED.
Types of lamps
Diode lamp - a new stage in the development of lighting.If a couple of years ago such a lamp was hard to find, now it can be purchased at almost any store of lighting equipment.
Depending on their purpose, the following types of LED lighting devices are distinguished:
thin LED panels that are designed to illuminate community centers and premises (for example, offices, hospitals, schools, etc.);
ceiling diode lamps;
Spotlights;
special lamps for plants;
Cardan lights, which are used to illuminate offices, hotels, salons, marketplaces;
furniture fixtures;
recessed and pendant lamps.
The most popular ceiling, point and wall lights.
Dotted
Diode spotlights are one of the most popular in this category. This is not surprising, since they are the best replacement for an ordinary spotlight and have several advantages.
First of all, it is worth noting that this type of diode lamps has a high level of fire safety. They can be installed where there is poor ventilation, as well as in plastic and wooden niches without fear that there may be a fire.This is especially true if you are going to install recessed diode lamps.
These devices can be both in metal, and in the plastic case. The case has a special protection against moisture. Power consumption is more than economical - only 3 or 5 watts. And the service life will delight any customer - about 50 thousand hours, which is about 11-12 years. In addition, such lamps will not burn out due to power surges.
If you pay attention to the design of such lamps, then even the most picky consumer will be pleased. Today you can choose the color of the case from a large number of shapes and colors. You can also choose and glow - warm, cold or neutral.
Diode ceiling lamps. A photo
Ceiling luminaires differ not only in shape and size. They have many characteristics that depend on the purpose and place of installation.
In shape, such devices can be round, square and rectangular. Usually round have the smallest area compared to the others. They can also be swivel, swivel-exit and fixed.Depending on the installation method, there may be built-in and overhead ceiling mounted diode lamps.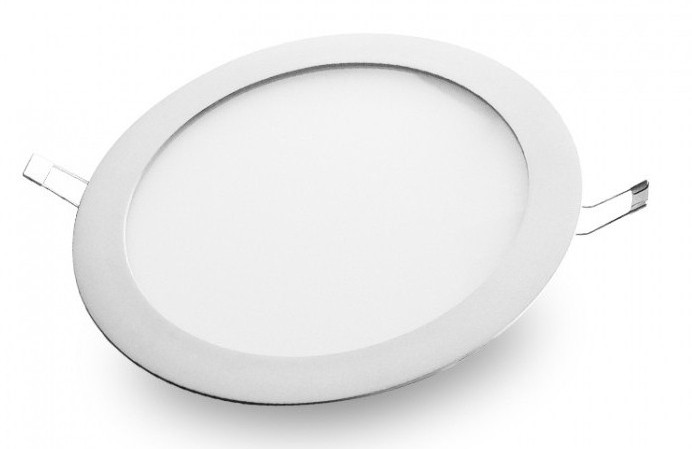 Small round or square recessed turning and not turning lights are often of low power and are suitable for lighting small rooms and rooms. Overhead lamps of various shapes are usually large in size as well as more power. They are used to illuminate large rooms.
Wall-mounted diode lamps
Wall lights are mainly designed for indoor lighting corridors, rooms. Moreover, since the main function of lighting is performed by ceiling lights, wall ones perform the function of auxiliary lighting, and sometimes also act as a decorative element or a night lamp. In this regard, the power of such lamps is quite small: it starts from 1 W, and the shade is usually taken dim.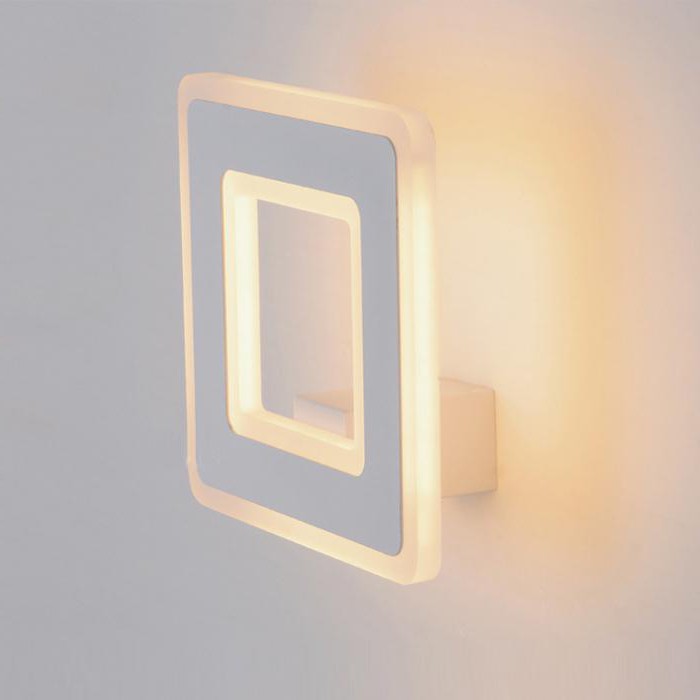 They, like the ceiling, can be of different shapes and sizes. Today, manufacturers offer many options for a wide variety of design solutions, colors and power of such devices.
Benefits
LED lamps, be it ceiling diode lamps,built-in or wall-mounted, for domestic purposes or for industrial buildings, have a number of indisputable advantages over conventional lamps. First of all, it is necessary to note the efficiency of these lamps. They consume not one and not two, but 5-6 times less electricity than ordinary incandescent lamps. If you replace all the ordinary lamps in the apartment with LEDs, the electricity bill in the next month will come significantly less.
The service life of such lamps is very long. On average, it is estimated that such a lamp with a duration of 50 thousand hours will last 12-15 years, depending on how many hours a day it will burn.
An undeniable advantage is the fact that the diode lamps, ceiling or other type of burnout and do not lose their brightness. In the worst case, after a very long service life, the brightness of the light from such a lamp can fall by no more than 30%.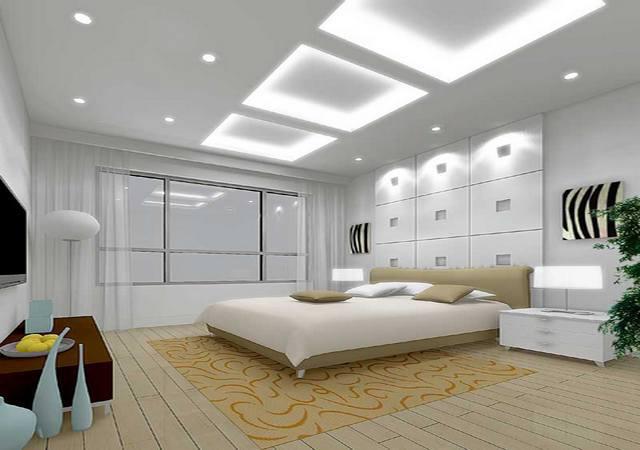 Safety is paramount. So consider manufacturers of LED lamps. This type of luminaire is safe due to very low heat transfer. Ie you can not worry about the fact that the house will ignite due to the large heat from the lamp.
Also worth noting is the strength of such lighting devices. If we recall incandescent bulbs, each person will have a couple of moments in his head when he accidentally dropped and smashed light bulbs. LED lamps are not so fragile, and even if you managed to break them all the same, millions of small fragments do not threaten you.
disadvantages
At first glance, LED lamps are the best option for lighting both at home and on the street and industrial areas. But each seemingly ideal thing has its drawbacks.
LED lamps serve for a long time and consume little electricity, but at the same time the price tag for this lamp is significantly different from the price of a conventional light bulb. The difference between an LED lamp and an incandescent lamp is measured not in percent, but in times. Although, in fairness, it is worth saying that this difference more than pays off by saving energy. But to get this savings, you need to initially invest a round sum to replace all the lamps in the house.
Also, in order for the lamp to serve for a long time, you should carefully select the lamp power. For example, if your lamp has a limit of up to 40 watts, you should not install a 6 watt LED bulb there, which is an analogue of a 60 watt incandescent bulb.
With the development of modern lighting technology, LED lamps surely occupy more and more space on counters and in homes. Despite the presence of disadvantages, the advantages will more than cover the high cost of such lamps.
Related news
Diode lamp: types and description image, picture, imagery