Favorite hotel in Yaroslavl
Living in one of the rooms is an adventure in itself. Each room is unique, films that were shot in Yaroslavl and the Yaroslavl region are beaten up in the interior: Afonya, the Twelve Chairs, Isaev, Vor, Doctor Zhivago, Women, Crew and others. A total of them - 27. This time I got a number of "Clowns". Do you know such a movie? So I did not know. I had to look. The room just lay a DVD.
The interior is quite simple. Last time I lived in the room "The Incredible Adventures of Italians in Russia", it was more interesting there, the view from the window is generally excellent.
Here, look
.
Everything is so funny, even the bathroom is multi-colored.
The film "Clowns" was shot in 2008. Never heard of him. Starring Yuri Vaksman, Vladimir Gusev, Vyacheslav Shalevich, Ada Rogovtseva. Directed by Alexander Daruga and Alexander Bogdanenko. The action takes place in Yaroslavl and Yaroslavl circus.
The hotel is called "John Vasilyevich." This is not an ordinary hotel, but a cinema club. Common areas are also boring.
On the minus first floor is a restaurant in which there are two halls. One is designed as refectory chambers, the second - based on the film "Ivan Vasilyevich Changes Profession."There is a Yakina cabriolet and a telephone booth with a record of catch phrases. And this is the type of staircase in the entrance.
It was possible to see another number - "Khoromy of John Vasilyevich." That's what I understand!
Room rates are different, from 2500 to 5400 rubles.
On the hotel website
I found discounts, different options, mostly offers are valid for stays from Sunday to Friday. The location is excellent, on a quiet boulevard, around the corner - a bear sculpture, on the next street - the residence of the Empress Maslenitsa, Sovetskaya Square within walking distance and close to Damansky.
Add me as a friend not to miss new posts.
Livejournal
/
Facebook
/
Youtube
/
Google+
/
Classmates
/
Golos
/
Zen
Share the post with friends
Taken:
unique templates and modules for dle
Flashmob "Under the flag of Russia" in Yaroslavl
On Saturday, February 3, a flash mob "Under the flag of Russia" was held in Yaroslavl as a sign of support for the Olympic team. On Sovetskaya Square, city residents lined up in a huge
Rate the hotel room in which the Pope lived
Studying the categories of rooms of five-star hotels, we often see these - the Royal Suite, Presidential, Luxury suit and so on. That such choose different Lutheran Church in Yaroslavl
Schmidt settled in Yaroslavl after the exile.His crime was his nationality - not specified on the memorial stone that is set before the church. Monument House-Museum of the Belarusian poet Bogdanovich in Yaroslavl
about Yaroslavl boy Maxim, who lived in virtual Belarus: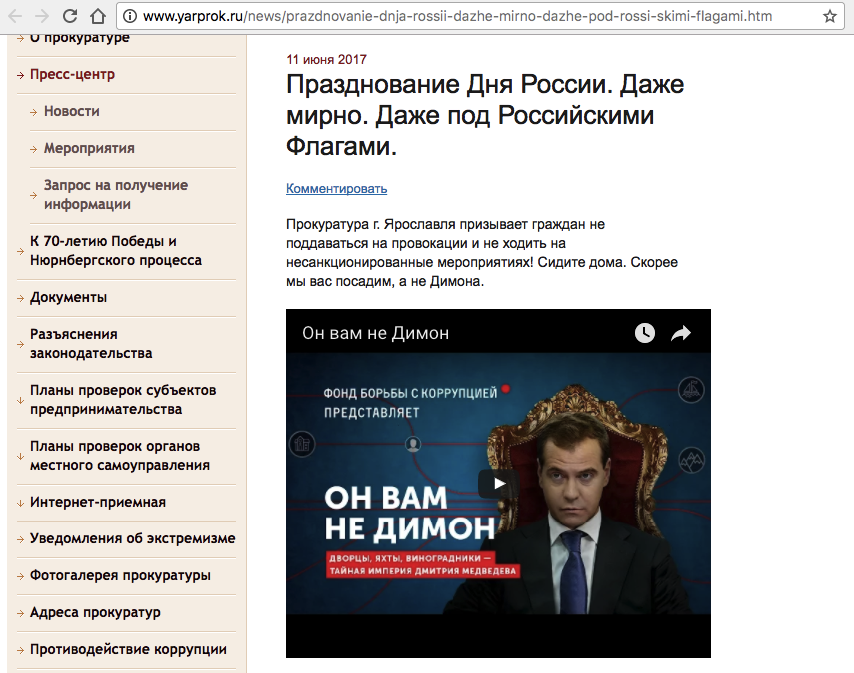 Related news
Favorite hotel in Yaroslavl
Favorite hotel in Yaroslavl
Favorite hotel in Yaroslavl
Favorite hotel in Yaroslavl
Favorite hotel in Yaroslavl