FIFA souvenirs. My collection.
My longtime readers know that I am a collector. In my field of interest Olympiad-football artifacts. Of course, I could not pass by the 2018 World Cup. I sat on the Internet for several nights, made a list and systematically began collecting the desired items. I bought it in souvenir shops and Moscow supermarkets, I ordered it on the Internet, I ordered the dishes from the very factory in Dulevo. Filmed souvenirs for the archive.
First, Zabivaka. Officially, there are five sizes: 16 cm, 21 cm, 28 cm, 33 cm and 40 cm. I chose the average. By the way, now in Spormaster Zabivaki are sold at a discount. Why is a wolf football player with glasses
can be read here
.
Football glasses from the festival fans FIFA. In the fan zone there were sold two types of beer: Klinskoe and BUD. I only have Moscow glasses, I didn't bring it from Nizhny Novgorod.
In such a glass beer was sold at the stadium Nizhny Novgorod. The match Croatia-Denmark was held on July 1, and I was there. The glass was shining and blinking the bottom, though I did not understand how to activate it.
Souvenirs from McDonald's, four of six.
I wrote about them here
. Did you know that toys from Happy Meal can be bought separately without a children's lunch?
Socks with Zabivaka and the symbol of FIFA World Cup Russia 2018. Sold in Auchan.
Mug "Path ball". Also from some supermarket. There they are cheaper than souvenir shops. I barely found Moscow, they are dismantled first.
Magnet and opener. Moreover, the magnet was presented in Sportmaster. There was an action: buy two FIFA souvenirs, get a third one as a gift. I just needed two t-shirts. Otherwise I would not have bought it, the magnet costs irresponsible money. But beautiful, just like that.
T-shirts from Auchan. The most budget option of all that I saw. One will go to the collection, the other will wear.
These are sold in the supermarket Okey. Also inexpensive. For this reason, they quickly bought up.
In Sportmaster everything is mainly for men. For women, the only option. The t-shirt is presented in two colors: white and dark blue. Fit, sits well.
Another mug. Both will go to her mother's collection.
Spoon "Khokhloma". Special edition for the FIFA World Championship.
Matryoshka, Khokhloma painting. Five-school. There are still monochrome (red, blue, green, white), but they do not come off, there are no dolls inside, just a piece of wood. I decided that the classics are better.Well, two magnets, one for the mother, the second will be left to mind.
Keychain "Balalaika". The best of all that she saw.
Very important souvenirs for me: a teapot and a tea pair. There are only three stores in Moscow where you can buy them. Such souvenirs are in demand and quickly sold out. While waiting for the delivery, I went to the production in Likino-Dulyovo and found that the dishes can be purchased directly at the factory, they have a delivery. It was cheaper by 10 rubles than the cheapest option in Moscow. Worried about whether the delivery service will break my porcelain. When I saw the box, just precipitated. There are so many layers of bubble wrap, Mamadaragaya, plus packed packing paper, in general, responsibly approach the packaging.
A glass of Iceland with a FIFA cup, couple
Plates with Zabivaka! In fact, there are four types, I have only three.
Tricolor bezel. I bought in Auchan, I need to somehow decorate myself :)
I even saw suitcases with FIFA symbols in Auchan
At the end of my superfoot "Leg Akinfeev." I adore her. This is even better than
that
:)
Also interested in:
- beer corks and coasters
- money (coins, banknotes)
- anniversary metro tickets
- retrocameras (photos and movies)
- subjects of Soviet times, especially the Olympics-80
P.S. Unfortunately football trojki I profukal. Went, searched, asked at all stations, no :(
Add me as a friend not to miss new posts.
Livejournal
/
Facebook
/
Youtube
/
Classmates
/
Golos
/
Zen
Share the post with friends
Taken:
unique templates and modules for dle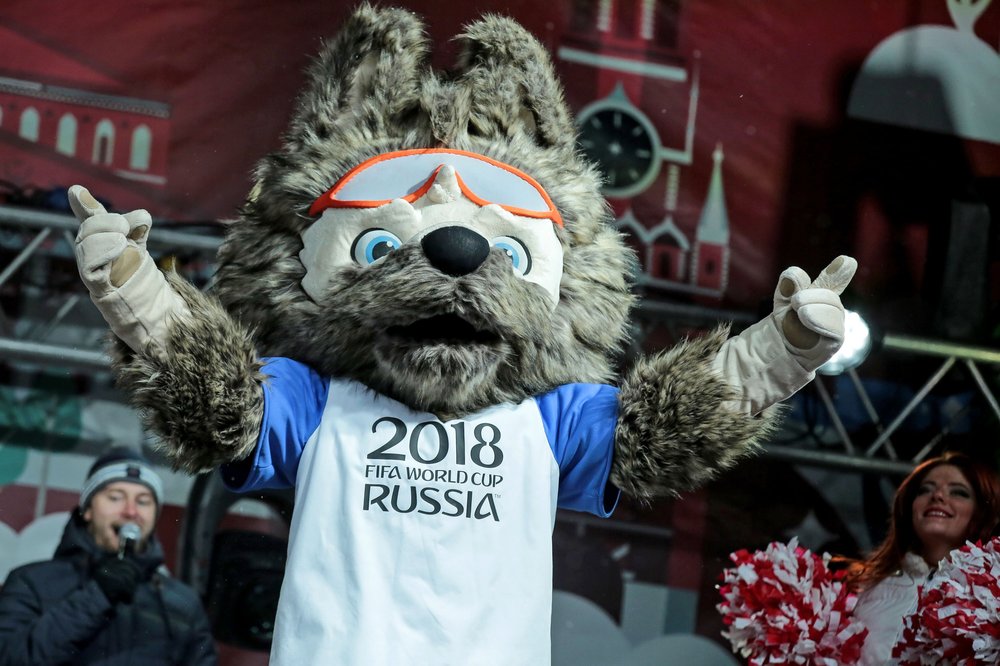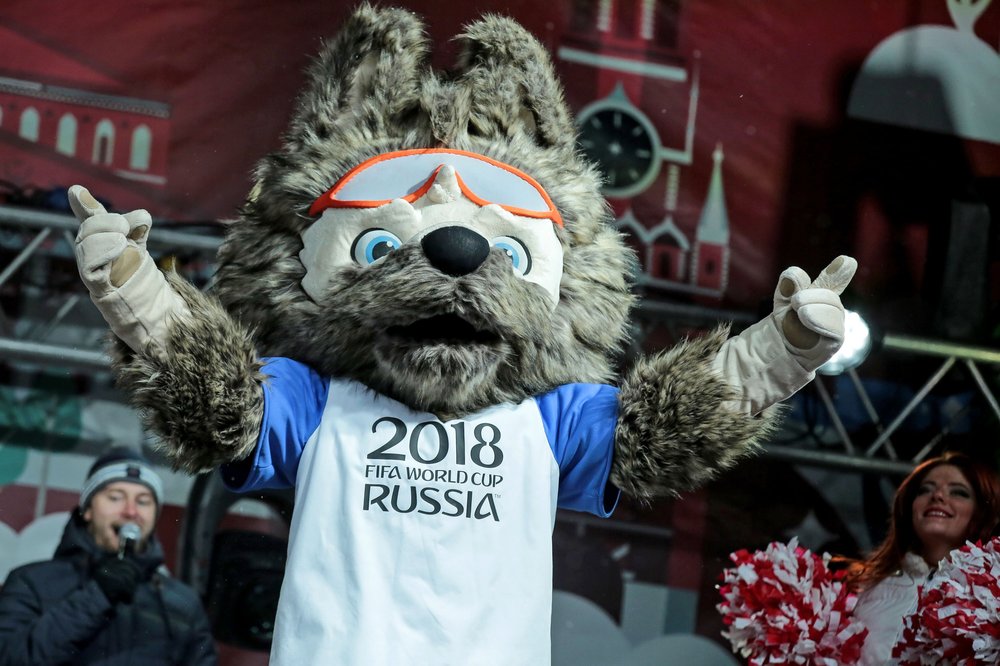 In St. Petersburg, the second Zabivak was stolen (in the same area as the first)
Photo: Tereshchenko Mikhail / Agency "Moscow" In the resort area of ​​St. Petersburg once again stole the figure of a wolf Zabivaki, a symbol of the World Cup. This is the second abduction.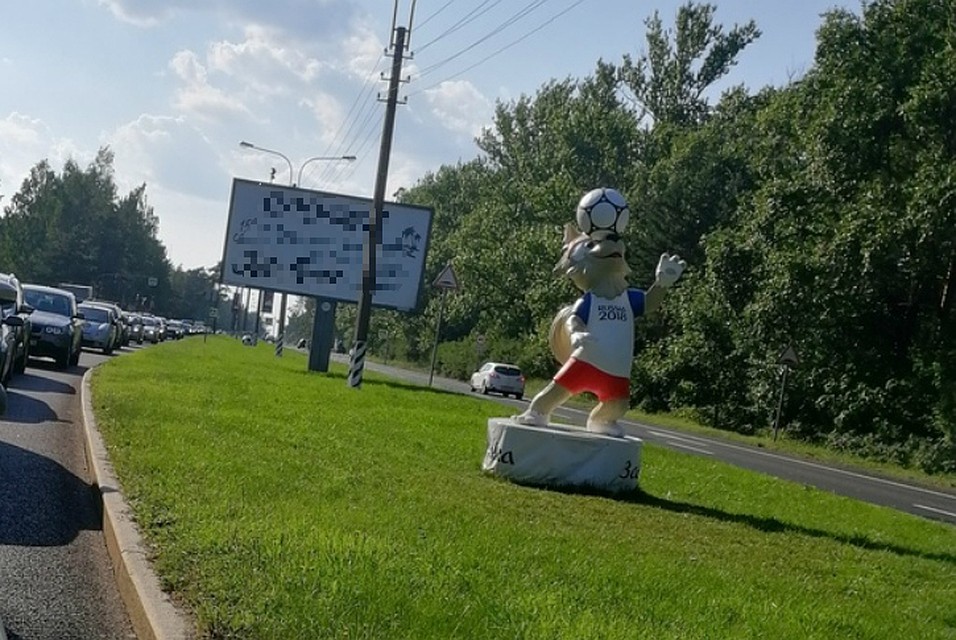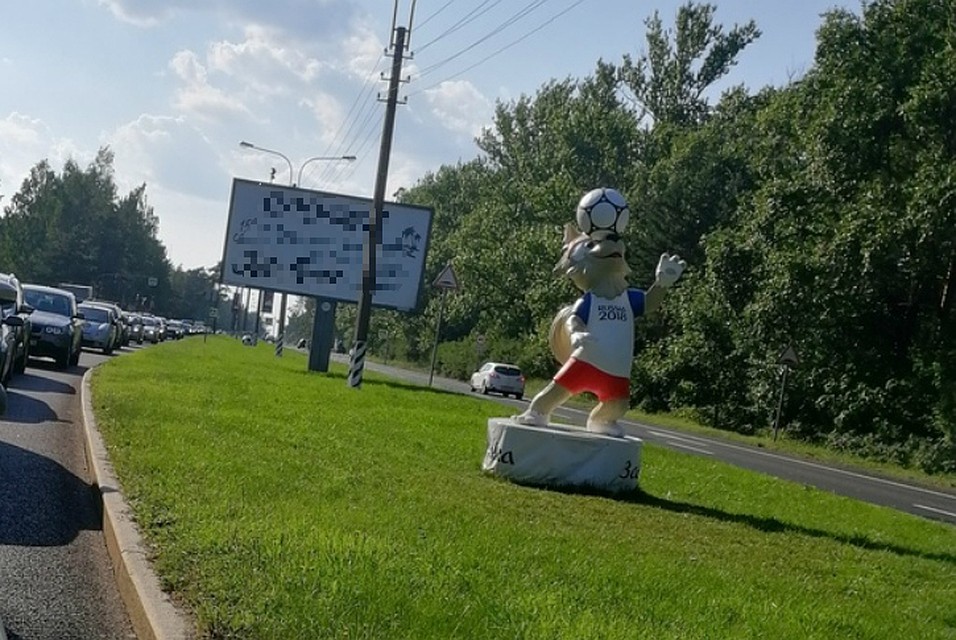 Before the World Cup finals in St. Petersburg stole Zabivaku
Photos from here Before the World Cup finals, the wolf figure Zabivaki was stolen from the lawn on the Zelenogorsk highway in the St. Petersburg village of Solnechnoye
World Cup souvenirs are no longer needed?
I didn't manage to finish the championship, when official souvenirs turned into a pumpkin, and sellers think how to get rid of them now. Souvenirs with official symbols
Festival fans FIFA Fan Fest 2018 in Nizhny Novgorod
The fan zone is located on Minin and Pozharsky Square, right near the walls of the Nizhny Novgorod Kremlin.To view the matches, there are large screens installed, in between matches
Especially for big football. Encyclopedia "FIFA World Cup 2018 in Russia"
For any football world championship necessarily release all sorts of statistical reference books, encyclopedias in different versions.
Related news
FIFA souvenirs. My collection image, picture