Hotel Atlantis, Dubai: room description, service, reviews. Atlantis The Palm
Dubai is a modern metropolis located on the coast of the Persian Gulf and famous for its huge skyscrapers. It is not only the largest city in the UAE and the business center of the country, but also a popular tourist resort. For travelers in the city built countless hotels, shopping centers, entertainment facilities. On the coast, even an artificial island was created - Palm Jumeirah, which is built up with luxurious resort complexes. The most famous of these is the huge resort hotel Atlantis The Palm (Dubai). He was the first complex open on the island. What can he offer his guests?
Unique location
The artificial island of Palm Jumeirah is a place for a respectable holiday. The hotel is built in the central part of the crescent and has its own access to the sea. It is located on the first line, so tourists can walk to the beach in just a few minutes.In addition, the beach is equipped not from the outside, but from the inside of the island, so the water in the sea is always warm and calm here, which is ideal for holidays with small children.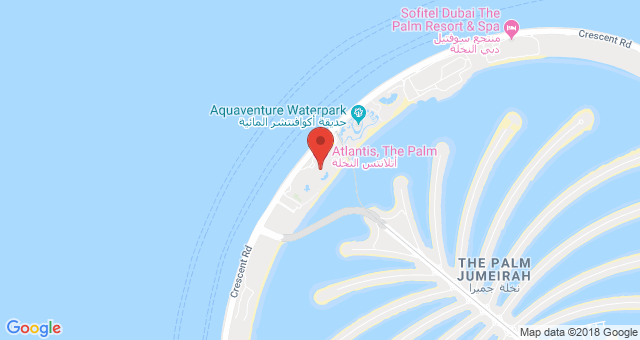 How to get to the Atlantis Hotel in Dubai? Many tourists are concerned about this issue, but for all the guests the complex provides a transfer from the airport. The complex provides comfortable buses equipped with comfortable seats and air conditioning. Travel time is usually about 45 minutes. On your own, the easiest way to get to the hotel is by taxi or monorail. The latter delivers tourists directly to the entrance of the hotel.
When buying a ticket to Dubai, many travelers want not only to swim in the sea, but also to explore the ultra-modern architecture of the city. You can get to the central part of the hotel in about 15 minutes. This can be done by taxi or monorail. In addition, free buses leave the hotel daily, which take guests to major shopping centers in the city: the Mall of the Emirates and the Dubai Outlet Mall.
Briefly about the hotel
If you want to choose this hotel for your trip to Dubai, then you should know that this is one of the most famous and expensive complexes in the city. Its grand opening took place in 2008.He became the first working hotel on the man-made island. Even now this complex is considered a local landmark. Those tourists who cannot afford to stay here, come to its territory to look at the luxurious buildings of the hotel and make memorable photos against their background.
This resort complex occupies a huge area, an area of ​​more than 460 000 square meters. The hotel consists of two high-rise buildings (22 and 19 floors), which are interconnected by an arch. Residential buildings are decorated in traditional oriental style. Total hotel offers for guests about 1500 rooms. The last repair in them was carried out in 2013.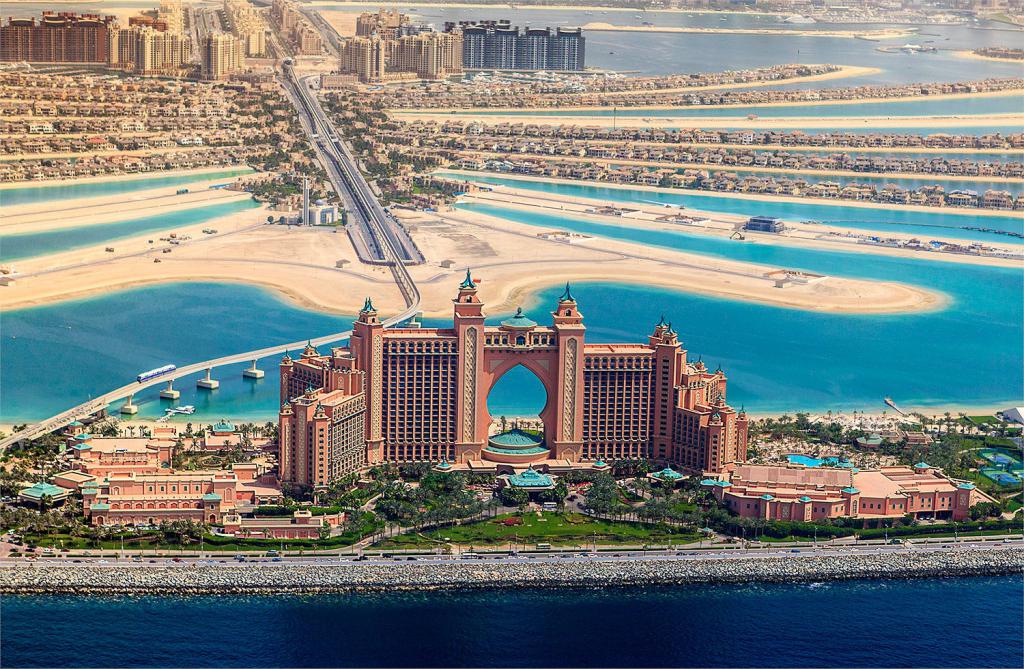 The hotel also has a full-fledged water park, an area of ​​about 170,000 square meters. The guests of the complex can visit it for free. An underground aquarium is another local landmark. Here, tourists can see more than 65,000 species of marine life.
This luxury resort complex can not be called a budget place to relax. Prices at the Atlantis Hotel in Dubai are among the highest. The minimum cost of a double room is about 20 000 rubles per day. The price of luxury apartments can vary from 50,000 to 1 million rubles per day.
Description of the rooms of the hotel "Atlantis"
All apartments of this luxury complex are decorated in oriental or classic European style. The rooms are not allowed to be occupied with any pets. The hotel provides specially equipped living rooms for people with disabilities. There are 16. There are also guests can request interconnecting rooms, connected by a separate door. If desired, guests can occupy a non-smoking apartment. During registration, tourists will need to pay a deposit. You can do this in cash or with a bank card.
The housing stock of the Atlantis Hotel in Dubai offers over 100 apartment categories. The most expensive of these is the huge Royal Bridge Suite, located in the arch between the two high-rise buildings. Its area is 925 square meters. Its tenants are offered 3 bedrooms, equipped with panoramic windows overlooking the bay, several bathrooms, a library, a study, a media center and a huge living room. Also, its guests can rely on club privileges, security and a lot of other additional services.
However, there are more budget rooms in the hotel.Briefly tell about the main ones:
Deluxe Room - double rooms consisting of a bedroom with a living area and a bathroom. The maximum number of guests - 4 people. The area can vary from 45 to 47 square meters. m. There is a French balcony. It overlooks the bay or the surroundings of Palm Jumeirah.
Imperial Club Room - similar in equipment and design rooms, located on floors 11-15.
One Bedroom Terrace Club Suite - one-bedroom apartments of 94 square meters. There is a spacious bathroom, a dressing room, a living room with a dining area, a balcony and a guest toilet. It overlooks the main pool or the beach. Up to 4 guests can stay here.
Two Bedroom Executive Club Suite - a spacious room of 148 square meters. For guests there are 2 bedrooms and bathrooms, a living and dining room, a dressing room and a French balcony. Its maximum capacity is 6 adults.
Poseidon and 1 Neptune Suite - two rooms, located on three floors. The uppermost one consists of a hall and a hallway, on the middle there is a living room with a dining area, a butler room and a bathroom. On the lower floor there is a bedroom and a bathroom. There is an elevator. From the bedroom and living room there is an amazing panoramic view of the huge aquariums. The area of ​​each room is 165 square meters. m2 adults can occupy them.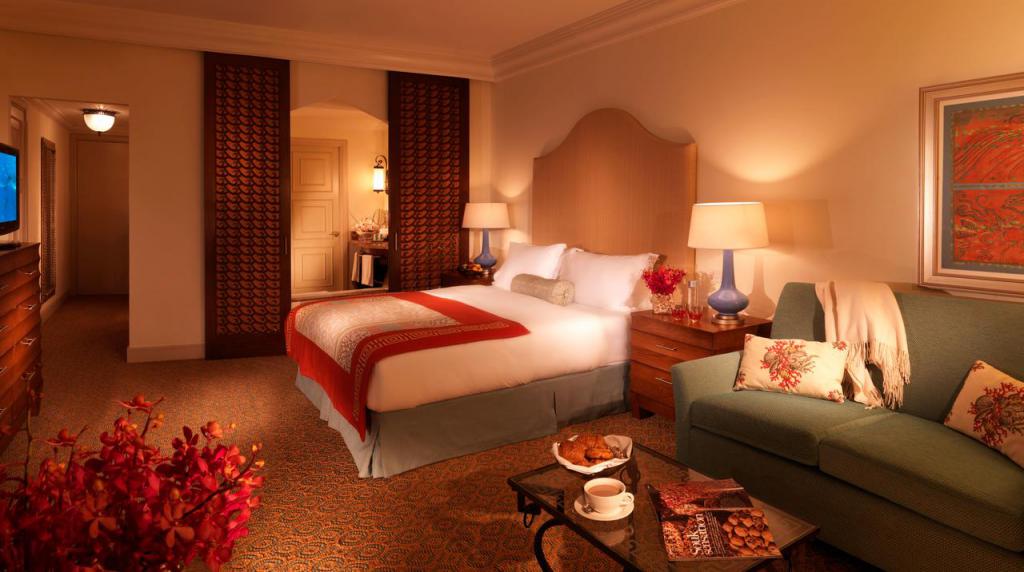 In addition, for all guests who are settled in the apartments marked Club, separate privileges are additionally available. This is a separate reception, free Internet and press, including international. Tourists can visit the water park and the aquarium, as well as a massage room, steam room and pool in the spa. Upon arrival, they are provided with fresh fruit and soft drinks.
Room facilities
Hotel "Atlantis" in Dubai can offer its guests not only luxurious and truly oriental interiors, but also modern equipment of rooms. The floor is carpeted and cleaned daily. Bed linen, bath towels, bathrobes and slippers are provided. Every day the maids clean the rooms and take out the garbage. For a fee, 24-hour service is available. Guests can order their own food and drinks, local and international press in the room. In more expensive apartments guests are served by a personal butler.
Each room has a standard set of equipment that helps make the hotel stay as comfortable as possible.Guests can use a personal electronic safe for personal documents, money and other valuables. It is provided free of charge. No need to pay and wireless internet. Air conditioning in the hotel is central. Its temperature is regulated by hotel staff, focusing on weather conditions. Rooms are equipped with plasma televisions. Most of the satellite channels are broadcast in English, but there is one in Russian.
In the room you can find a set of dinnerware for hot drinks. Tea, coffee, cream and sugar are provided. Set replenished daily maids. For a fee, you can ask to deliver to the room a mini-bar with alcoholic and soft drinks. The bedroom has a wired telephone. You can make calls to the administrator for free, the rest - for a separate amount.
The bathroom is also equipped with a host of amenities. Guests are provided with a makeup mirror, built-in hairdryer. Some rooms have a private bidet or shower. For convenience, the rooms are also equipped with an ironing board and an iron, which can be used free of charge.
Infrastructure Atlantis The Palm and the package of services offered at check-in
This resort complex has a huge territory, on which a lot of infrastructure facilities are located. Some of them can be visited by tourists for free, and some only for a fee. It has everything you need for a comfortable stay, so if you wish, tourists can not even leave the hotel. Wi-Fi is also free.
Service in the hotel "Atlantis" tourists in the reviews are extremely positive. They point out that all hotel staff speak excellent English. Employees are always polite and ready to help solve any tourist problem in a short time. Part of the staff can also communicate in Russian.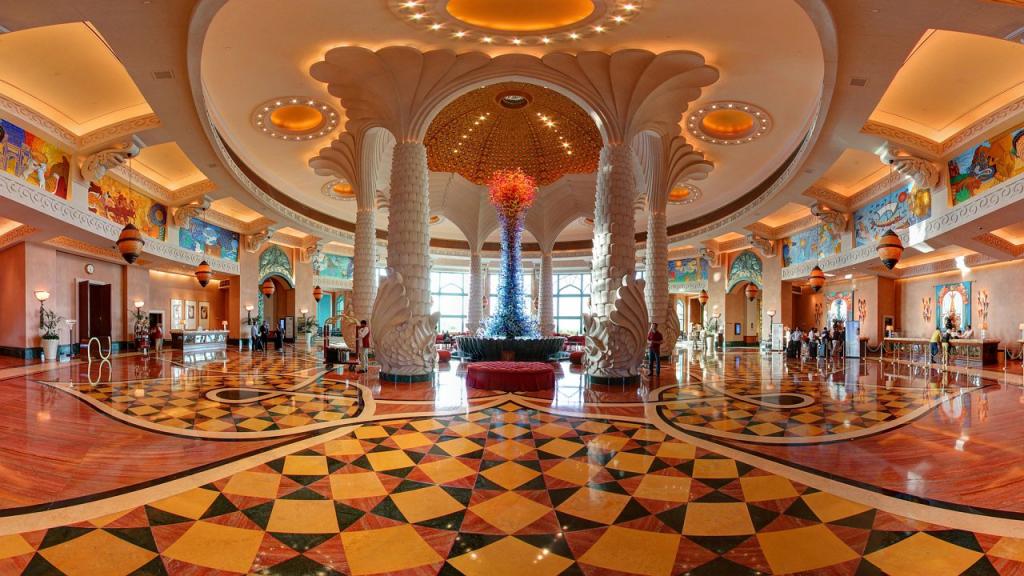 Briefly list all the infrastructure facilities located on the hotel:
24 hour front desk. Check-in to the rooms is from 15:00. They must leave before noon. Also at the counter, you can exchange currency or fill out documents for renting a car.
Car parking. Place on it is provided to all guests free of charge without prior reservation.Also, tourists can rent a paid covered garage, but for a fee.
Hair and beauty salon. They provide their services for a fee. To make yourself a hairstyle or makeup, it is best to book in advance.
The Cabinet of therapist. Each of his admission is paid for separately, as his services are not included in the insurance.
Laundry, where you can donate not only clothes, but also shoes and leather goods. All services are paid.
An ATM, luggage storage and a post office are located in the lobby.
Two modern conference rooms equipped with the latest technology.
More than 25 shops on site, including boutiques of world famous brands.
Most of the infrastructure facilities can be visited only for a fee. But in the package of services at check-in includes a free shuttle service to major shopping centers in Dubai. Tourists may also not pay the entrance to the water park, aquarium, and even the spa, if they live in rooms with the prefix Club.
Catering
Dining at Atlantis The Palm is provided according to two concepts. When making a ticket, tourists can only pay breakfast or half board, which includes morning and evening meals.But the all-inclusive system, favorite of Russians, is not here. But it's hard to stay hungry in a hotel, because there are more than 23 restaurants, bars and cafes on its territory. There are places offering Italian, Japanese, Cantonese, Mexican, Arabic and European dishes. Daily open restaurants serving seafood, burgers and other fast food. Visitors to them are served exclusively by the menu. Their visit is paid.
In the bars you can order both soft drinks and alcoholic beverages, including elite ones. They serve original cocktails and light snacks: pastries, desserts and pastries. Drinks in restaurants and bars are provided only for a fee.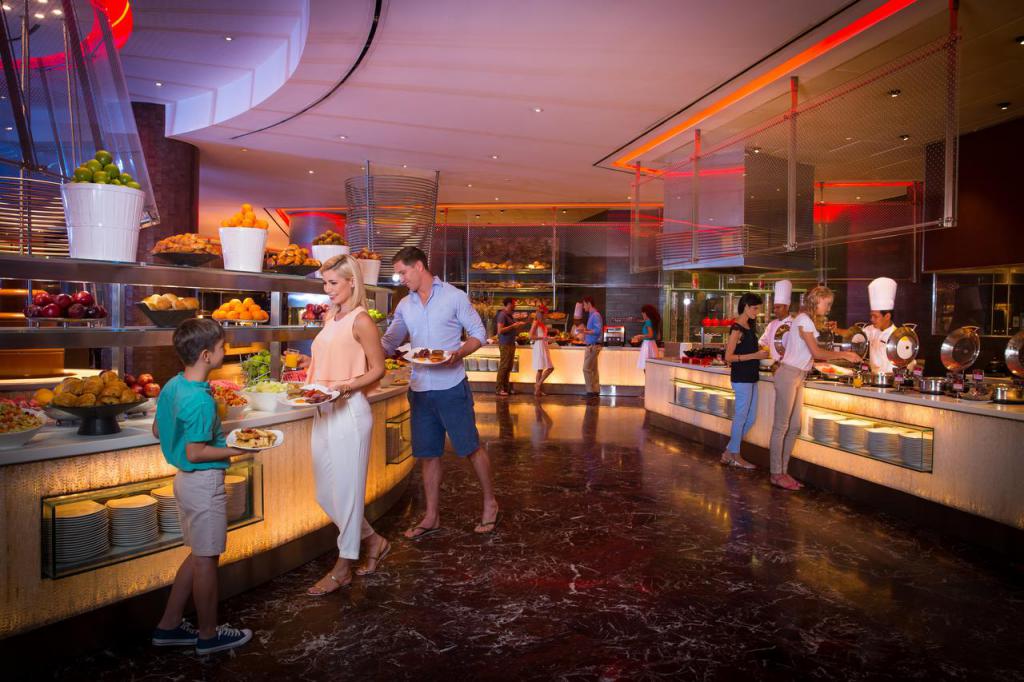 Kaleidoscope is the main restaurant of the Atlantis Hotel in Dubai. This is where all the breakfasts, lunches and dinners are served. The restaurant serves buffet. Tourists are usually offered dishes of European cuisine. But there are themed days. At this time, you can try culinary masterpieces of Indian, Italian and Arabic cuisine. In addition, a special children's and vegetarian menu is included in the price.
Beach
The private beach of Atlantis The Palm has a length of about 1.4 km. Entrance to it is free.It is equipped on the inner side of the island of Palm Jumeirah, and not on the outside. Under the water, special mounds were made to protect the coast from strong waves. Judging by the reviews, the sea is always calm here, so this hotel is often chosen by guests with small children. The beach is equipped with sun loungers and sun umbrellas. Tourists can use them for free. At the reception they are also provided with beach towels. On the coast there are showers, changing rooms and toilets.
A separate section of the coast is equipped for evening and night parties. This beach is called "Nasimi". It has a DJ, open bars.
Swimming pool and water park
The pools at the Atlantis Hotel in Dubai are open. There are two of them. Next to them is equipped with a recreation area with sun loungers, mattresses and sun umbrellas. But most often guests prefer to spend time in the water park.
The water park covers an area of ​​more than 17 hectares. It is equipped with water slides for adult children. There is also a swimming pool with artificial waves, a lazy river, on which man-made cascades are created, as well as areas with accelerated movement.Artificial waterfalls are placed throughout its territory. For guests of the Atlantis Hotel in Dubai, visiting is free of charge. Other tourists in the water park are also allowed, but pay entrance fee. He works daily from early morning until sunset.
How else can you entertain yourself
Hotel "Atlantis" (Dubai, UAE) - is a huge entertainment and recreation complex. On its territory there is a spa where, for a fee, you can book a course of massage or healing procedures, as well as visit the sauna, steam room or jacuzzi. For sports enthusiasts, a gym with treadmills is open. Aerobics classes are held daily.
The beach has its own water entertainment center. Here guests can attend diving lessons, windsurf, kayak and catamaran, or play football and volleyball right on the soft sand. The hotel's grounds are equipped with basketball and tennis courts.
In addition, the hotel has a dolphinarium, which shows daily shows for children and adults. Inside the residential buildings is the aquarium, his visit is free for all guests.A huge nightclub is open for young people.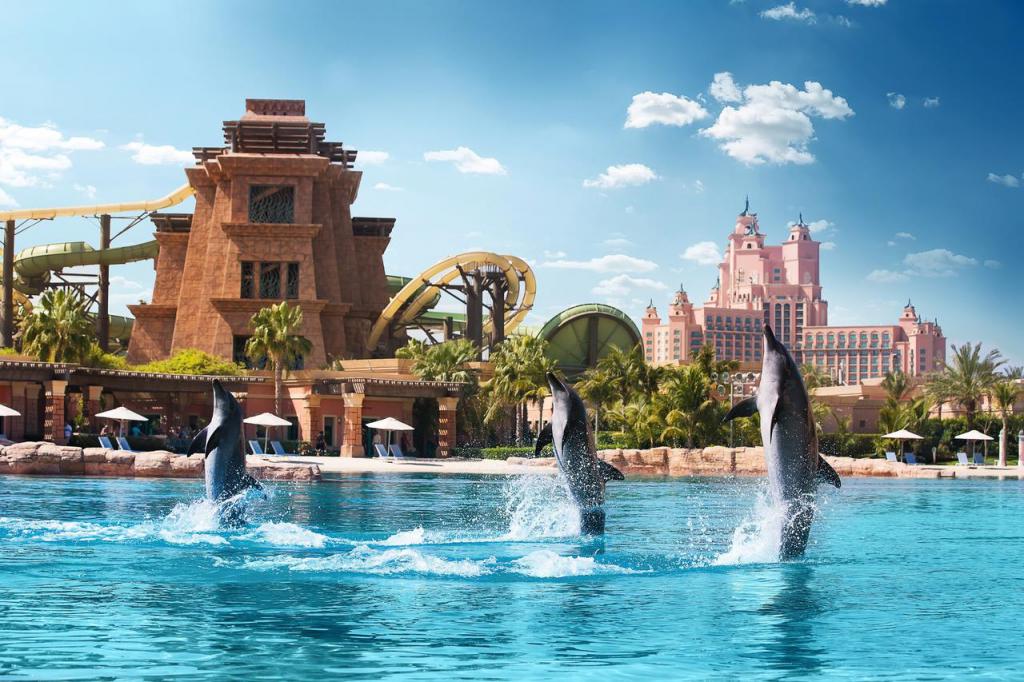 Accommodation with young children
Hotel "Atlantis" (Dubai, UAE) - this is a great place for a family holiday. For children in the complex discounts on accommodation. A baby cot is available free of charge. All restaurants in the complex on request issued chairs for feeding. If necessary, you can call in the living room nurse. It provides its services for a fee.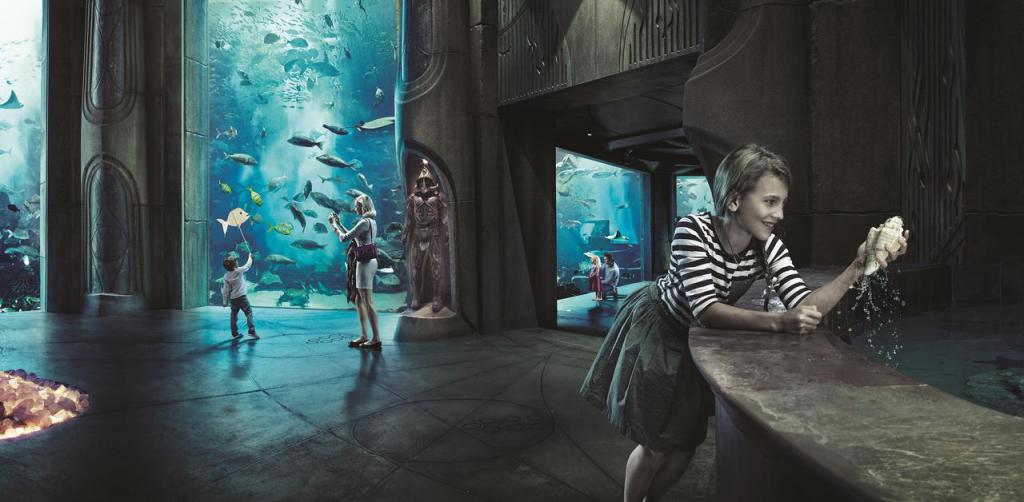 Apart from the water park and oceanarium, children can relax in a separate shallow pool, near which rescuers are constantly present. For kids on the territory there are two playgrounds: in the open air and covered. For a fee, children under 12 years old can attend a mini-club, where animators deal with them under special developmental programs. They can also play computer games or visit the underwater cinema.
Positive hotel reviews
Tourists often leave only positive feedback about the Atlantis Hotel in Dubai. It can be said that he has a very good reputation among travelers. And although the cost of living in it can not be called budget, tourists still recommend choosing it for a holiday, because the price is fully justified by the high level of service.According to hotel guests, he has quite a lot of advantages. We list the main ones:
Spacious and clean rooms with good views. Tourists recommend to pay extra and take rooms on the upper floors to see the magnificent panorama of the Persian Gulf and Dubai.
Security. The hotel has security everywhere. Near the pools and on the beach daily rescuers work.
Huge and at the same time well-groomed territory. The hotel staff takes care of flowers and bushes, regularly scavenging.
Skilled and extremely polite staff. Employees perform their duties as quickly as possible. They listen to the guests' requests and immediately solve their problems. At the same time they always smile and never rude.
A huge water park, which guests can visit for free. Some tourists say that they spent more time here than on the beach. There are water slides for both children and adults, but there are no long lines and flea markets.
Varied nutrition. Even the main buffet restaurant serves a huge amount of delicacies, meat and fish dishes, fruits and vegetables.The vegetarian menu is also notable for its diversity.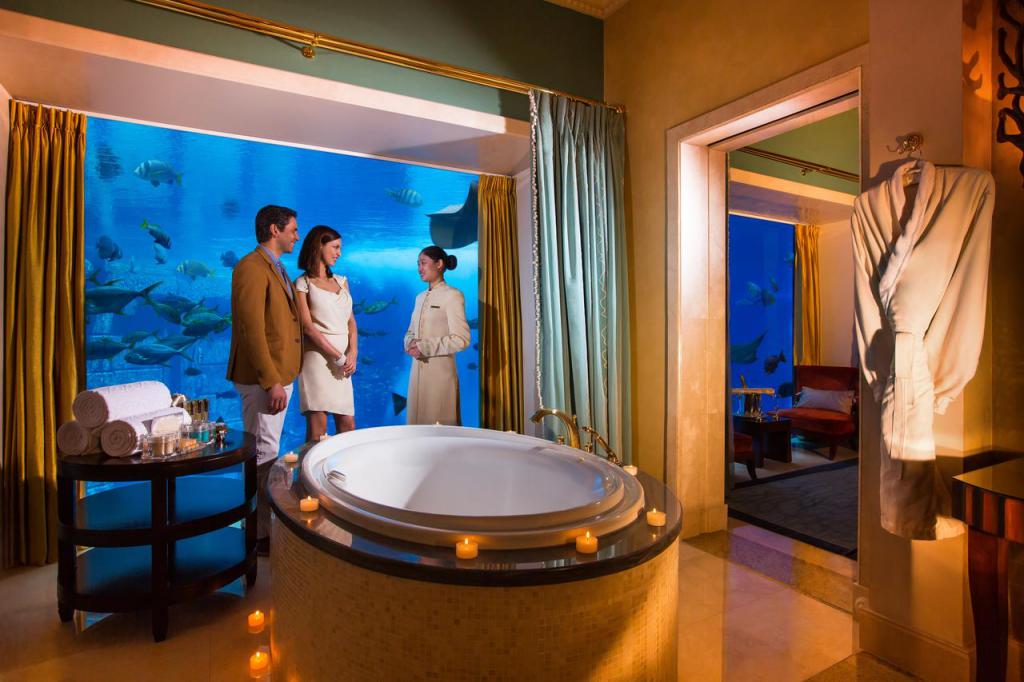 Negative feedback from guests
Unfortunately, there are no perfect hotels. Even the best resort complexes have their drawbacks. Therefore, tourists sometimes leave negative reviews about the Atlantis Hotel in Dubai. But the disadvantages indicated in them are most often insignificant. Tourists themselves also often claim that they had no effect on the rest and did not spoil the impression of it. Despite the shortcomings, hotel guests still recommend choosing it for their stay in Dubai.
What are the disadvantages of this complex? In the reviews, tourists indicate the following service failures:
The hotel is removed from the central part of Dubai for a decent distance. Therefore, it is not suitable for those guests who often need to get out into the city.
Almost all services in the hotel are paid separately, so on vacation you have to take an extra amount with you to rest comfortably.
The seabed at the beach is rocky, not sandy, so you need to wear shoes so as not to injure your feet.
Drinking water is not included in the price, so tourists have to constantly buy it separately.
Bad housekeeping. Maids are also not always on time to change bed linen.
It is safe to say that the Atlantis Hotel in Dubai is not in vain considered to be one of the best in the city. It has a favorable location, a rich number of rooms and amazing design. This hotel is considered diverse, it is suitable for both family and youth recreation.
Related news
Hotel Atlantis, Dubai: room description, service, reviews. Atlantis The Palm image, picture, imagery