How to choose covers from high-quality Alcantara?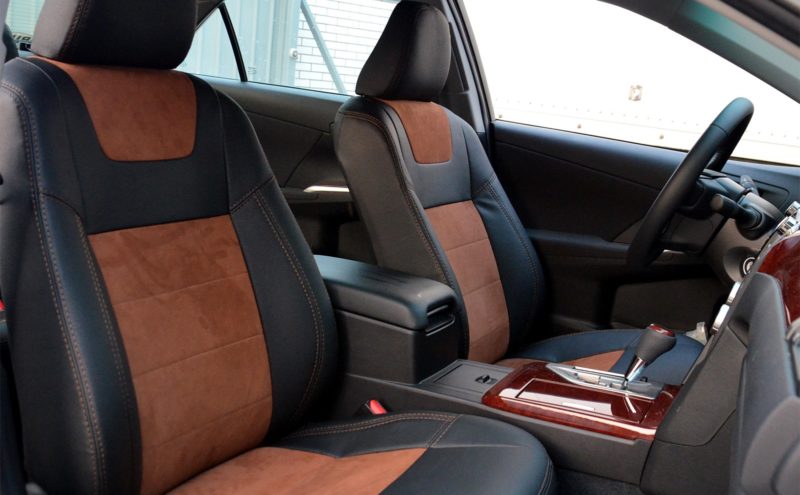 Probably, it is important for every car owner that his car looks beautiful not only outside, but also inside. In order for the seats not to wipe and not lose the attractiveness of the appearance, you need to protect them and.
Very popular in recent times are products from Alcantara. This material is very durable and has a large number of useful properties.
Advantages of Alcantara Covers
Alcantara was patented in Japan and, in fact, only such material is considered original. However, today there are many companies specializing in its production and there is a risk to buy low-quality fake.
For the production of quality material using cotton base, polyurethane and polyester. Alcantara is very similar to suede in appearance and touch, but differs from it in wear resistance. Alcantara was originally used for the interior trim of such branded cars as Audi, Porsche and Mercedes.
Later, steel covers were made from it to order and today it is possible to buy a product from Alcantara in most auto shops. They have the following advantages:
Strength.

Durability.

Easy to care.

Good thermoregulation.

Fire safety.
In addition to use in its pure form, Alcantara is combined with genuine leather and eco-leather. In this case, the central part of the cover is made of Alcantara, and its sides are made of eco-leather. This allows to achieve a presentable appearance and good wear resistance. Cases of Alcantara Lazebra are of high quality and are able to keep the car interior in a presentable form for many years.
How to distinguish quality material from a fake
So, if you are offered Alcantara, then, first of all, you need to know that not all such material is intended for use in cars. There is a kind of Alcantara, which is designed for furniture. It is less wear-resistant and when used in the car will very quickly lose a large amount of lint.
To distinguish quality material from a fake, you can use the color gamut.As a rule, it is limited for proven manufacturers. In addition, the automotive version almost does not intersect with the colors of "furniture." You can ask the manufacturer's catalog and compare the proposed color with the available options.
Of course, on the back of the branded product will be the logo of the manufacturer. However, such a logo can also be a fake.
Considering all the above, it is recommended to buy car covers from Alcantara only from trusted and reputable companies.
Related news
How to choose covers from high-quality Alcantara image, picture