In which countries are the worst prisons
Several hundred people in a cell designed for fifty, humiliation from cellmates and warders, lack of food and water - all this can be expected by a person who has fallen into one of the prisons of those countries where they are still far from the "Norwegian level" attitude towards prisoners.
Brazil
Latin American countries lead anti-rating prisons. Large-scale riots of prisoners in them - the phenomenon is not uncommon. And there are reasons for this. Brazilian prisons have an extremely high percentage of people living with HIV, fighting without rules and drug trafficking. So, cocaine is used by almost everyone, including security. In some prison complexes, such as Kurado, the wardens are generally nominally present.
It is good in the prisons of this country only to local authorities who control everything that happens: they serve time in comfortable rooms with televisions, fans, and bathrooms. The rest huddle in tiny chambers. Skirmishes between factions can take place right in the corridors, and those who owe money for drugs are killed there.The results of one of these massacres in Pedrinhas prison once appeared on the Internet and caused a wave of international outrage.
Those who are richer can rent a "bed" - a bed in the barraco - compartment that resembles a room in a capsular hotel. The rest are sleeping on the floor on their things. The number of people in prisons in Brazil is several times exceeded.
Water in prisons is also a rarity: they drink it in the shower, from cisterns of toilet bowls and from cisterns for washing clothes. People can wait for a few days to wash.
During the riots, prisoners die in the hundreds. They almost do not receive medical care, but even if there is a doctor, there may be no medications for him. In some cases, even operations are performed without anesthesia.
Venezuela
Conditions in prisons in this country are not very different from those in Brazil. In the prison of Sabaneto, with a nominal number of 800 beds, there are 2500 thousand people. They sleep side by side on the floor, in hammocks in the corridors. For a bribe, you can get a separate camera. In Sabaneto, there is one warden for 150 prisoners - this is the prison with the most numerous personnel in the country. In 1995almost 200 people died and 624 were injured because of the cruelty of the jailers. Various kinds of riots happen there regularly.
In prison with the beautiful name "El Paraiso Re-education, Work and Crafts Center" located in the capital of Caracas, almost 2000 prisoners live almost 2000. Caracas is often called the most dangerous city in the world, therefore there will not be a shortage of prisoners in this prison for a long time.
Egypt
You can make an impression about the prison system of this country already on the basis of the detention facility. There is no furniture, and the maximum number of inmates is determined simply: if a person can lie on the floor, then there is still room. The main value - bedding. If she is lucky, her relatives will give her, and when she translates, she will be taken with her.
Ventilation - only the wind from the window under the ceiling. The chambers are hot and dusty. There are sometimes fans in prisons, but they are so old that prisoners often die from a short circuit.
There are almost no sanitary conditions: a toilet in the form of a hole in the floor and a faucet in which water is rarely available. It is stored in bottles.
You can shave in prison once a month, as well as visits to relatives are rarely allowed.All communication takes place in a huge hall where several hundred people gather.
The main value in the Egyptian prison, as in the Russian, is cigarettes. They can barter products. At prisons, there are sometimes shops where you can buy authorized items.
The diet of prisoners is poor: it is beans, cereals, flat cakes, sometimes soups. Prepare them from low-quality products and mercilessly diluted. The only salvation - transfer from relatives. A recent innovation: during holidays, prisoners were allowed to order food from restaurants. Relatives pay for orders.
There is no entertainment in places of detention. The only book you can have is the Qur'an, so skillful storytellers or people with unusual biographies are especially appreciated there.
India
In the book "Shantaram", which became a bestseller, the story of the terrible Mumbai prison. According to eyewitnesses, the author, describing his experience of being there, did not exaggerate. Many foreigners find themselves in Indian prisons for visa violations and drug trafficking.
As Russian Ilya Rusanov recalled, having spent a year in prison for an expired visa, the light in the cell did not turn off for a minute.The director from Yekaterinburg, Andrei Kilin, spent three months in Indian prisons, two of them in a Mumbai prison. As he said in an interview, there is no furniture in the premises, prisoners are forced to live in cramped quarters - at least five times more people are sitting in the cells than they should be. Many die of malaria and the consequences of using dirty water. From food - pea soup with rotten vegetables and lots of pepper. Everywhere is very dirty, in the heat people die from heatstroke.
In prisons, torture and beatings of prisoners are still practiced. If a person has been declared insane, he is transferred to a special unit and pumped up with psychotropic substances.
Delhi is the largest prison in Asia, Tihar (Central Prison). About 13 thousand people reside there (twice as high as the norm), of which about 300 are foreigners. It is forbidden to smoke, and the food - only vegetarian.
Thailand
Human rights activists estimate that prisons in Thailand stand out even against the background of similar institutions in other countries. The conditions of stay in them are called life threatening and very difficult.
There is nothing in pre-trial detention centers - bare walls and floor.In the morning bring a bottle of water with ice - many sleep on these bottles. Food - rice with gravy - once a day. If there are relatives left on the outside, they can pass on something.
Those sentenced to long terms of imprisonment (from 25 years) are sent to Bangkwang Prison. There is no sewage in the premises, and for the first three months prisoners wear shackles. Also, torture is almost officially flourishing there.
In ordinary prisons, the situation is no better - the shackles are often used there (as in the general prison of Phuket), and the overcrowding is such that people often can only sit huddled together. Toilets clogged, almost no ventilation. Food is also inedible. For a bribe, you can slightly weaken the regime - for example, the warden will issue several cigarettes a day. There is no condescension for foreigners on the part of the administration, but they are hardly interested in local authorities, with whom it is customary to share everything.
Foreigners in Thai prisons - almost 6.5%. Many were there for false accusations or because of ignorance of the law.
Most of the terrible prisons are located in countries where the law enforcement system is either practically inoperative or subject to the regime, and the standard of living is low.Human rights activists are not allowed into certain states (such as Iran), therefore, only a few immigrants who have been there write about the situation in local prisons. There is no need to speak about the observance of at least UN-approved "Standard Minimum Rules for the Treatment of Prisoners" back in 1995.
Related news
In which countries are the worst prisons
In which countries are the worst prisons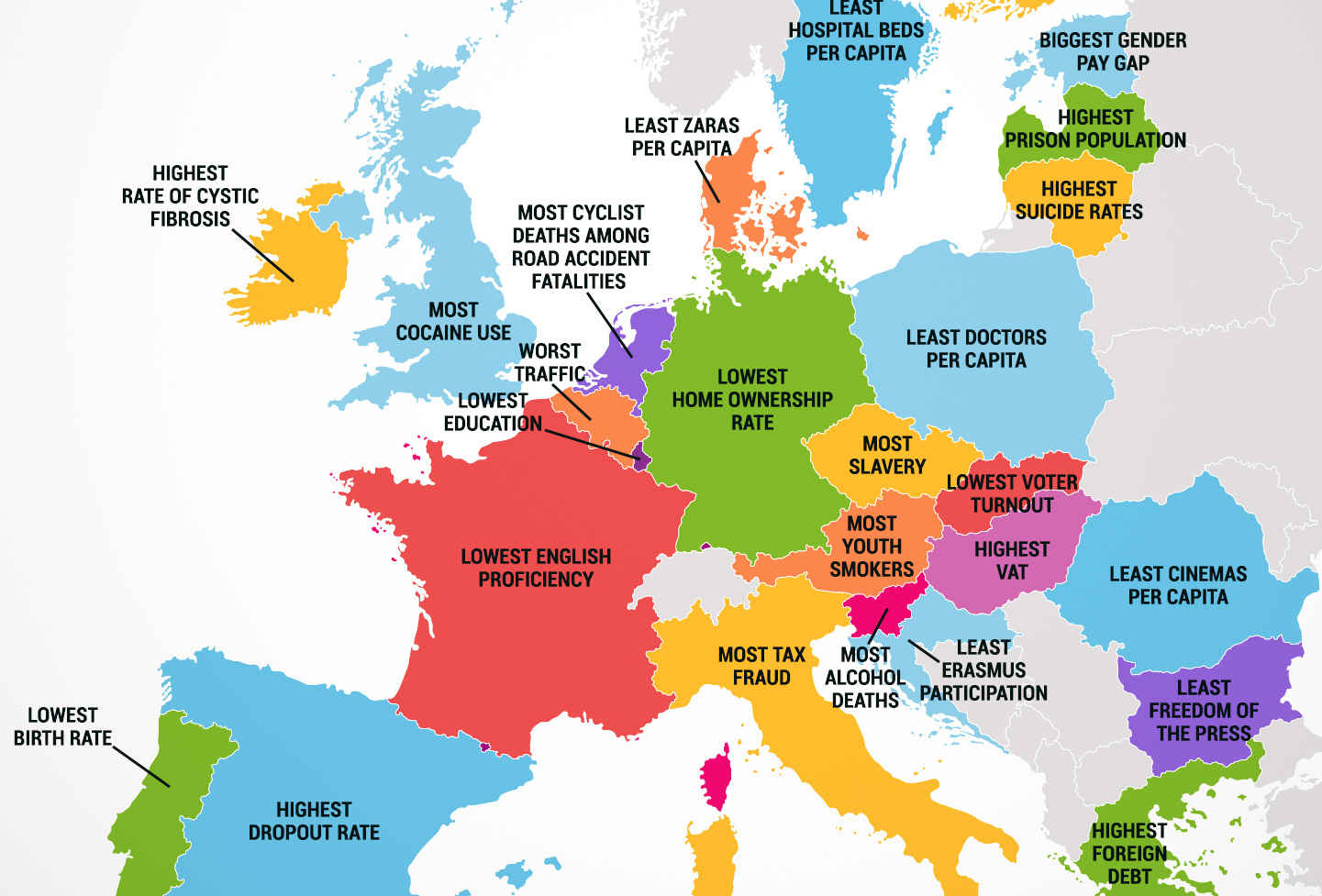 In which countries are the worst prisons
In which countries are the worst prisons
In which countries are the worst prisons