Kimono for karate. How to choose and buy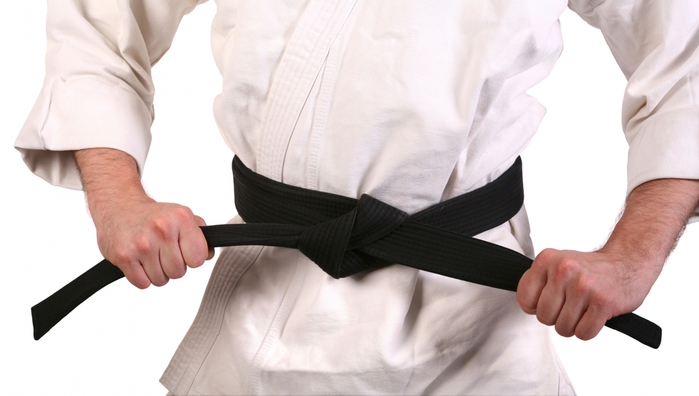 Kimono is an integral part of your training process. Having come to the dojo in an ordinary tracksuit, you will sooner or later have to wear a kimono. In some schools, this is an acknowledgment of your small achievements, and you can put on a kimono only after a certain exam. In other schools, kimono require from the first classes, as a necessary form for training. In any case, sooner or later you will go to the store to choose your own equipment.
Here you will come across many nuances that were not even suspected. Because the choice of kimono is currently large, and because the range of prices is great even more. And you can't hope to consult the seller, as he just has to sell the goods. And the more the better. Yes, and the seller does not train more often, and, therefore, does not know that it is not always that kimono, which is more expensive, will be comfortable in training.
But first, a little history.
Martial arts is not just a sport, it is a "little life". Of course, at present, the fascination with martial arts is rather of a sporting character, although there will always be those who believe that they are engaged in a very ancient and special martial art. It's not about that. No matter how you treat your karate, you still partially or fully accept the Japanese philosophy.
And for the Japanese, kimono is a traditional men's and women's clothing: a straight robe, worn from left to right and held by a belt. Kimono came to Japan from continental countries (China, Korea, Mongolia), having changed over time, and becoming the way it is today. By the 17th century, kimono became simple clothing — for both men and women. Naturally, the warrior training exercises existing at that time were held in kimono. And of course, that at the moment nothing has changed.
About the history of everything.
Now let's talk about the kimono
Kimono for karate is different from its other counterparts. So, having come to the store, and asking the seller of kimono, do not forget to add that you need it for training in karate.
Karate in Japanese means "empty hand".It follows that it is not necessary to carry a lot of weapons with you in order to walk calmly through the streets. "Hands and legs are sharp swords", "One attack - one strike" - these are the basic principles of karate. For us, this means that the emphasis in karate goes to the percussion technique. And with a good attack and impact blows to the shots it does not reach.
And with regard to kimono, all of the above means the following - karate kimonos are sewn from smooth, sufficiently strong materials (for example, judo kimonos are made of thick corrugated material designed for strong throws and grapples from the enemy). The weight of the kimono for training is 8-10 ounces (1 ounce = 28.35 g), and for competitions - 12-14 (for comparison, the weight of the kimono for judo for training is 12-16 ounces). The price, respectively, ranges from 500 rubles to 10,000. By the way, a good kimono is not necessarily expensive. Of course, if you pursue fashion (there is such a thing in karate too), then among the karate players, the Tokaido company is especially valued. If a label matters to you, then prepare about 2,500 rubles for a thin kimono, and about 6,000 rubles for a dense kimono. And look for all this wealth in the store "Budo-Sport", that in Moscow on Pokrovka 40.
Formerly, kimonos were sewn mainly from cotton. Now synthetics are added to the fabric.Which, by the way, is not as bad as it seems. We will understand what is suitable for what.
For workouts preferably pure cotton kimono, this material is environmentally friendly, well absorbs sweat and breaths. The optimal combination of strength and lightness. But the x-spattered kimono tends to "sit down" when it is washed. Shrinkage can be up to 10%. That is, if you measure such a kimono, keep in mind that you can lose 10-15 centimeters at the first wash, not only on the length of your pants, but also on the length of the sleeves and the length of the jacket itself. It is difficult to say how many kimonos will "sit down" in a year with intensive trainings (and therefore permanent washings), but there are cases when the owner of such a kimono wore knee-length "pants", although at the beginning they were his ankle-deep.
Kimono with the addition of synthetics does not have such disadvantages. At the same time, it is usually more snow-white (the white color, it turns out, is also different), which is especially appreciated by advanced karateas. This type of kimono (bleached blended fabric cotton + polyestor) is used for competitions and demonstrations. The blended fabric makes the kimono neater, "white" and "ironed", improving the athlete's visual perception.
I will also add that when choosing the density of kimono material, be guided by where and how you will train. If in the summer in a stuffy hall, then thin kimono is preferable. And if in the same room, but in winter, then the best option is a thick and dense kimono. Visually thin kimono does not look very good; it is for this that instructors, who proudly walk around the hall, prefer thick fabric.
By the way, only by a large secret, among the advanced experienced karatekas, the characteristic "clap" of the kimono is especially valued when striking with a hand or foot. So, even if you are the owner of a powerful blow, in a thin kimono no one "hears" it. But in a dense good-quality kimono, just a good blow will already be "heard" as something terrible and sweeping. The audience is delighted!
So, think for yourself, decide for yourself ...
In different karate federations, the requirement for the appearance of a kimono may differ, so be sure to check what kind of kimono you need before purchasing. The most common traditional kimono and kimono Oyama-karate.
Traditional kimono is a jacket just below the hips with long sleeves and pants up to the ankles.Kimono Oyama-karate is a jacket a little longer than the knee, with three-quarter sleeves, and pants up to half a shin. This is due to the fact that Oyama Karate is a more rigid style, and clothing should provide maximum freedom of movement. How does all this look, especially on fragile girls, the third question.
I will add that kimono for karate comes in two colors: black and white. If you are buying a kimono for the first time, then you need a white kimono, while you can not think about the color of the belt, it will also be white, and it is attached to the kimono. By the way, a black kimono belt may not be supplied. This is explained by the fact that in many karate schools black kimono is allowed only with an instructor or higher belts. Beginners go in white.
With kimono sorted out.
Now the belt is obi scientifically
The belt keeps the jacket from plowing and shows the level of skill of its owner. As mentioned above, if you buy a white kimono, the belt will be included in the kit, and if you need a black kimono, then you are unlikely to receive a black belt. What is right. Black belts are also different and sometimes cost more than the kimono itself.
For example, my favorite black kimono (12 ounces) when buying it 5 years ago in a sports house around the house cost about 900 rubles (a very comfortable kimono, does not lose color when washing and still looks almost like new), and the black belt to it from the Budo-sport store pulled 1,200 rubles (tight, hard, without hieroglyphs and inscriptions - everyone looks and thinks about the same).
Buying a belt separately allows you to choose the most suitable option from a dozen existing: hard, soft, with hieroglyphs and without them, cotton or satin. The price of a black belt can vary from 100 rubles to 5,000. Choose cotton between cotton and satin. It is durable and keeps its shape well. After some time, the atlas will begin to fray at the bend, threads will crawl out of it, and the belt will look very untidy. Particularly advanced to the top of the master called this effect "the result of long and hard training." In fact, the effect of training has nothing to do, just an atlas is less durable than cotton, although it shines beautifully (probably ... I personally don't like it, but it's not about me, but about choosing a belt).
Colored belts are much cheaper than black, about 100 rubles. And you are unlikely to buy them.These belts are usually issued by the schools themselves, after the students successfully pass the attestation exam. I note only that when washing most of the color belts "fade" and lose their saturated color. So act in the spirit of the Japanese. They do not have to wash their belts, it is believed that their darkening is a sign of the growth of the owner's skill.
And finally
Karate training is a predominantly masculine affair. But now there are many women who successfully compete with men in their original field. Girls remember: the kimono is always tied to the male side, that is, the top bar is piled up from left to right.
See you in training in a comfortable kimono!
Goncharenko N.V., 01.25.10
Related news
Kimono for karate. How to choose and buy image, picture