Maria Montessori, Glen Doman
Shevyakova Anna
Maria Montessori
"90 percent rearing consists of forethought."
Simon Soloveitchik
Maria Montessori was a great teacher, her whole life, without a trace, dedicated to children. She was born in Italy, in the middle of the 19th century, and was the first woman in the history of this country - a doctor medicine.
Working in kindergarten with weak and sick children, watching them, Maria Montessori tried to make their lives easier, to help them catch up with their peers. She tried to create toys for them that would not only entertain them, but also develop their imagination, their fingers.
She created a pedagogical system that is as close as possible to the ideal situation when a child learns himself.
The system consists of three parts: the child, the environment, the teacher. In the center of the whole system is a child. A special environment is created around him in which he lives and studies independently. In this environment, the child improves his physical condition, forms motor and sensory skills that are age appropriate, gains life experience,learn to organize and compare different objects and phenomena, acquires knowledge on their own experience. The teacher observes the child and helps him when it is needed. The basis of Montessori pedagogy, its motto is "help me to do it myself" (14, 15).
Thus, Montessori managed to create an educational system that is based on the self-construction of the child's personality by the child himself, based on his own inner potential.
Also, watching the children, Maria Montessori highlighted the possible features of mental development: absorbent thinking and age sensitivity (sensitivity).
Absorbing thinking
When working with children, Montessori noticed that the child has a completely different form of thinking, different from the adult's mind, which she called absorbing thinking. The child's thinking is a sponge, which indiscriminately absorbs images of the external world, not dividing them into "good" and "bad", "useful" and "useless", etc. On the basis of this, the subject and social environment surrounding the child acquires great importance. And if an adult wants a child to develop well,then he should create an environment around the child in which he could find everything needed for full development: a huge variety of sensory impressions, socially acceptable ways of emotional response, patterns of positive social behavior, ways of rational activity with objects. And, among other things, the child should be able to "absorb" the right speech.
Sensitive periods
These are periods of particular sensitivity that are found in the development of children. At these fundamental stages of development, an adult is not able to influence at all from outside. But if the child did not have the opportunity to develop in accordance with the directives of his periods, then he missed a single case in a natural way to acquire a certain ability. And more such an opportunity will not be presented to him.
In the process of development of all children, there are sensitive periods, but the time of their occurrence, the duration and dynamics of the flow are different in different children.

period of speech development (0-6 years)
perception period of order (0-3)
period of sensory development (0-5.5)
the period of perception of small objects (1.5-2.5
period of development of movements and actions (1-4)
period of development of social skills (2.5-6)
Montessori's games include materials on sensorics, practical life, mathematics, speech development, writing and reading. But first of all her games are aimed at the development of figurative thinking. In them, the child learns by eye to evaluate the number and volume of objects regardless of the form that they take. And manipulations with small objects develop a cognitive map of the baby's brain.
Glen Doman
"Children quickly grasp countless objects."
Cicero
"... So, we will not waste time vain, especially since for the beginning of all sciences one memory is needed, which children are gifted to the highest degree. "
"On the education of the speaker"
MF Quintilian (42-118 AD)
In the late forties, the US military doctor Glen Doman, working at the Philadelphia Institute, later called the Better Baby Institute (BBI), began treating children with brain injuries. The conclusions to which he and his colleagues arrived can be described schematically as follows: by stimulating one of the sense organs, a sharp increase in the activity of the brain as a whole can be achieved (5–9).First of all, sick children (except blind) were taught to read, showing them cards with words written in a very large red font, and these words were loudly pronounced out loud. The whole lesson took 5-10 seconds, but there were several dozen such lessons a day. With blind children, the situation was more complicated - the first step of their program was to enable them to see at least outlines.
As a result, when such children began to read, in parallel with this, gradually, little by little, they started and moved. Before Doman's education, these children were lagging behind in all respects physical development of children, and some time after the start of training - by weight, height, circumference of the head and chest by 20% superior to normal children!
And again, a question arises that Maria Montessori asked herself: "what should be done with with ordinary children so that my poor babies distill them? "
Doman tried to apply the system developed for patients in work with healthy children.
Through his work, he showed that the human potential is enormous, that at a very early age children can be taught a lot.At his institute, children of two, three, four years old begin to read, master mathematics perfectly, become real scholars, and at the same time are well developed physically: they swim well, run, climb. The creative possibilities of these children are so wide that Doman himself calls them the children of the Renaissance.
The goal that Doman set himself is to "give children unlimited possibilities in life. And the implementation of this goal will be determined by what the child chooses for himself, who he decides to become, that he would like from a long list of possibilities. "
Doman well knows that learning is effective only in the period of brain growth. A human brain grows to seven - seven and a half years, but it grows most strongly in the first three years. Based on this, he built his system for three-four-year-olds.
First of all, Doman believes, it is necessary to give the child the opportunity to move from the first days of life. Simple efforts can lead to the fact that in the first month of life a child will crawl a few meters a day. This greatly affects the development of the child's abilities. Of course, we must train so that it is psychologically comfortable for the child, we must try to gradually develop his innate reflexes.
It seems to me that children who were swaddled are for the most part more apathetic and do not allow themselves to do what they want at an older age than children who were allowed and helped to move in the way they want. Have you ever seen what joy is written on the face of a three-month-old baby, who is helped to stand and walk? If so, then after that you will never say that such early development is harmful.
Doman has developed a whole system of physical development of the child. He recommends teaching him to do everything that is possible and twirl and twist it in various ways. By developing a child in this way, even during the first year of life, a very serious reserve can be made for his entire future life. And this is confirmed by the athletes who took the leading position in many sports due to the fact that they took up a racket, stepped on the ice or started swimming not later than two years. In addition, Glen Doman believes, and it is tested by him on sick children, that physical development stimulates and mental. When the child turns a year, it is necessary to develop, in parallel with physical development, such abilities as linguistic, mathematical and others.
According to Doman, linguistic abilities are the innate function of the human brain. He believes that all babies have incredible language skills. Glen Doman highlights the facts that make up the languages. They are called words, numbers, or notes, depending on which language you are talking about. He believes that in regard to memorizing bare facts, children can learn everything we give them. Moreover, the younger they are, the easier they learn. Based on this, the idea of ​​"readiness to read" (as well as all other "readiness") is utter nonsense. The statement that a child is ready to read at five or six years is not only absurd, but also dangerous. Readiness is created in children, and if it is not created - by chance or for some purpose - it will not appear at all.
Doman believes that if you teach a child to factual material in mathematics, and the facts on which mathematics is based are numbers, such as one, two, three, four, five, six, then he will discover such mathematical rules as addition, subtraction , multiplication, division, etc. From this he concludes that mathematical abilities are also essential functions of the human brain.
Learning math is that the child is shown cards with large red dots (five each) and loudly call their number. Doman shows the number of points, not a number, so that the child can feel the real number, not an abstract figure icon.
When the child passes the first twenty figures, he, besides numbers, begins to show examples. Most of the children, who carefully watch what they are shown, after about a couple of months can visually distinguish 56 points from 57 points and solve a simple example.
In addition to teaching reading and math, Glen Doman recommends still giving encyclopedic knowledge. To do this, parents make a selection of cards with the image of plants, animals, great people and much more. It would probably be nice if the child was not just given encyclopedic knowledge, but also told where and how they are used, how they are interconnected, would be supported by examples from life (then the information becomes less faceless, and therefore more interesting for the child).
Doman recommends showing each card, regardless of what is on it, for 1 to 2 seconds. Thus, the entire lesson takes 5 - 10 seconds.It seems to me that it is better to show as quickly as the child manages to cover all the components of the image, that is, words and periods — quickly, and pictures — slowly.
To teach reading, Doman takes an old Anglo-Germanic system: presentation and voice of the whole word. He recommends showing cards with red words written on them on a white background. Doman advises to start learning as early as possible, better - up to a year. But at this age the child still does not know the names of the subjects, and in this case he learns them from the cards, and only the name, without the image of the object, will find out. If he already has a relationship between the image and the object, then, most likely, he still does not imagine the object behind the word (since the words are shown and changed too often, he does not have time to get used to them). It turns out that we, from an early age, teach the child to think abstractly. Maybe it's better figuratively? By the way, children with imaginative thinking do not perceive this technique very well. It seems to me that it would be better if they showed at the same time on one sheet from above - a picture, below - a signature.
As the child grows up, Doman proposes to increase the duration and number of classes.When a child reaches the age of 1.5 - 2 years, they begin with him, for example, to learn Japanese, introduce him to modern art or teach him to play the violin.
As with any technique, Doman's methods have their negative sides. The main one is that when using this technique, the child from an active participant in the learning process becomes his object. During the training the child is passive, only his visual system works, covering the information that is located on the cards. The toddler is loaded with facts (they make the "walking encyclopedia" out of it), but they do not teach to think (to use the acquired knowledge). The emotional and cognitive development suffers, since it is impossible to develop only one (in this case, visual) component. "Fact" must be touched, touched and licked, that is, investigated by all the senses, and then, using its interrelations with other "facts", determine its place in the world.
On the other hand, this technique is good because the child learns a large amount of information in a pleasant way. And for the development of creative and research abilities, you can apply other techniques.And, besides, a big plus is that Glen Doman brings up parents, explains to them that they need to do a lot with their children. The quality of the technique is also confirmed by its results: there are already a few dozen Nobel laureates in the world who in childhood studied according to Doman (5).
Related news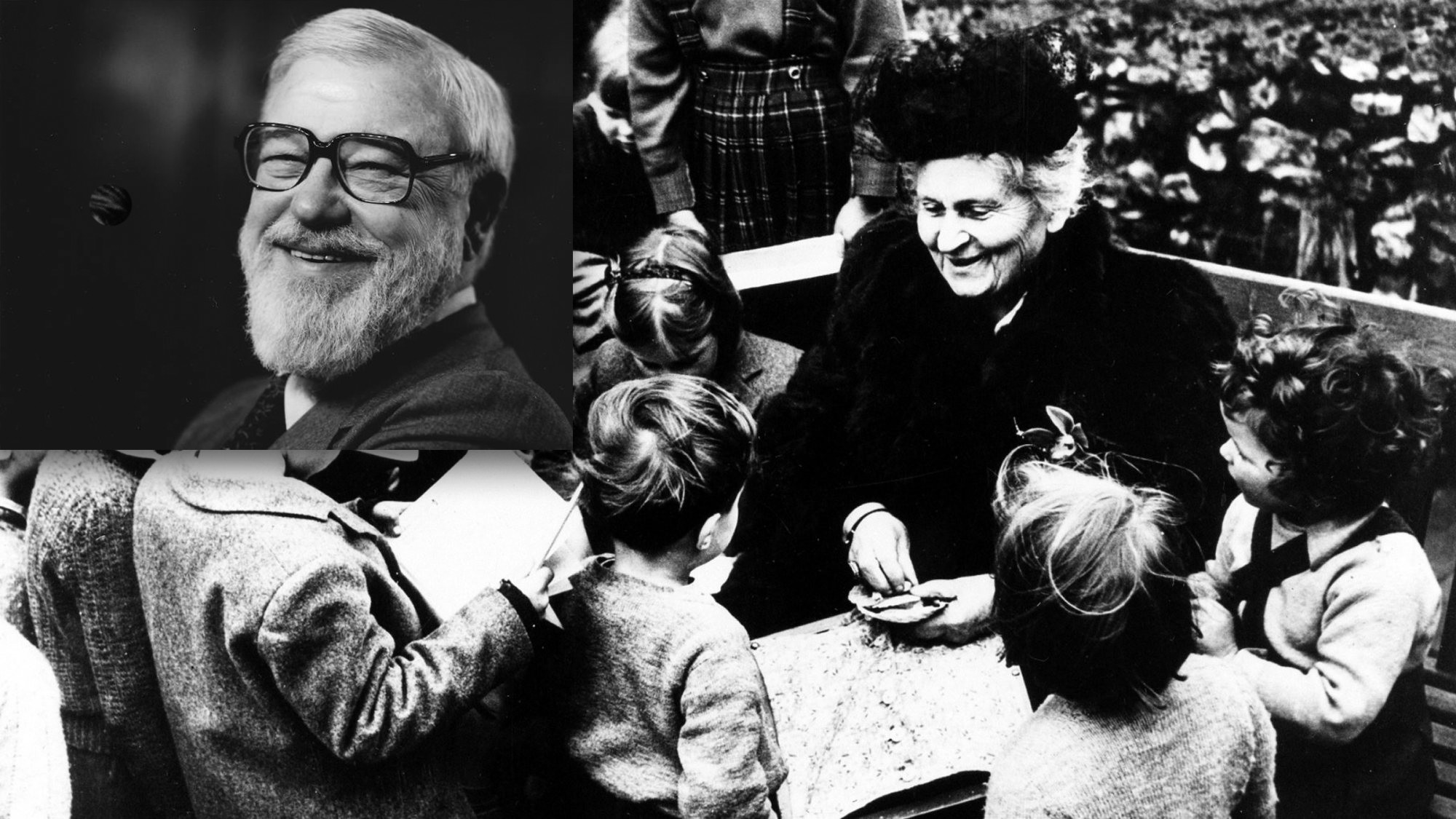 Maria Montessori, Glen Doman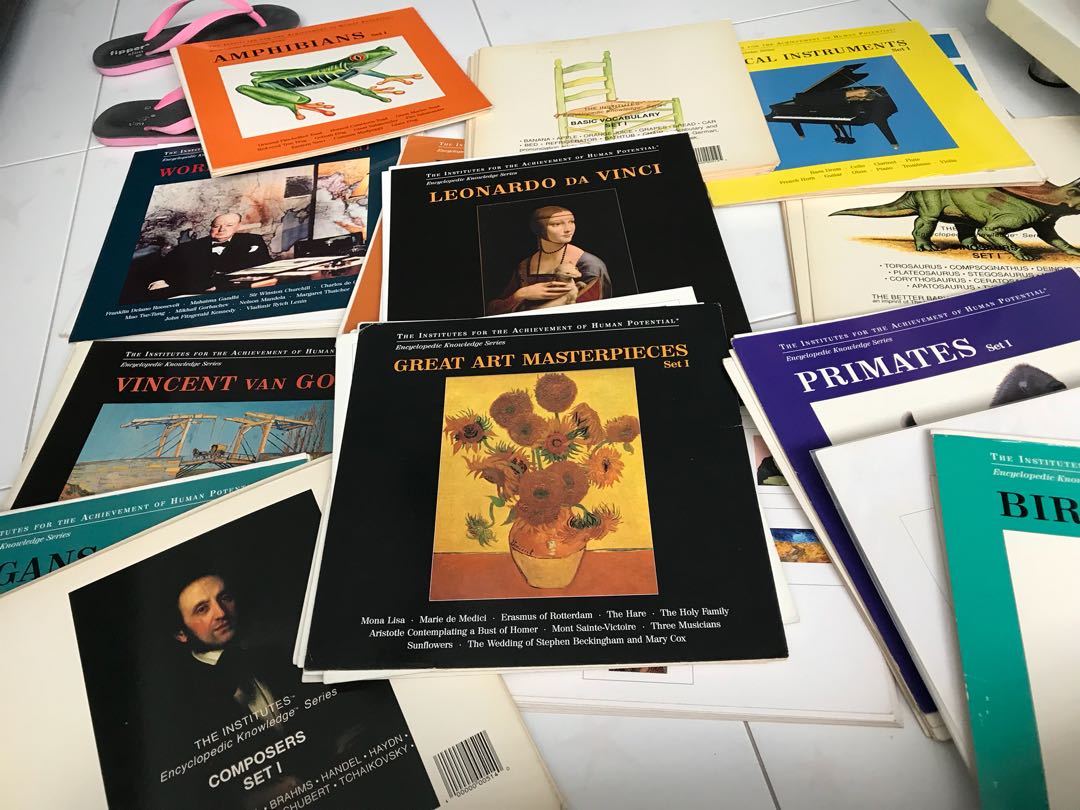 Maria Montessori, Glen Doman
Maria Montessori, Glen Doman
Maria Montessori, Glen Doman
Maria Montessori, Glen Doman