Medicine for the poor: Indonesians pay for health with garbage
An Indonesian entrepreneur decided to show people that health care should not be expensive, but recyclable waste has value. Therefore, he allowed poor Indonesians to pay for their health with garbage.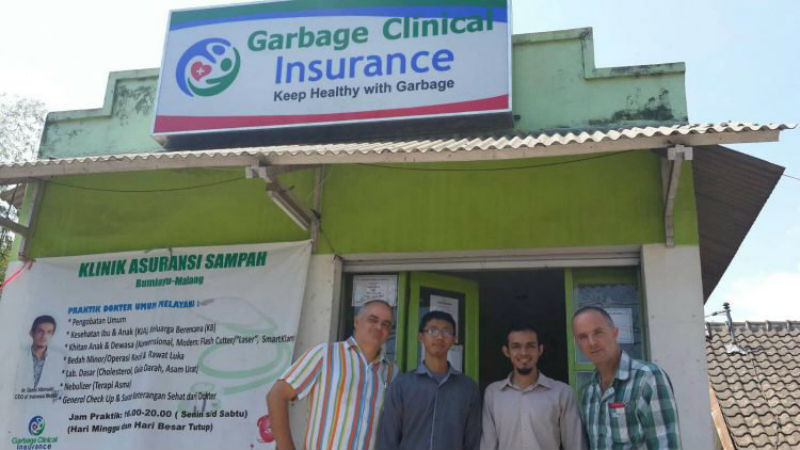 A source:
Paying medical care for garbage can seem like an idea that is doomed to failure. But this program has been running for seven years now, and this business model is being replicated throughout Indonesia.
Gamal Albinsaid founded the company Garbage Clinical Insurance in 2010, when he was only 21 years old. This program was born because of the concerns of a young entrepreneur about their country's small health care budget and had to provide the poor with an alternative solution to pay for health insurance. It is estimated that about 60% of the population of Indonesia, which has more than 250 million people, remains uninsured because they cannot afford to pay for it. But there is one thing that everyone has access to - garbage.
"We have people who cannot go to the hospital because they have no money. I started thinking about what they have. There is a lot of garbage on earth, and we used it as a financial resource. 250 million people live in Indonesia, but more than half do not have health insurance. At the same time, in cities such as Malang, more than 55 thousand tons of garbage are produced daily, and only half of them are collected from this. "
Thus, the idea of ​​Albinsaid solves two problems at once: health and pollution. To gain access to the services of a doctor, the members of "Junk Health Insurance" need to collect about three kilograms of recyclable materials per month. The company even has a volunteer team that teaches people what kind of garbage to collect. Organic waste is processed into fertilizer, and inorganic waste is recycled to waste treatment plants.
"People used to think that garbage was useless, and health care was expensive. But now they see that garbage can be valuable, and health care is not necessarily so expensive. "
The disadvantage of the Garbage Clinic is that clients only get access to basic health care services.They will get the rest only if they join the government insurance system, which is more expensive. In order to somehow compensate for this, the Albinsaid team helps people collect more trash or gain access to government funding, to which they may be entitled, but do not require it.
Related news
Medicine for the poor: Indonesians pay for health with garbage image, picture