Sig, fish: cooking recipes in the oven
Fish whitefish or whitefish belongs to the genus of the salmon family, which has more than 60 species. Two species are listed in the Red Book of Russia - Baunt and Volkhov. The fish reaches 80 cm in length, and its body weight can be more than 8 kg. The diet of whitefish consists of plankton and small fish, fry. This is the main commercial fish in the northern lakes and rivers of Yakutia and the waters of the Southern Urals. Its fillet is white, very fat and healthy (rich in vitamins A and B, micro and macro elements, minerals and protein). In addition, it is low-calorie, 100 grams of the product contains 88 kcal, and hypoallergenic. Sig is recommended for pregnant women, as it is rich in folic acid and iodine, which favorably affects the development of the child. It will also be useful for people with diseases of the endocrine system and pancreas.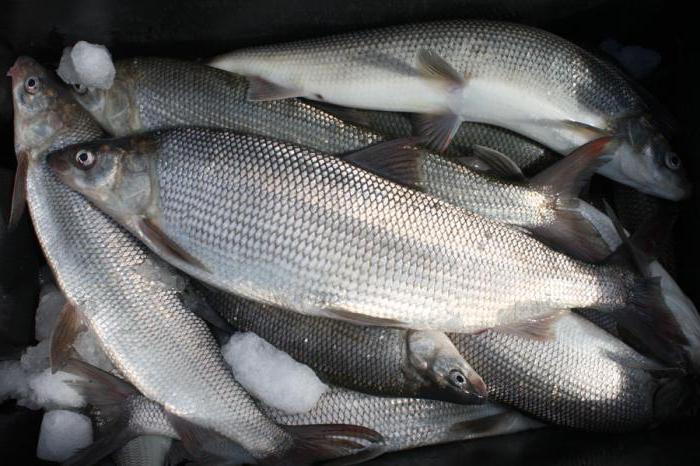 The recipes for cooking whitefish are very diverse, they involve not only traditional methods - cooking and frying, but also smoking, drying, salting.You need to have certain cooking skills to fully preserve the usefulness of the product during cooking and the tender structure of the fillet. Below are a few recipes for cooking fish with whitefish photo. They are quite simple, but original.
The classic recipe for baked fish
Recipes for cooking whitefish in the oven will occupy a worthy place in your personal cookbook. In order not to overshadow the delicate and delicate taste of the product, it is better to abandon the exotic spices and use the classic recipe. It involves the use of a simple marinade (sauce) - sour cream mixed with garlic, sometimes with greens (dill, onion).
Ingredients:
sig fish (1 bird);
garlic (2-3 cloves);
spices (salt, black pepper) - to taste;
sour cream (2-3 tablespoons);
onions (half of the head);
dill (for decoration).
Cooking:
clean, gut fish (cut off the head) and cut into large pieces;
put large pieces in a deep container, pepper, salt, season with black pepper and mix;
prepare a sauce of garlic, crushed with a knife and crushed, and sour cream;
pour the fish sauce, cover with a press and refrigerate for 1.5 hours;
cut the onion into half rings;
cover the baking sheet with foil, brush with butter and evenly distribute the onion, put the pickled fish on top and place in an oven preheated to 200 degrees, lower the temperature to 180 degrees and set the cooking time to 30 minutes.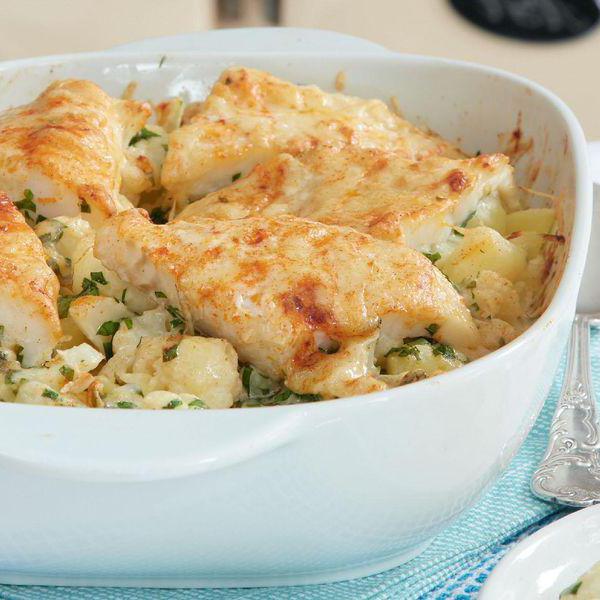 Decorate the finished dish can be finely chopped green onions or dill. Salad from baked or fresh vegetables is suitable for garnish.
Whitefish cooked according to the traditional Russian recipe
In this case, you need the following ingredients:
sig fish (1 bird);
spices (salt and pepper) - to taste;
potatoes (7-8 pieces) - preferably young;
tomatoes (2-3 pieces).

Cooking:
clean the fish and remove the entrails, and cut off the tail and head;
remove excess moisture with a paper towel;
make cuts on the sides of the carcass, salt and pepper;
spread the foil, brush with sunflower oil and overlay the fish with potatoes and tomatoes around;
carefully wrap the edges of the foil in the center and send it to the oven heated to 200 degrees Celsius, roasting time 45 minutes;
15 minutes before the end of cooking, open the foil (this is necessary for the formation of a golden crust) and bake at a temperature of 250 degrees Celsius.
The recipe for cooking whitefish in Italian

With all the variety of fish dishes in Italy, they prefer to cook fish in this country simply, without any exquisite sauces. Complement it with cherry tomatoes, olives, sprigs of basil or lemon.
Ingredients:
sig fish (1 bird);
salt (to taste);
flour (5 tablespoons);
lemon juice (20-30 ml);
greens (1 bunch) - your choice.
Cooking:
clean and gut fish, cut into portions;
make transverse cuts and talt with salt;
roll in flour and fry on each side for 3-5 minutes in olive oil;
when serving on the table, sprinkle with lemon juice and decorate with finely chopped greens.
As a side dish, you can use asparagus or garlic arrows.
How to cook steamed whitefish
This is the most useful recipe for cooking whitefish from all that is proposed in the article; it is suitable even for a dietary or children's menu.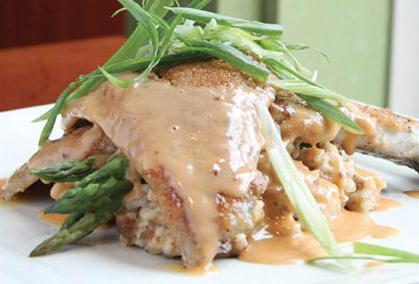 Ingredients:
fish (three pieces of 200 grams);
tomato paste (20 grams) or tomato flesh;
flour (1 tbsp);
fish broth (100 ml);
garlic (1 clove);
spices (salt and pepper) - to taste;
greenery (for decoration) - your choice;
onions (20 grams);
carrots (20 grams).
Cooking:
clean, gut fish, cut off the head and tail, cut into small pieces;
send in a double boiler for 30 minutes;
boil fish stock using fish heads and tails;
grate carrots, chop onions and fry in a skillet (2-3 minutes), add tomato paste and stew for another five minutes;
in a separate pan, dilute the flour with fish broth, bring to a boil and reduce the heat;
Mix the frying with fish stock, spices and vegetables, bring to a boil;
with the mixture pour the fish in a double boiler and then another 5-7 minutes;
ready to sprinkle with herbs.
Recipes for cooking sig fish: how to pickle
You can get a tasty product from this fish in different ways. The above recipes for cooking fish, whitefish, as you can see, are simple and suitable for everyday menu. Quite often, you can face the question of how to pickle it. This product treatment method involves a large amount of salt, which prevents the development of mold and bacteria in raw fish. Salt can be dry, brine and spicy. Below, all three methods are described in more detail.
Whitefish treatment before salting
Firstly, the carcass must be thoroughly rinsed under running water, thereby removing the mucus. Let the excess moisture drain. Someone prefers to clean the fish, and someone leaves the scales. Which option is preferable - you decide. The next stage of preparation is gutting. Then the whitefish is washed again and allowed to dry, you can wipe the carcass with a paper towel or cotton cloth. An incision is made along the ridge, through which the ridge is extracted along with large bones.
Dry salting
For 3 kg of fish you need to mix in advance 6 tbsp. l coarse salt, 2 tbsp. l white ground pepper and sugar.
Salt (three tablespoons) is poured at the bottom of the dish (preferably glass). The fish is rubbed with a prepared mixture and laid the first row back down, and the second - up. Finally, sprinkle the fish with two tablespoons of salt and, if desired, chopped dill. Cover the container with a load and leave it in a cool place for 48 hours. Before use, fish is cleaned from spices.
Brine method
If you prefer the original taste and aroma, then try this whitefish recipe. Salt the fish in this case, too, will have about 2 days.
A liter of brine will be required for salting a kilogram of fish. Carcass processing is similar. Boil water with salt and sugar (6 tbsp. L. And 2 tbsp. L. Respectively), if you want, you can add spices, remove the foam and cool to room temperature. In a bowl in one layer, lay the fish and fill it with brine. Then put it under pressure for two days. After the brine, drain, dry the fish and put in a container, watering with vegetable oil, you can add dill, lemon and red onion
Spicy Ambassador
The difference of this method of salting is that the mixture for processing fish is prepared not only from sugar and salt. It is customary to add various spices to it, but without fanaticism. You can use what you like, but experts recommend allspice, cloves and cumin. Sugar and salt are taken in a 1: 1 ratio, combined with spices and the fish is rubbed with this fragrant mixture. It is more expedient to use fillet. Place it in a container in layers or fold each strip into a roll and fasten with a toothpick. Salt fish about 120 minutes in the room, and then it is removed for 8-10 hours in the refrigerator.
Whitefish Recipe
And finally, one of the most delicious recipes for cooking fish. In the dried form, this representative of the family of salmon is simply gorgeous.No special effort or skill is required. Prepare the fish carcass as described above, but do not remove the spine. Then carefully rub it from the inside and outside with a mixture of salt and sugar (in equal proportions). Put the fish in a bowl with a ridge down and put it in a refrigerator for a day.
After 24 hours, you need to rinse it under water, blot with a dry cloth and insert toothpicks between the two sides of the abdomen, which will allow the fish to wilt well inside. Thread the clips into the eye hole and hang them on the balcony or in any ventilated place where there is a draft. The fish will vyalitsya about three days, but you need to follow her, so as not to overdry. Dried whitefish can be stored in the package.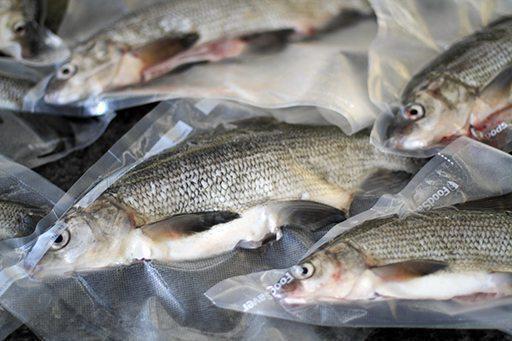 This dietary fish is used not only in cooking, but also in traditional medicine and even in cosmetology. Drugs based on its fat contain large amounts of omega-3 PUFA. They are recommended to include in the diet of people with anemia, tuberculosis and rickets. Cosmetics with the addition of fat help rejuvenate and improve the condition of the skin, hair and nails. The sig fish has almost no contraindications, and therefore it is so useful and valuable to human health.
Related news
Sig, fish: cooking recipes in the oven image, picture, imagery