Ski base "Ivan Mountain" (Perm): description of trails, equipment rental, mode of operation of the lift
The historical name of one of the most picturesque peaks of the Perm region is Ivan Gore. It is considered the highest point in the region, and is located five kilometers from the village of Gamovo. This place has become a favorite in terms of recreation for both locals and those who like to travel around Russia. In addition, Ivan Mountain in Perm is an opportunity to be at the same time in nature, almost wild and untouched, and in close proximity to a large city.
General characteristics of the area
Getting to Ivan Mountain, you begin to think that the best place for an active winter holiday is simply not to be found. Indeed, here it is snowy and picturesque, as if by tradition, the mountain slopes are surrounded by high bluish spruces and pines, Cozy wooden cottages are located at the foot.Everything is like from a picture in a glossy magazine - perfect, beautiful, bewitching.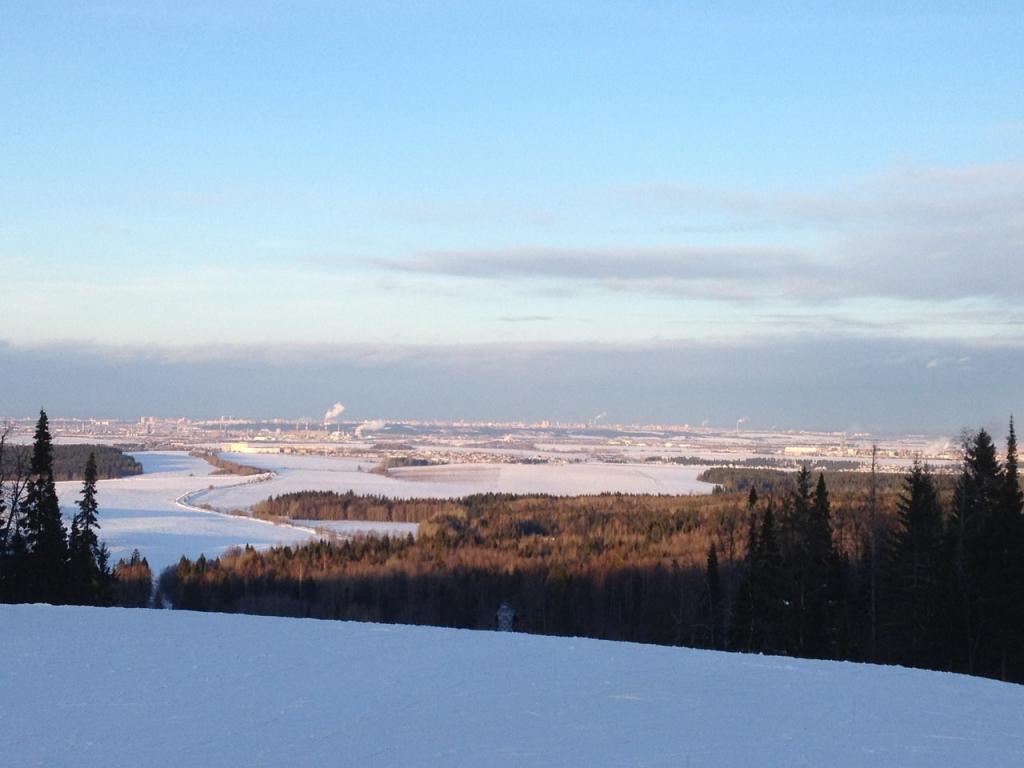 So now let's define the technical issues associated with this amazing place:
The resort has 5 tracks, 4 of them - the main ones.
Elevation difference is 85 meters.
On the mountain of Ivan is a rope tow.
There is a snow park.
Trails - all categories.
The total length of the tracks is 2770 meters.
The longest track is 650 meters.
There is lighting at night.
The resort has snowmaking in the absence of rain.
Halfpipe under construction.
Equipment rental is provided at Ivan Mountain.
There is a medical center.
More about rental
Most of the locals come to Ivan Gore at the entrance or even after work. Since they are frequent guests of ski resorts, they have all the necessary equipment with them. If you have not yet acquired one, you will be able to help you in the rental center at the resort itself. There are more than 70 sets of skis, as well as more than 20 ROSSIGNOL snowboards. They come with special shoes with a full size range.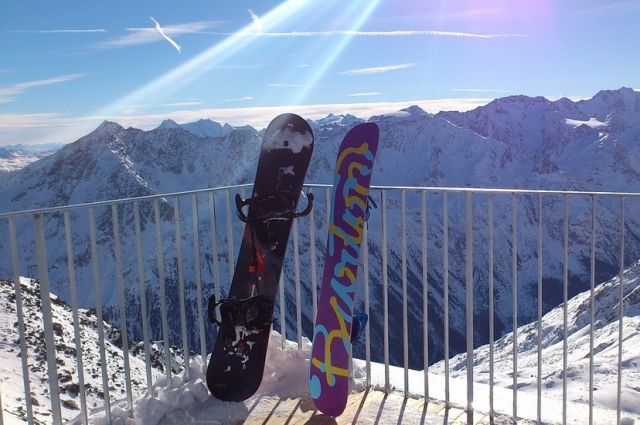 Now we will discuss the prices:
Children's set - from 200 to 220 rubles.
The basic kit is from 200 to 260 rubles.
The set is comfortable - from 240 to 300 rubles.
Advanced kit - 400 rubles.
This is the price for renting equipment for one hour. It is also important to remember that one set is issued for one ID document (rights or passport).
Additional services
In addition to the main service - equipment rental, the resort also offers its visitors to take advantage of additional, so to speak, bonuses. The base "Ivan Mountain" is constantly evolving, many new things are being built and organized here, all for the sake of more tourists and for the sake of good reputation. Why not take advantage of all the pleasures of the resort?
Here you can offer the following:
Learning to ski or snowboard. There are programs for beginners who came here for the first time, and for fans who want to improve their skills.
Several cozy cafes provide an opportunity to relax and have a snack between races.
Bath - appeared here relatively recently, it can be rented both by the hour and for a day.
Crossbow shooting is not typical for a ski resort entertainment, but nevertheless it is there and is in great demand.
Trails
Immediately, we note that the main slope of this resort has a very impressive width. This is a small minus, as for experienced skiers and snowboarders here, in fact, there is nothing interesting and extreme. But beginners and lovers here will be able to have fun for the glory. Trails Ivan Mountain with the names and characteristics:
Training - green, 270 meters.
The main one is blue, 600 meters.
Cross - blue, 640 meters.
Sports - red, 650 meters.
Extreme - black, 610 meters.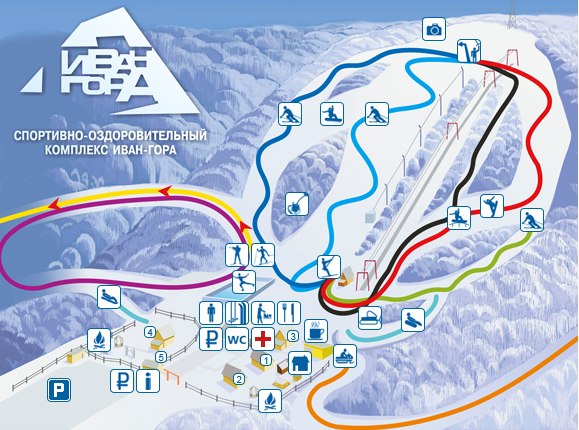 Trails are divided in a natural way - with the help of forest strips. For those who want to drive on a freeride style skiing, alas, the forest belt is not suitable, as the density of the trees there is too high. Also note that for fans of cross-country skiing there is a separate track.
Lift
At the alpine skiing base "Ivan Mountain" such a phenomenon as a ski lift is already present a long time ago. His age, one may say, is old, but despite this, he regularly performs his functions. Its characteristics are as follows:
Capable to pass up to 900 people per hour.
Type - Toggle.
Total length - 550 meters.
The speed is 2.4 meters per second.
Raises the mountain in 3 minutes.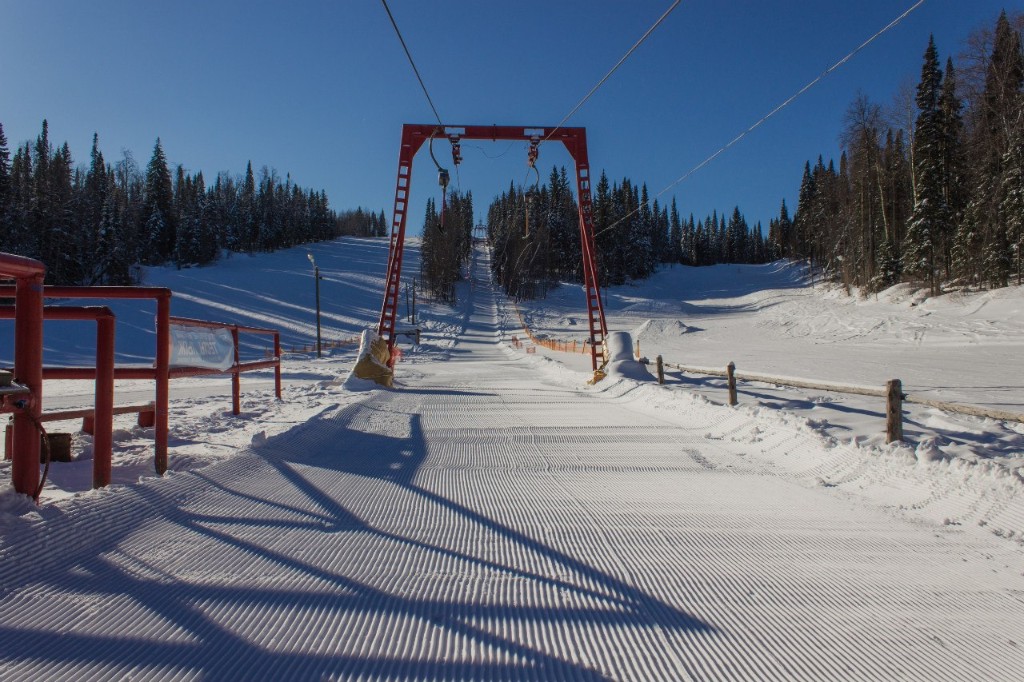 Now consider the price of the lift:
From Monday to Friday - 220 rubles per hour and 660 - per day.
Weekends - 270 rubles per hour, 810 - per day.
Children less than 120 cm tall are free when accompanied by an adult. Do not forget also that on weekends there are very long lines - the proximity to the city affects.
Accommodation
As a rule, residents of Perm come to the mountain-skiing base "Ivan Mountain", who spend several hours there and return home. Visitors can rent an apartment or hostel in the same city, or rent a house in the most nearby village - Gamovo. These are the most budget holiday options in the area. If the budget is not limited, then cottages are offered to your attention, of which there are four.
"Youth". It has five rooms in which there are 12 beds. There is a living room with upholstered furniture, a fireplace and a dining table. Refrigerator, TV, one bathroom. Also near the cottage there is a gazebo and a barbecue place. The cost of living per day - 8,000 rubles, per day - 16,000 rubles.
"Corporate". The number of beds is 14. There are both double beds and odnushki. The cottage has a large living room with a fireplace, furniture and a TV. There is also a bathroom, a refrigerator, a gazebo and a barbecue area. The cost of a house per day is 9000 rubles, per day - 18000 rubles.
Cottages number 5, 6.Two simple houses, each with 4 beds, a shower room and a bathroom. The cost of living during the day - 7500 rubles.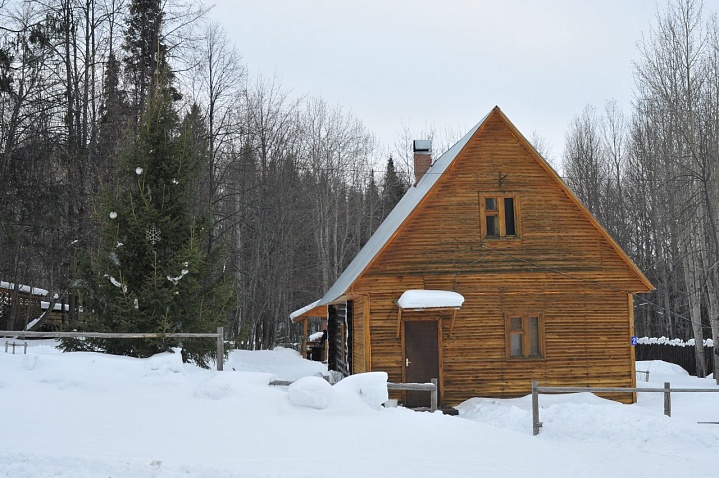 Service
Here we will give a small summary of what Ivan Gore can offer us in Perm, and what visitors should count on.
Equipment rental.
Snowmobile rental.
Tubing - the lift.
Kids room.
Barbeque and BBQ facilities.
Shashlik house
Dining room, as well as a few cafes.
Medical Center.
Spring.
Shooting range for archery.
Comfortable cottages.
Bath with pool.
Parking.
Opening hours of Ivan Mountain: weekdays - from 13.00 to 22.00, on weekends - from 10.00 to 21.00. In general, the resort is very comfortable and modern. It has everything for an active winter holiday, ranging from natural beauties to well-thought-out infrastructure. But let us draw your attention to the fact that by and large this is a place of rest for local residents, that is, regular customers. In this regard, there are some difficulties in communicating with the staff of those people who came here for the first time.
Features and negative aspects of the recreation center
Payment for all services provided by the tourist base "Ivan Mountain" is made from a special plastic card, which is issued here.On it you put your money and pay it while you are at the resort. It is important to know that it is impossible to withdraw from it not spent money - they do not disappear, but remain for the next times. This raises a lot of questions from visiting tourists who do not plan to return here. We also recommend, when going to the base of Ivan Mountain, to exchange all large bills. Often, the staff is not surrender, so be prepared to settle strictly on the account.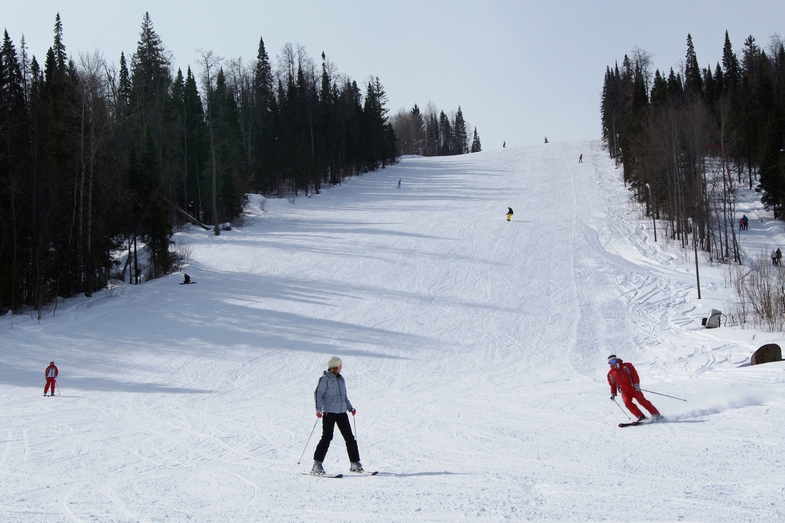 In all other respects, the resort is very acceptable and pleasant. Here you can relax with your family as well as with friends or colleagues. The existing cottages are almost always occupied, so if you want to stay in them, book in advance. Well, do not forget that Ivan Mountain is like a shallow sea. A great place to stay with children, beautiful slopes for beginners and lovers. But, alas, the professionals here will not face the extreme they love so much.
How to get there
Most modern lovers of skiing travel by car, so they get to Ivan Gory simply at the expense of the navigator. If for any reason you had to go there by public transport, it will not be difficult at all.It is necessary to take a bus that follows from the bus station in Perm (near the Central collective farm market) to the village of Gamovo. Then it is necessary to transfer to the minibus going to the recreation center "Yubileinaya". Having left near it, it is required to walk about 500 meters - and you are at the slope of a picturesque mountain.
Related news
Ski base Ivan Mountain (Perm): description of trails, equipment rental, lift mode image, picture, imagery