Syria thanks Russia for help
The Russian Center for Reconciliation of the Warring Parties in the Syrian Arab Republic held during the day seven humanitarian actions in the provinces of Aleppo and Essaouida.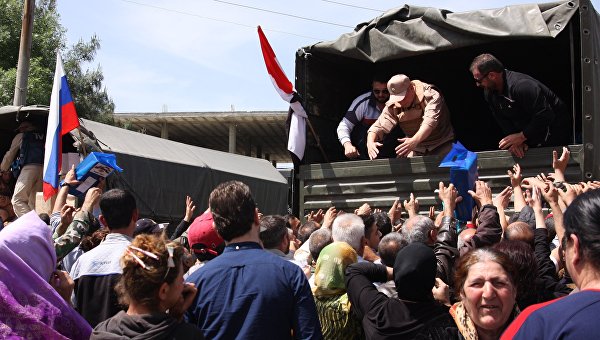 "In the city of Aleppo (in the Kadi-Askar, El-Inzarat, Esh-Shabkh El-Kadima, Sheikh-Maksoud and El-Firdous) areas and in Shahb village of Essaouida province, 6 tons of drinking bottled water and 350 food packages "- said in a statement by the Center.
At Muhammad El-Jahiri School in the Zabdiyah district of Aleppo, children received backpacks with school supplies and children's toys.
During the day, 2.55 thousand residents received humanitarian aid. The total mass of humanitarian goods transferred to the population was 8 tons.
"Russian aircraft using parachute platforms in the area of ​​the city of Deir ez-Zor delivered 21 tons of humanitarian supplies (food) received by the Syrian authorities through the UN," - said the Center.
Related news
Syria thanks Russia for help image, picture