The best material for sofa upholstery
Most people, buying a new furniture, pay attention not so much to its practicality, as to the material that was used for upholstery. And this is not surprising, because it depends on him the appearance and interior. But what material to choose for the upholstery of the sofa so that it lasts as long as possible and is easy to clean? Let's try to sort out this issue.
general information
Upholstery should pay special attention, because it depends on her aesthetics of furniture. This is especially true when you have pets. After all, it will not be entirely pleasant if the cat or dog spoils the upholstery of the new sofa or chair. Therefore, the material must be not only beautiful and easy to clean, but also durable. To date, there are quite a lot of coatings that are used as upholstery. Let's look at the most common of them and find the best option.
Chenille
This material for upholstery sofas got its name because of the thread that is part of it. Its appearance is somewhat reminiscent of a furry caterpillar.Chenille is produced by twisting dense yarns with chenille, which makes it possible to obtain a strong and durable material. The fabric consists of cotton and synthetics, which are taken in equal parts.
Chenille is of two types:
with a fabric base - it has excellent resistance to moisture, making it much easier to care for the material. But as it is used, the fabric wrinkles with time, which is why the furniture loses its attractive appearance;
with a glued base - has a lower cost, but with the ingress of moisture loses its shape.
The main advantages of chenille are durability, environmental friendliness and ease of maintenance. As for the shortcomings, then they can be attributed to a small selection of colors. In addition, Chenille is very easy to scratch, so it will become a bad option for furniture upholstery if you have pets.
Gunny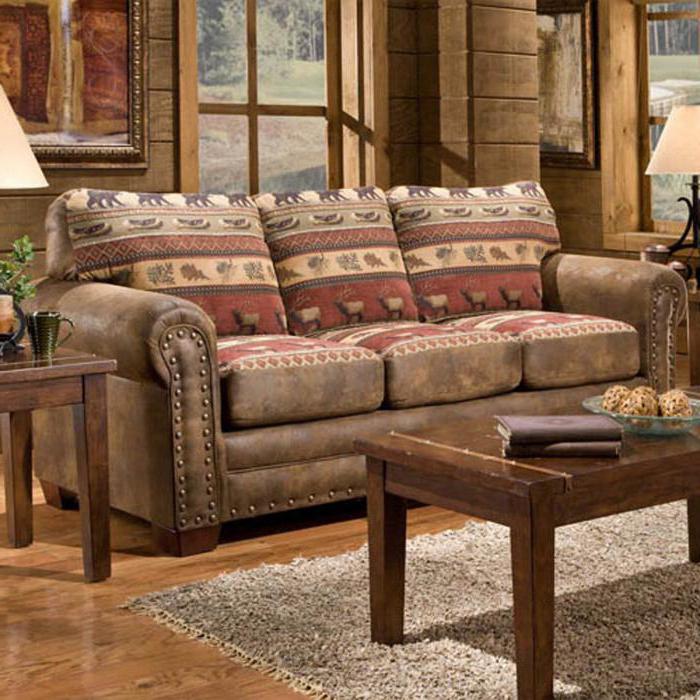 Another common material for sofa upholstery is matting. The fabric has a high density, so that it retains its shape for a long time. The material is also very easy to clean, and for cleaning it is not necessary to buy special shampoos.The main disadvantage, as in the case of Chenille, is the poor selection of colors.
Velours
Velor differs from other types of upholstery with a special velvetiness, thanks to which the furniture looks very elegant and expensive, and it is also comfortable to sit on. There are several varieties of velor, which differ in composition, but for upholstering furniture using a material consisting of cotton and wool. The main advantages of velor are practical care and durability. Among the minuses is to provide low resistance to mechanical damage and high cost.
Flock
Perhaps this is the best material for sofa upholstery. The flock is made of cotton and synthetics, to which the nap is subsequently applied.
Among the advantages of this material is to highlight:
perfectly preserves the shape;
easy to clean;
does not fade and keeps color for a long time;
possesses good water-repellent properties;
wide range of colors;
high strength.
The main disadvantage of the flock is the high cost. It is worth noting that today the items on the interior, for the decoration of which Teflon flock was used, have appeared on the market.This is a modern material for sofa upholstery (anti-claw), which has a Teflon coating that perfectly protects the fabric from moisture and pets' claws. But its cost is even higher, so not all people can afford such furniture.
Tapestry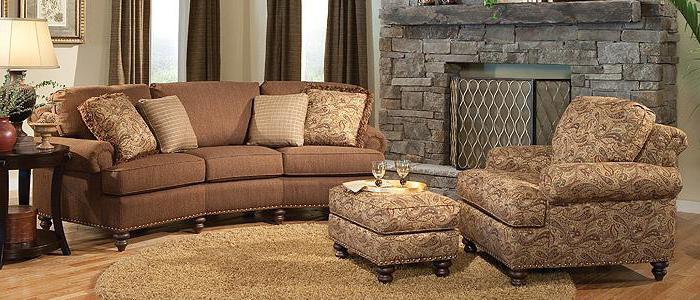 Tapestry is a natural material with the correct interlacing of the thread. It is widely used in the manufacture of furniture due to the large variety of colors. The fabric is very easy to clean and maintains its shape even after washing. In addition, the tapestry has good resistance to mechanical damage, so it is not afraid of the claws of domestic animals. Among the shortcomings can be identified too high cost.
Suede
Very strong and durable material with high resistance to mechanical damage. But for its good performance will have to pay a lot, because the cost of suede is quite high. Throughout the entire period of operation, the fabric retains its shape and attractive appearance, for which it is valued among buyers.
Jacquard
This material has a complex ornament,giving furniture an expensive and aesthetic appearance. It has high strength and elasticity, so it will last for a long time and retain their properties. It has many colors and shades, so you can choose the furniture that fits perfectly into the interior. Among the main disadvantages are the high cost and complexity of care. The fact is that the fabric is afraid of intensive cleaning.
Boucle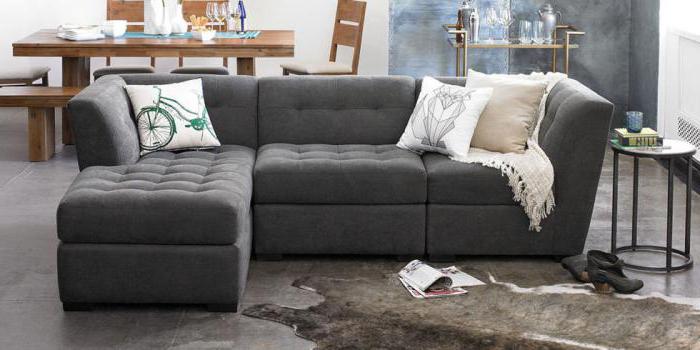 If you are looking for the best material for upholstering sofas, then turn your attention to the boucle. It is made of sheep's wool, so its structure resembles small protruding nodules. The canvas has high strength and durability, and also has many color options.
Boucle is valued for its original appearance, but it has many drawbacks, the main one being the difficulty of care. It is rather difficult to remove pollution from this material, therefore it is better to refuse to eat on the sofa, decorated with this type of canvas. In addition, pets can damage the boucle with their claws, resulting in a puff on it.
Genuine Leather
This material has always been very appreciated, but it has a high cost. Genuine leather is used exclusively for the production of expensive furniture.
The main advantages of leather trim are:
attractive appearance;
strength and durability;
ease of care.
As for the minuses, then apart from the high cost they simply do not.
Artificial leather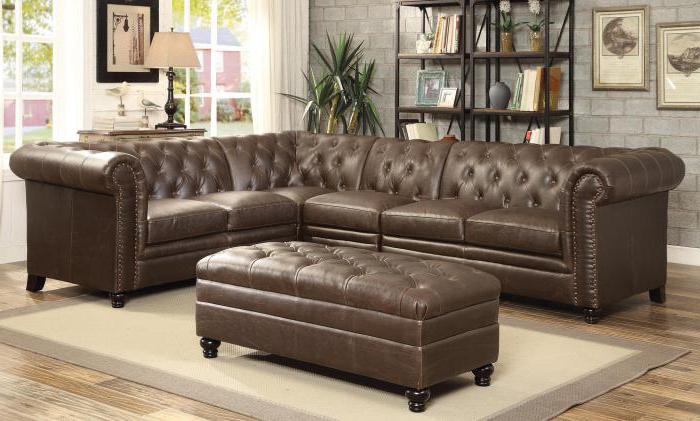 An alternative natural option is artificial leather. This material is also very widely used for furniture, because it has an attractive appearance, high strength and ease of maintenance. In addition, artificial leather has a relatively low cost, so that everyone can afford it. Among the shortcomings of the material can be identified the fear of high temperatures and low resistance to mechanical damage. Therefore, if you do not know what material to choose for upholstering a sofa, then be sure to consider artificial leather as an option.
Cotton
Cotton fabric is a natural material with low cost. The cheapness of the material due to the short service life.Cotton wears out very quickly and loses its appeal. Some furniture manufacturers impregnate fabric with special solutions that slow down the abrasion of paint. The main advantage of the material is environmental friendliness, so it is most often used for the production of children's furniture.
Summing up
So which material is better for upholstering a sofa? This question is asked by many people who are planning to buy a new upholstered furniture for their home. It is very difficult to give an unequivocal answer, since the choice of fabric depends on several factors, the main one being the room where the sofa will stand. If you buy furniture for a children's room, it is best to give preference to natural and eco-friendly fabrics, such as cotton or linen. Also a good option would be a flock, because it is quite practical and durable, and still very easy to clean.
Choosing furniture for the living room, it is better to give preference to materials with high wear resistance, since it is in this room that people spend the most time and also receive guests. If you plan to sleep on the couch, then in this case you can not particularly think about the type of upholstery and buy furniture with any decoration.
Consumer reviews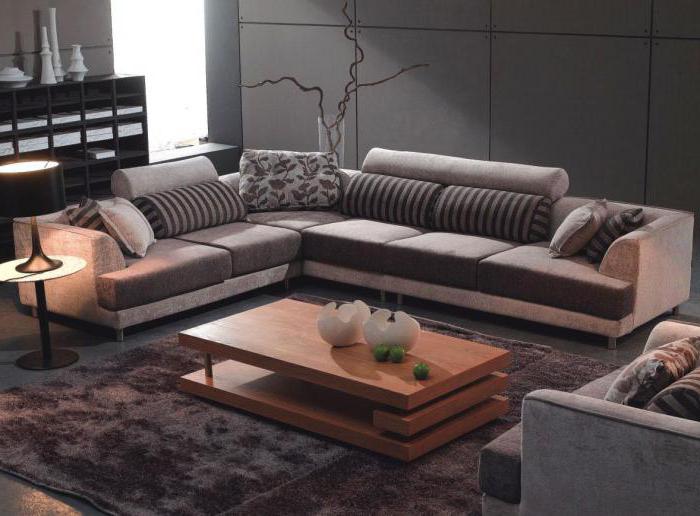 What is the best material for sofa upholstery? Consumer feedback on this is rather mixed. Many people speak positively of flock, noting its high strength, durability and ease of maintenance. The sofa upholstered with this material will last for several years without losing its attractiveness. But this fabric has a fairly high cost, so be prepared to fork out.
If you want the furniture to have an attractive appearance and harmonize well with other interior items, then many consumers respond well to velor. This material for upholstery sofas looks just amazing and has a pleasant to the touch texture. But it is worth being extremely careful when using the furniture, since the fabric is very easy to get dirty, and dirt is removed quite difficult.
How to calculate the amount of material?
With the choice of the type of fabric everything is clear, but how to calculate the material for sofa upholstery? There is nothing difficult in this, but you will need to remove the old fabric from the furniture. Next, you need to perform all measurements. Determine the exact amount of material you can with the help of conventional roulette.
Conclusion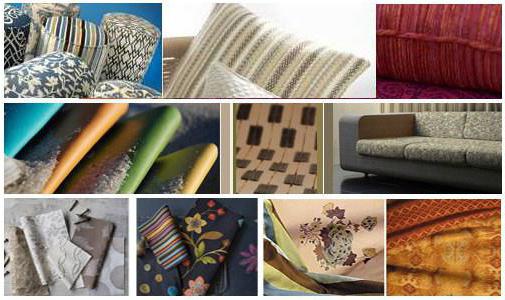 Choose a good material for upholstery upholstered furniture - a very difficult task. This is due to the large range of fabrics available commercially. To simplify your task, you can consult with qualified furniture vendors who can choose the fabric that perfectly suits your needs. In addition, you can study the characteristics of various options for paintings and choose the best one.
But, despite what you choose the upholstery for the sofa to keep it in good condition, it needs some care.
Related news
The best material for sofa upholstery image, picture, imagery