"They reveal problems, and it's really good": Putin praised Navalny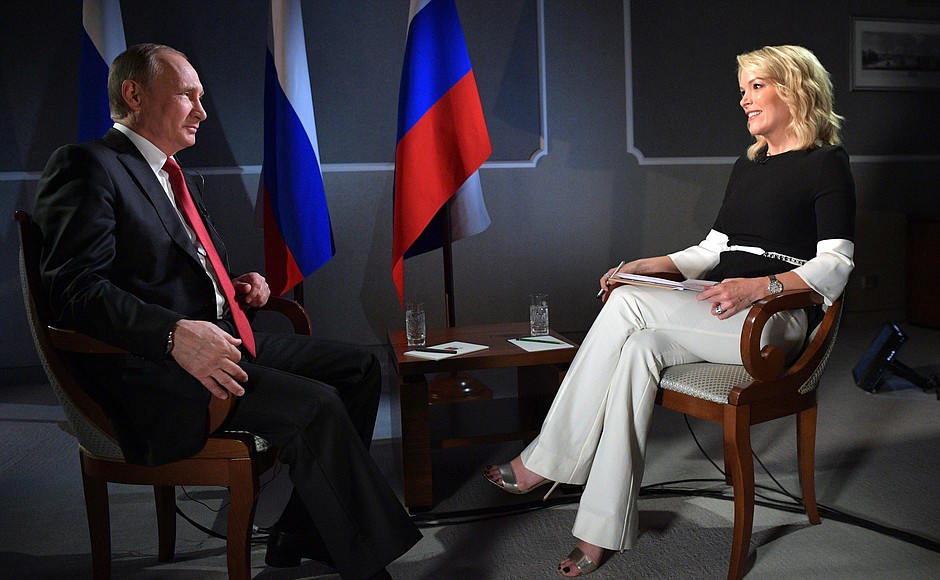 Photos from the Kremlin site
Russian President Vladimir Putin gave a long interview to the journalist of the American television channel NBC Megin Kelly. One of the questions concerned Alexei Navalny. Responding to him, Putin said that "certain political forces" have positive sides: "They reveal problems, and this is good in fact, this is correct, and this needs to be done."
M. Kelly: How could someone like Vladimir Putin, who is as popular in Russia as you could feel at least some kind of threat from Navalny? I understand that he was in serious trouble. But could you become partners with him and allow him to become a challenge for you?
V.Putin: The question of who I could cooperate with, whom I wouldn't want to cooperate with, I can tell you absolutely frankly: I would like to cooperate with those people, and I'm ready to do that who want Russia has become stronger, more efficient, has become a competitive country, self-sufficient.But for this, the people we are talking about should have a clear, precise program of actions aimed at the development of the country in modern conditions. There are such people, including ...
M. Kelly: Could he also pardon him so that he [could participate in the elections and] become a worthy opponent? Navalny is just such a person, he is quite popular here in Russia.
Vladimir Putin: You can pardon anyone if he deserves it.
M. Kelly: Why didn't you do this?
Vladimir Putin: If he deserves it. There are no exceptions for anyone, there are no exceptions for anyone. But we are not talking about pardon, we are talking about certain political forces. They do not have a country development program. Do they have something positive and what do I like in principle? This is what they reveal problems, and this is good indeed, this is correct, and it needs to be done. But for the positive development of the country this is not enough, not enough. Because only focusing your attention on problems is not just a little, but it is even dangerous, because it can lead to certain destructions, but we need creation.
kremlin.ru
Answering one of the other questions, Putin said that he did not control every employee of the presidential administration, and his press secretary, Dmitry Peskov, sometimes bears the blizzard.
M. Kelly: At least there is one evidence: Andrei Krutskikh is the Kremlin's advisor on cyberspace. When he spoke at the International Security Forum in February 2016, he, I quote, said: "I warn you: we are now at the threshold of the moment when we will talk on an equal footing with Americans in the information space." What did he mean? Because it sounds like a threat right before the elections were hacked.
V.Putin: Sometimes it seems to me that you are joking.
M. Kelly: No, I'm talking quite seriously.
V.Putin: Someone said about his attitude to our contacts and work in a certain area with our foreign partners, in this case, the United States. Yes, I have no idea what he said. You ask him then what he had in mind. Do you really think that I control everything?
M. Kelly: But he is an adviser to the administration on cyber issues.
Vladimir Putin: So what? We have two thousand Administration staff, do you really thinkWhat do I control everyone? Von Peskov is sitting opposite, my press secretary, he sometimes carries such a "blizzard", I watch on TV and think: what does he say there? Who entrusted it to him?
I have no idea what he said, well, you ask him. Do you think that I should comment on everything that the staff of the Administration or the Government say, or what? I have my own work.
Related news
They reveal problems, and this is good indeed: Putin praised Navalny image, picture