Warhol Andy: biography, personal life, creativity
If ever you have to see pictures of this amazing artist Andy Warhol, then you will never forget them. Somewhere in the depths of your memory there will always be memories of his unusual, but very bright pictures. That's just not everyone who is familiar with his canvases, knows about the personality of the artist. Warhol Andy is a very mysterious figure, one of the most famous, but at the same time the most controversial. The works of this master became a bright triumph and commercial success of American pop art. Who he just was: an artist, sculptor, designer, director, producer, writer, collector. Even from his life, this unusual artist made a work of art, creating new myths about his legendary person.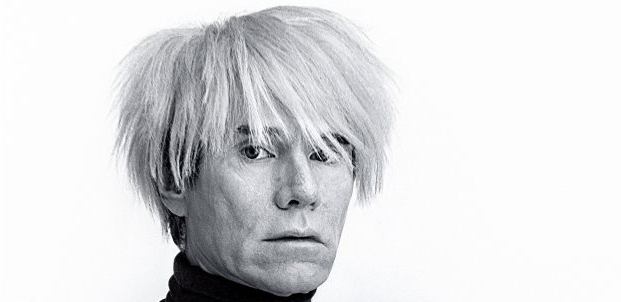 About parents of the future artist
A talented person, known today to the whole world, was born on August 6, 1928 in Pittsburgh (Pennsylvania), in a large family of immigrants,who moved to America from Eastern Europe. Warhol Andy, and his real name - Andrei Warhola, was the youngest, fourth child. He had two older brothers and a sister, who died before her parents moved to the United States. The most reliable data indicate that the home of the Warhol family is Slovakia. Although three countries consider this extraordinary artist to be their own - except for Slovakia, these are the USA and Ukraine. But one thing is unmistakably clear - his heritage belongs to the whole world, and not to a single country. Andy Warhol's parents had nothing to do with art. My father was an employee of a coal mine, my mother, not knowing English, was forced to earn money by cleaning, and also selling paper flowers made by herself.
Childhood years of Andy Warhol
While still very young, Andy began to get sick often. From 4 to 8 years, he suffered more than one serious illness, among them the most terrible disease was Chorea Sydenham, or "St. Vitus's dance". The boy suffered from seizures and was literally bedridden. In school, he becomes an outcast. Also, the child became too suspicious, began to fear hospitals and doctors. This fear did not let him go until his death.In this difficult time, Warhol Andy played with carved dolls, listened to the radio. The mother then painted various pictures to her son, and gradually he himself begins to draw all sorts of objects around him, as well as make collages from old newspapers. So in early childhood, Andy had his first interest, and then a love of drawing. Somewhat later, Warhol's mom, having earned some money, acquired a small film projector for his son, through which he watched stories in pictures on the wall of the room. Thus, in childhood, the creative potential of the future artist begins to develop. When Andy was 9 years old, he began attending art classes that were taught for free. At the age of 13, the boy loses his father, he dies in a mine.
Warhol Education
While still at school, the young man planned to enter the University of Pittsburgh, and after receiving an art education there, to teach drawing. But after graduation, plans change, Warhol Andy enters the Carnegie Institute of Technology. His plans include a career as a commercial illustrator. In 1949, he was already a Bachelor of Fine Arts in the Department of Graphic Design.The future artist studied well, even was the best on the course, but did not always find a common language with both fellow students and teachers. He always had an active life position. At this time, Andy attends parties, concerts of symphony orchestras, is interested in ballet.
The beginning of the labor path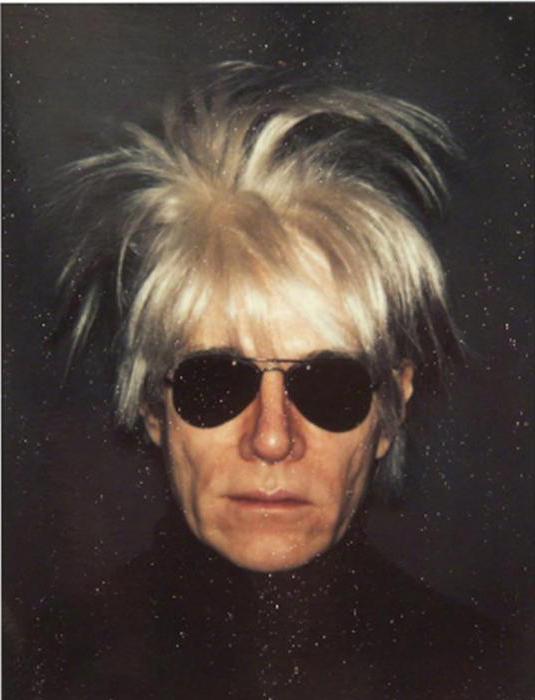 After graduating from the institute and receiving a diploma, the young Warhol moved to New York. He, like other artists of pop art, begins his working career as an ordinary advertising artist. The young man took up window dressing, made posters, painted holiday cards, and also decorated stands. A little later, he begins a fruitful collaboration with such popular glossy magazines as Harper's Bazaar, Vogue, and other lesser-known publications. Thanks to these magazines, their illustrator, Andy Warhol, is also becoming famous. The biography of his life at this stage is marked by a big boost in financial terms, but Warhol dreams of "high art".
Andy Warhole. Creation. First success
The beginning of the 50s was marked in the biography of an extraordinary artist by the first noticeable success. It all happened after he invented a shoe advertising for the company "I. Miller".The eccentric drawing style of Warhol was liked by everyone. He painted specially made blots on the footwear painted by ink. It was a revolution in the world of advertising, and for Andy - the first creative success, which brought him new lucrative contracts. Soon, the artist Andy Warhol begins to receive more than 100 thousand dollars a year. And 1952 is the year when the first exhibition took place, at which his works were presented. The exhibition was held in New York, and after four years, Warhol was admitted to the "Club of Art Editors." Very soon he begins to create his own paintings, which he builds on an unusual method - screen printing. So he became interested in photography, but Andy gave a special place in his life to the visual arts.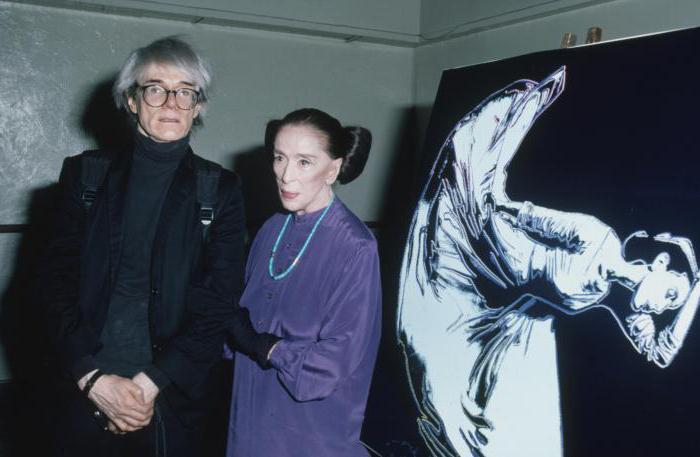 Andy Warhol is an extraordinary artist. His business card
To declare itself as an artist who sees art in an extraordinary way, Warhol was helped by a case that became fateful. Using the idea of ​​one art dealer in his own way, Andy creates a series of canvases depicting cans of tomato soup and an image of dollar bills.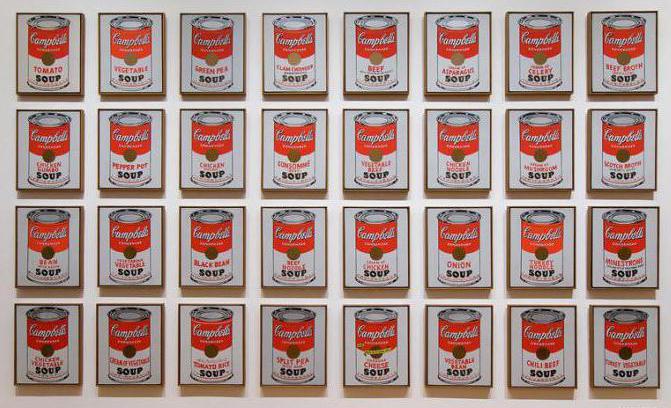 The exhibition of these paintings in one of the galleries in New York made a real sensation, and the image of canned food Campbell`s will later become his hallmark. Fantasy artist has no limits.What else will this strange young man Andy Warhol come up with? He begins to create his paintings with the help of silk-screen printing. It allows you to repeatedly repeat the same, the same images, the same strokes. Warhol sought this monotonous repetition. This will be a characteristic feature of his work.
Creating your own factory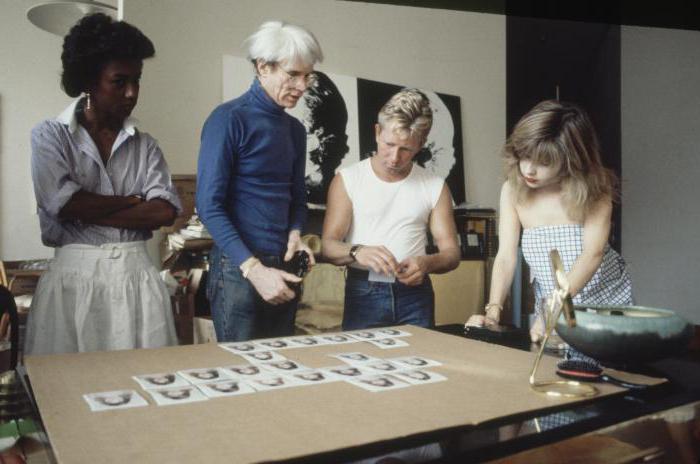 In 1963, Andy Warhol, together with his friends, decided to create his own studio or workshop. For this, he acquires an abandoned old building in the heart of New York, it will become his creative studio. Andy comes up with her simple plain name Factory. It was a kind of springboard in which the famous master created and presented his works. Warhol Andy hires a team of young creative people-artists. Their task is to start up the works of the recognized master. The factory became a real commercial enterprise, about 80 silk-screen prints were produced per day, and this number amounted to thousands of works during the year. Having established work on mass production, Andy Warhol made paintings and portraits of celebrities a symbol of pop art and the artistic culture of America of the XX century, but purely commercial.This studio operated for more than twenty years, and it was considered the most insane place on earth. Permissiveness reigned there, where not only did they draw, made films, produced mass silk-screen printing, but also lived, his creative team organized parties.
About the artist's personal life
What was this eccentric, unusual, and even strange Andy Warhol? His work was distinguished by courage, shocking, it was underground, three-dimensional, created as a film. This image of him as a superstar was open to society, in contrast to his personal life, which Andy tried to keep secret. It is not surprising that his personality was very interested in the public. Warhol has been at the center of the New York City party for several decades. But in fact, Andy was a great eccentric, modest, even a closed man, and by the end of his life even a deeply religious person. Many researchers of the artist's life and work consider him a homosexual, finding confirmation not only in his behavior, but even in his work: a series of paintings and several films. Warhol is credited with boyfriends such as John Jorno, Billy Name, John Gould, Jed Johnson. But Andy Warhol was still a real muse.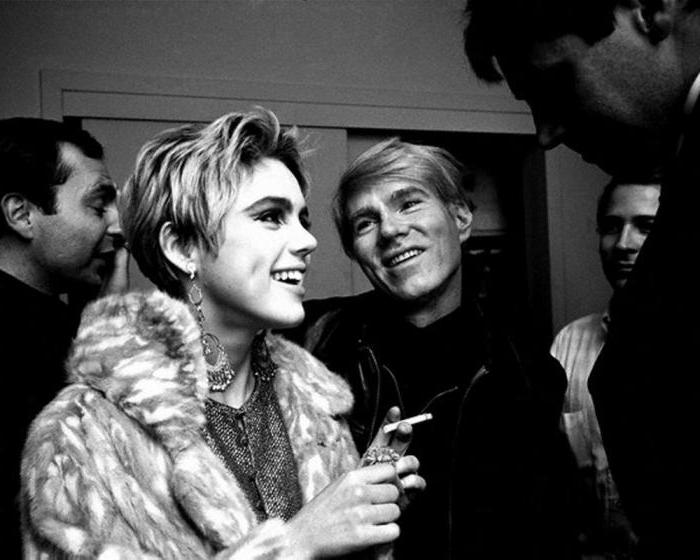 This is Edie Sedgwick - a model, an actress who once came to him in the "Factory" and completely charmed him. It was rumored that they had an affair. They were like two halves of one whole. But Edie abused drugs, which is why her life was cut off at the age of 28. Whether Andy Warhol, whose personal life was so closely associated with this Queen of Manhattan, regretted it, is unknown. But the fact that she was his muse was beyond any doubt.
The last days of the life of Warhol. His work today
In 1968, Andy Warhol was completely assassinated by the former model of his "Factory" Valerie Solan. He had a clinical death, but he survived, although he changed a lot after that. He died in a New York hospital on February 22, 1987, in a dream. Today he is considered the main artist of the late twentieth century. They make films about him, write books, organize exhibitions. The state of Warhol, which is estimated at one hundred million, was bequeathed by him to his own foundation, which supports artistic organizations. Today, the Pittsburgh Museum is located in Andy Warhol, which was opened in 1994. In his collection - 4258 exhibits: 900 works of painting, silk-screen printing series, graphic works, photographs, sculptures, video works and films.
Related news
Warhol Andy: biography, personal life, creativity image, picture, imagery