What did Mavrodi do before the creation of "MMM"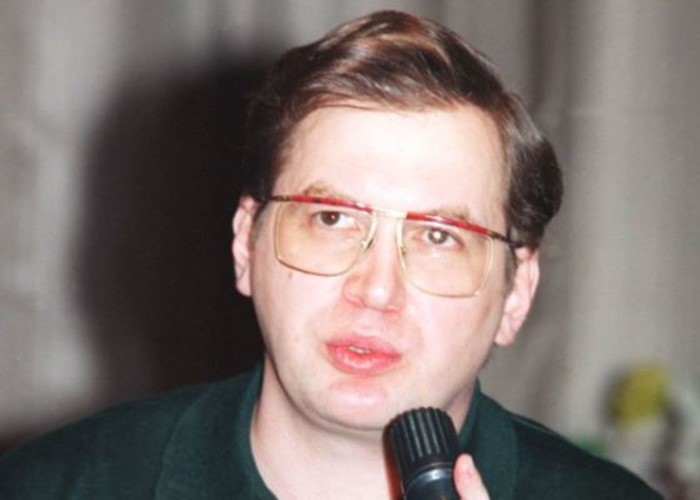 The name of Sergei Mavrodi is inextricably linked with the joint-stock company MMM, the largest financial pyramid in Russian history. Until now, even in remote villages, where Mavrodi goes fishing, passers-by recognize him, exclaiming: "MMM - no problem!"
At the time of the first admission to the free sale of MMM shares, Sergey Mavrodi was already 38 years old. What did the ingenious swindler and financial talent do all these years?
Sometimes led math instead of teacher
Sergey Mavrodi was born on August 11, 1955 in a poor Moscow family. Mother Valentina Fedorovna worked as a senior engineer, father Panteley Andreevich - as a fitter. Mavrodi recalled: "I did not have a piggy bank. And there was no money. We lived modestly. "
Prior to graduation, Sergey and his family lived in a house opposite the Novodevichy Convent, then moved to Komsomolsky Prospect. Mavrodi studied in a strong high school number 35. The exact sciences were easily given to Sergey - he knew mathematics well and even conducted lessons several times when the teacher was busy.The development of the teenager was multifaceted - in parallel, he graduated from the Serov Children's Art School.
Mavrodi repeatedly participated in olympiads in mathematics and physics, in which he always won prizes.
Phenomenal memory and loathing
Sergey helped me to master the exact sciences. From the first time he memorized the most complicated formulas and theorems. If a text was read out loud with him, he could repeat it almost literally.
In childhood and adolescence Mavrodi suffered 12 concussions. It was all his desperate courage and unwillingness to stop. His classmate Vyacheslav Zimin recalled: "Many children lived in an eight-story building on Novodevichy Drive. On the edge of the roof of the house there was a huge advertising "Women's Shoes". The boys and I made our way there and played around with little letters, climbing letters. Mavrik was the most desperate. They will drive him into a corner, and he will climb to the very edge of the roof and shout: "One more step - and I will jump." Well, that's it, you will not be with him at this moment. "
In his school years, Sergei did not play sports, but thanks to his love for active games, he was strong, dexterous, and physically developed. He terribly did not like to lose.Once in school Mavrodi climbed with fists on a classmate, interceding for his younger brother. His opponent was involved in sports and easily laid him down, forgetting for a long time about what had happened. In his second year, Mavrodi met him at the institute and called him to the semi-basement gym, where he offered to fight. It turns out that Sergei remembered the case at school and decided to take revenge without fail. The guys fought for more than an hour, but each time it came down to a draw. In parting, Mavrodi said to his classmate: "And yet you didn't beat me!"
The best sambist of Moscow
The institute Mavrodi carried away Sambo. Sergey quickly achieved impressive results and became a master of sports candidate. Mavrodi has not lost a single bout in competitions. It is noteworthy that he managed to become the champion of Moscow in the absolute weight category, despite the fact that he himself weighed less than 60 kilograms.
Sergey quickly left the sport. In numerous interviews, Mavrodi said that the decision to leave Sambo was made "for ideological reasons". He discovered that the practice of martial arts strengthens the body, but weakens the spirit - you get used to lose, even in training, you will know the limits of your strength.Mavrodi considered that such knowledge harms self-development.
Able truant
Sergey planned to enter the renowned Baumanka, but he didn't get enough points because of a ridiculous arithmetic error. Then he filed documents at the Moscow Institute of Electronic Engineering. Study Mavrodi was easy, so already in the first year he was tired of everything. He began to skip classes. "I came there once, I'm watching - the announcement hangs:" Shame on truants! Ivanov - 5 hours, Sidorov - 6 hours, Mavrodi - 980 hours, "recalled Mavrodi.
Such an attitude towards learning did not prevent Sergei from winning the institute Olympiad in physics. Thanks to good memory and talent, Mavrodi graduated from MIEM, after which he worked for two years in a closed research institute.
First steps in business
Already at the institute Mavrodi began recording and selling audio and video tapes. Work in a closed scientific research institute quickly bored him, and he quit in order to fully surrender to commerce. Mavrodi got a job as a night watchman to avoid being accused of lodging, but his main income was recording and selling audio and video materials.
In the Soviet years, work on himself was outlawed and persecuted.In 1983, OBKSS staff first detained Mavrodi for 10 days with the wording "for private business". He was accused of selling illegal video recordings - what is today called counterfeiting. Mavrodi threatened to initiate a criminal case, but he was saved by the release of the resolution of the Central Committee of the CPSU "On excesses."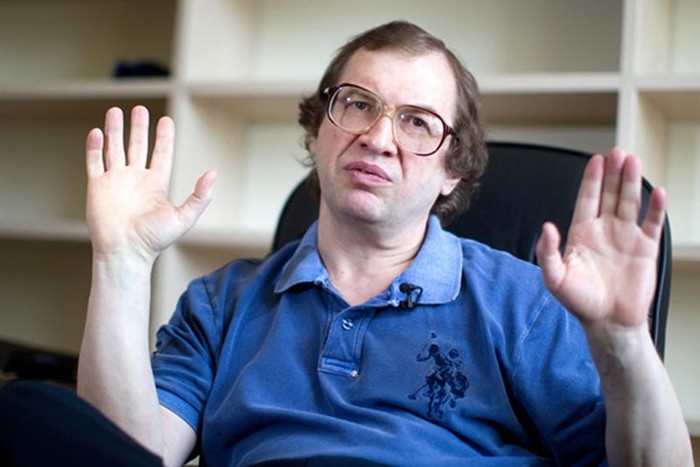 Hobby
Mavrodi was fond of fishing, gave all his free time fishing for spinning. At home, he arranged huge aquariums - it was they who hit a few years later the police when they came to arrest the head of the collapsed financial pyramid.
Sometime shortly after the institute, Mavrodi and his friends went fishing in Karelia. On the last day of the trip, he went fishing alone and got lost. It was cold, it was snowing.
Sergey found a hunting hut and spent two weeks without food until he was found. At this time, two of his friends tried to get out on a motorboat, but they fell into a storm and died.
New times
After perestroika and the collapse of socialism, Sergei Mavrodi was able to fully realize his business ambitions. In 1989, he founded the MMM cooperative, from which several large commercial enterprises subsequently grew.
Sergei Mavrodi himself invented and developed the logo "MMM".A common interpretation of the name is the slogan "We Can Much." As often happens, the real explanation is much simpler: Sergey used the first letters of the names of the three founders - Mavrodi (he and his younger brother Vyacheslav) and Olga Melnikova. Subsequently, "Ostap Bender of our days" admitted that the participation in the business of the two other founders was purely nominal.
According to the stories of Mavrodi, in 1991 he happened to take part in the fate of Belarus, Ukraine and the Soviet Union as a whole. The leaders of both republics, Stanislav Shushkevich and Leonid Kravchuk, were expected to visit Moscow. Employees of Alpha, who actively communicated with their colleagues, worked in the protection of the merchant. Late in the evening before the visit of Shushkevich and Kravchuk Mavrodi, by pure chance, he heard the chatter of the guards - they discussed that they had been ordered to arrest both at once.
Mavrodi immediately went by car to the embassies of Western countries. The night came, all institutions were closed. Sergey presented the passport to the guards, asked to contact the embassy leadership, informed the information "to check and take action." So he spent the night, and in the morning Shushkevich and Kravchuk canceled their visit and did not arrive in Moscow. Most of all, the entrepreneur was amazed that no one then called him anywhere.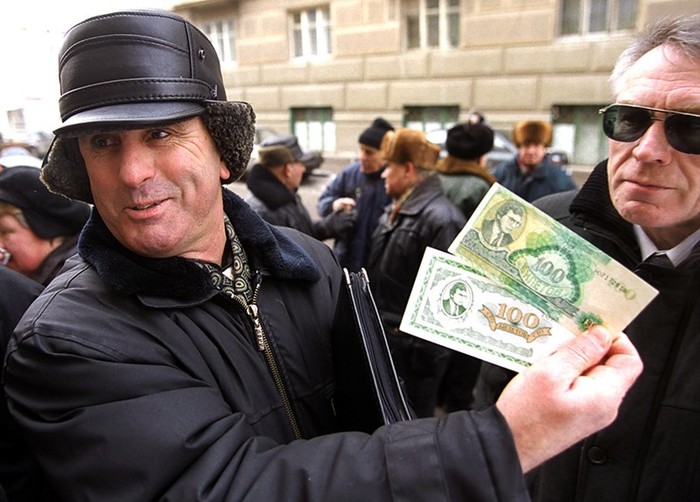 "MMM"
The most famous and unique child of Sergei Mavrodi was the infamous JSC "MMM". His activities affected 15 million people. Pyramid stocks went on sale in early February 1994. Sergei Mavrodi came up with a psychologically advantageous move - to put a portrait on them. If a person sees the face of a business owner, it instills confidence that a merchant will not run away with money.
The scam lasted more than six months, sometimes revenue exceeded $ 50 million per day. Money literally stuffed the room to the ceiling. After the scam with "MMM" collapsed, the merchant ran for the State Duma. Deputy immunity was supposed to protect him from prosecution under the law. In October 1994, he won the election and received a mandate.
Mavrodi's love for absenteeism again made itself felt - for the year he had not attended a single meeting of the State Duma. In October 1995, the deputies decided to deprive him of his powers. He tried to run again, but lost.
In January 1996, Mavrodi initiated the collection of signatures for registration as a presidential candidate. However, the CEC rejected almost all subscription lists as invalid, and a criminal case was initiated against the merchant for forging signatures.Subsequently, the case was stopped, but the participation of Mavrodi in the presidential race was thwarted. In December 1997, he was put on the wanted list, and in January 2003, he was arrested, sentenced to four and a half years in prison.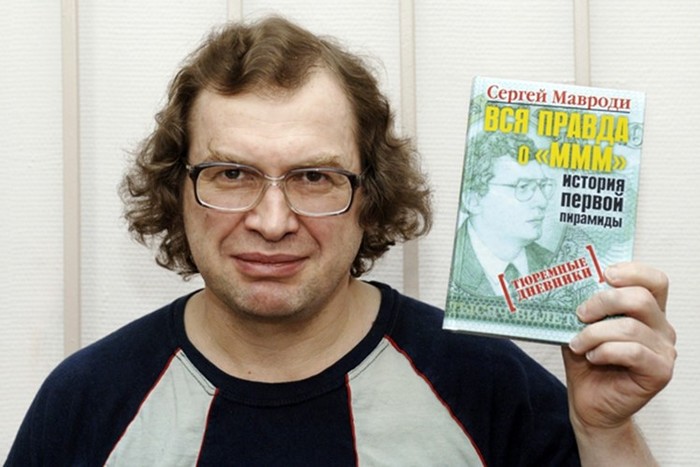 After the incredible success of "MMM", no less loud failure, prison term and hunger strikes, Sergei Mavrodi does not lose confidence in himself. In an interview in 2013, he expressed his intention to participate in the 2018 presidential race. Since 2014, with his participation financial pyramids have been built in more than 100 countries of the world, including China, Bangladesh, Israel, Japan and the USA.
Related news
What did Mavrodi do before creating MMM image, picture, imagery